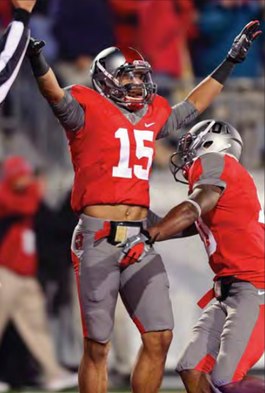 If a wide receiver graduates in a 6-7 forest and nobody is around to see him miss 10 games, does it make a sound?
That's kind of what the Buckeyes are facing with the departure of DeVier Posey, by far the team's best receiver, even if the NCAA reduced what should have been a springboard to the NFL to a three-game season.
When on the field, against Penn State, Michigan and in the Gator Bowl against Florida, Posey was an efficient weapon, finishing 4th on the team with 12 catches for 162 yards and three touchdowns, including two of the team's top four receptions in terms of yardage. He could have easily doubled his yardage and touchdown numbers if not for a young quarterback overthrowing him on several long plays in which he was wide open.
Still, even though he was robbed (and I do mean robbed in every sense of the word) of a senior season, Posey will still graduate with having started 28 games, and finishing with 136 catches and 1,955 yards, both numbers good enough to put the Cincinnati native in the top 10 for Ohio State receivers.
Posey's departure leaves the rest of the forest -- a gaggle of young receivers that spent the better part of 2011 making nary a sound. It would be unfair, however, to lay the entirety of the blame at the feet of the receivers.
They spent the first few games running routes for Joe Bauserman and when he wasn't taking sacks, he was launching balls into B Deck. Braxton Miller would take over the job in game four, but he struggled learning on the job as most freshman will do. Miller finished the season completing just 54% of his passes for  1,159 yards. As such, sophomore Corey Brown tied for the team lead with a meager 14 receptions. In 13 games.
You have to go all of the way back to 1976 to find a receiver that led Ohio State in receptions with a total like that when James Harrell led the squad with 14 catches for 288 yards (and he did it in 12 games).
But 2012 is all about hope. There's a new head coach with a new attacking philosophy. Gone are the days of running play action on 3rd-and-11. Gone are the days of running the ball on every first down. And there's still a pretty great tight end returning.
Urban Meyer knows what he wants to do, but he also knows he'll need more speed at the skill positions. He indicated as much recently when he said, "The question I have is, do we have the dynamic player on offense? Where's the Ted Ginns of the world? Were they hiding [last] year? I hope we have those guys. That's a big concern of mine right now."
Meyer and Mickey Marotti will attempt to forge or unearth the skill players necessary to make this offense click and they'll have help from new receivers coach Zach Smith. Smith spent five years with Meyer at Florida, first as a graduate assistant and then as a quality control coach and he had the opportunity to work with former Gators Percy Harvin and Aaron Hernandez, so he knows all about what it takes to make Meyer's offense rev.
It won't be uncommon to see four wide receivers on the field and if I had to pick those four today, I'd be looking at junior Corey "Philly" Brown, redshirt junior Chris Fields, true freshman Michael Thomas and senior tight end Jake Stoneburner, either lined up tight or split out. If Ohio State lands 5-star receiver Stefon Diggs, which is looking more and more like a done deal with each passing day, he would be another newcomer that would likely force his way onto the field.
Departing

| # | Name | Notes |
| --- | --- | --- |
| 8 | DeVier Posey | 28 starts; NFL-bound |
Returning

| # | Name | HT/WT | YR |
| --- | --- | --- | --- |
| 10 | Corey Brown | 5-11/182 | JR |
| 80 | Chris Fields | 6-0/180 | R-JR |
| 86 | Jeff Heuerman | 6-5/240 | SO |
| 9 | Verlon Reed | 6-0/195 | R-SO |
| 15 | Devin Smith | 6-3/190 | SO |
| 16 | Evan Spencer | 6-1/190 | SO |
| 11 | Jake Stoneburner | 6-5/245 | R-SR |
| 81 | Nick Vannett | 6-6/235 | R-FR |
| 18 | T.Y. Williams | 6-5/228 | R-SO |
Incoming

| Name | HT/WT | YR | Rivals |
| --- | --- | --- | --- |
| Blake Thomas | 6-4/240 | FR | ★★★ |
| Frank Epitropoulos | 6-3/195 | FR | ★★★ |
| Ricquan Southward | 6-2/190 | FR | ★★★ |
| Michael Thomas | 6-4/203 | FR | ★★★★ |
Brown started nine games for the Buckeyes last year, finishing tied for the team lead with 14 receptions to go with 205 yards and one touchdown. He earned the Warfield Award as the team's outstanding receiver and really showed up against the Wolverines, finishing with 76 yards, the bulk of which came on a 54-yard bomb for six two minutes into the game. He's a good but not great receiver and there are durability concerns (he missed four games with an ankle injury), but I'm willing to give him a pass considering the young quarterback and the play calling.
Fields has earned praise in the last two fall camps, but so far that hasn't translated to the field when it matters. Though he started eight games last year, he finished with just 8 catches for 114 yards and was kept out of the end zone. He did score on a 69-yard punt return against Toledo and led the Bucks with a 17.6 yard average on returns, so look for him to return in that role as well (unless Diggs?).
Thomas is a bit of a wildcard and you could very well see Verlon Reed, who started five games before blowing out his right ACL against Michigan State, getting the nod ahead of the freshman, but I'm enamored with Thomas' size (6-4/203), pedigree (he's Keyshawn Johnson's cousin) and the fluid manner in which he goes about his business. He's an absolute workout freak and is hungry, so keep an eye on him.
Perhaps no Buckeye is as excited for Meyer's offense as tight end Jake Stoneburner is. He tied for the team lead with 14 catches and led the team with seven touchdowns, but oh, what could have been. Jake started fast, racking up eight receptions and four touchdowns in the team's first two games, back when "Like a Baus" was actually a good thing. He set a modern day Ohio State tight end record with three touchdowns against Akron and enters his senior season just one touchdown behind John Lumpkin's mark for career touchdowns at tight end.
The transition to Miller at quarterback did no favors for Stoneburner as the freshman did not have the rapport with the tight end that Bauserman did and often looked exclusively for his receivers, neglecting the tight end. There was a beautiful 32-yard screen that went for six against Nebraska, but outside of the first couple of games, Stoneburner was the forgotten man.
Expect that to change this year and if you need any convincing, just pop in footage of Aaron Hernandez at Florida.
Backing up Stoneburner will be sophomore Jeff Heuerman, redshirt freshman Nick Vannett and true freshman Blake Thomas, Rivals 16th-rated tight end in the 2012 class. Like Jake, all three backup tight ends have huge frames, but while Thomas is likely headed for a redshirt campaign and Vannett may play during garbage time, expect to see Heuerman on the field plenty. He saw action in 11 games as a true freshman and caught his first pass of the season -- on the same play that Stoneburner scored against Nebraska on -- in the Gator Bowl. With Reid Fragel moving to tackle, Heuerman is in a great position to emerge.
Adding depth at receiver will be the aforementioned Reed, sophomores Devin Smith and Evan Spencer, redshirt sophomore T.Y. Williams and true freshmen Frank Epitropoulos and Ricquan Southward.
I include Smith in the list of those providing depth, but I could just as easily see him starting. As a true freshman, he played in all 13 games, finishing with 14 receptions for a team-high 294 yards and four touchdowns. He scored a touchdown in his first game as a Buckeye against Akron, had two scores against Colorado and turned in the play of the year when he saved Homecoming. With tremendous upside, I wouldn't be surprised in the least to see him emerge as the team's go-to guy before season's end.
The legacy Spencer played in 11 games, finishing with just three catches, but he made the most of them. His sick one-hander against Akron was the catch of the year in games that didn't punch Bret Bielema in the junk and he scored the Buckeyes' only touchdown against Michigan State -- a 33-yarder with 1:41 that prevented Ohio State from getting shutout at home for the first time since the Reagan era.
T.Y. Williams saw snaps in 11 games, even starting one (Purdue), but questions continue to swirl about his dedication. He struggled early in the year holding on to the ball and then missed the Gator Bowl for a violation of team rules. At 6-5/228, he has the build to be a red zone weapon if he can get it together.
On the surface, Epitropoulos is a three-star recruit that was a safe local project from the Tressel days, but it's worth pointing out that his offer sheet is far better than what Dane Sanzenbacher had to work with when he was a senior in high school. He was recently named the MVP of the International Bowl with a three catch, 98-yard performance and if push comes to shove, he can punt in a pinch. I look forward to being pleasantly surprised by Frank before it's all said and done.
Southward was a Miami commit that flipped to Ohio State the day before Meyer was announced as the new head coach. It's almost as if Urban bumped into him in a Piggly Wiggly and said, "Psst... Guess where I'm going," and Ricquan followed. Either that, or he read 11W and new about the hire weeks before it was announced. His film is nice, but not electrifying and Rivals has him as the 60th-best receiver in this class, so it may be a year or two before we begin to see what he can do on the field.
While there's experience a-plenty in this group, the production wasn't enough last year to get anyone really excited about how things will go. Meyer coming in and expressing concern over the lack of playmakers on offense isn't exactly the most encouraging thing to hear either, but perhaps it will serve as motivation. The scheme should certainly help these guys break out.
We'll be back next week to cover quarterbacks and running backs.