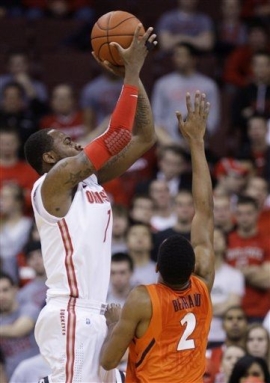 Fresh off a poor showing last Saturday in Ann Arbor that severely jeopardized their chances at a 3rd straight regular season conference crown, the Buckeyes took out their frustrations on a reeling Illinois squad 83-67 tonight in Value City Arena. 
Deshaun Thomas led the way with 19 points on 6/8 shooting with five boards and William Buford added 17 on a hard to believe 7/9 from the floor albeit with three turnovers. 
Aaron Craft turned up his offensive aggression during an early stretch and was the 3rd Buckeye in double figures with 11 points to go along with five boards and five dimes against three turnovers. 
The trio of Thomas, Buford and Craft combined to shoot a scorching 17/22 (77%) to offset a lackluster nine point, six rebound effort from Jared Sullinger who fouled out after helping give up 21 points to Illini big Meyers Leonard. 
Pissed from losing their cool in the home loss to Sparty followed by the tough to watch stinker at Michigan, Ohio State sensed a wounded opponent and went for the kill early jumping out to a 28-8 lead midway through the 1st half. 
The Buckeyes used crisp ball movement against a disinterested Illini squad to hit 11 of their first 12 shots while the defense forced the Illini to miss eight of their first 11 field goal tries with three turnovers. 
Craft was a beast scoring seven points on 3/3 shooting including a blow by down the lane, a triple from the right wing off a nice find by Buford and a driving pull up jumper resulting in an and-1 while Thomas added six points via a pick and pop trey working with Lenzelle Smith, a free throw and a silky smooth baseline jumper. 
Playing with a big lead, and with a handful of reserves, the Buckeyes played drowsy on and off for the remainder of the half giving up mini runs of 5, 5 and 8 in between an 8-0 run of their own. One stretch saw OSU turn it over three times in four possessions, the non-turnover trip resulting in an ill-advised triple try from Buford. Illinois was so bad they could only squeeze five points from the elongated sequence. 
During most of the spurts of inconsistency, Illinois slowed the Buckeye ball movement with a zone defense, something opponents continue to throw at Ohio State in recognition of the lack of consistent outside shooting. 
Despite the up and down final 10 minutes, the Buckeyes still led 42-26 at the half behind 71% shooting from both the floor (17/24) and beyond the arc (5/7). Thomas led the charge with 11 points with Craft adding eight while Buford and Smith chipped in seven apiece. Those four combined to shoot 13/16 in the opening 20 minutes. Meanwhile, Sully found nothing but slow going. He took just two shots in the half scoring three points with three boards and three turnovers while his defensive assignment, Meyers Leonard went for 14 points to keep Illinois within 16 at the break. 
The 2nd half was more of the same as the Buckeyes slowly increased the lead behind the hot shooting of Thomas and Buford. The duo scored Ohio State's first 13 points to build a 55-36 lead with 13:23 left in the regulation. 
Three possessions later, things got a little interesting as Sullinger was whistled for a flagrant-1 for delivering an elbow to Leonard's mandible on a spinning bully move from the right block. The bucket was good but after a summit at midcourt, the refs determined Sully led with the 'bow giving him three fouls with 12:13 remaining. Less than a minute later, Sully pushed off attempting to field a Craft lob giving him four fouls and a trip to the bench. 
The call for the elbow was questionable at best - and I only say at best because of the emphasis being placed on wussyfying the game I love. The pushoff was legit. 
With Illinois trying to keep from getting blown out down 17, the Buckeyes went on a 9-2 run fueled by a sick baseline reverse layup and-1 from WB and capped by a Sam Thompson block leading to an easy bucket in transition for Evan Ravenel to make it 66-42 with 7:24 to go.
Speaking of the bench, it logged 64 minutes, 22 of which came from Shannon Scott. Surprisingly, Scott logged a good bit of time alongside Craft. Not surprisingly, he missed all five of his shots with four assists and two turnovers. At times, his jumper looks as flat as Calista Flockhart though he had zero trouble penetrating the lane which is somewhat impressive when you consider teams give him five feet of space begging him to shoot jumpers. 
Thompson saw 11 minutes and was his usual active, if not offensively skilled self. He had one throw down off a lob from Scott in the 1st half and picked up two blocks to trigger fast breaks. 
Ravenel was solid with six points and two boards in nine minutes while Amir Williams picked up three points and three boards in seven minutes. Good numbers, but he did show his lack of strength and lift off the floor as Meyers swatted him at point blank range. LaQuinton Ross added five points in five minutes but don't get your hopes up, he was still the 9th or 10th player to see action. 
For the game, OSU shot a red hot 65% from the field including 7/13 from distance while winning the glass 32-23. They did register 19 turnovers but just 11 of those came from starters. Conversely, the Illini hit just 40% from the floor and 17% from beyond the arc (3/18). Brandon Paul, he of the 43 point night in the first matchup was held to nine points on 2/9 shooting mostly due to Craft taking up refuge in his britches when matched up. 
Overall, it's cool to feel good about the win but anything less than a blowout would have been a failure against an Illini team with no soul. It was nice, but not atypical, for WB to shred a bad team, Thomas looked superb just as he did in the first matchup and Craft was a little more aggressive but Sullinger just never got into the flow and nobody on the bench showed anything we haven't seen. 
Still, a win's a win and it improves OSU to 11-4 in conference, tied with Michigan for 2nd place, half a game back of a Sparty team that travels to Minnesota for a Wednesday night tilt.