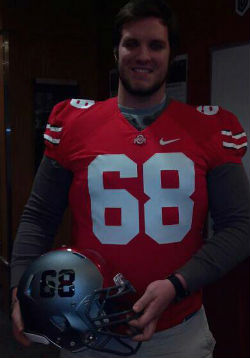 It's funny how things can change in a matter of weeks, days, and even hours in the world of recruiting. One minute a recruit can be "solid" to a school he's been pledged to for months, the next minute he can pull the rug right out from under you and go a completely different direction.
Taylor Decker (6-8/315) was a young man who was not set on change. Despite growing up a Buckeye fan in the Dayton area and being highly regarded as one of the top tackles in the state, Decker was not offered a scholarship by Jim Bollman and the old regime, thus deciding to commit to Notre Dame in spring of 2011. Decker appeared to be all set on the Irish, even when Urban Meyer got hired at Ohio State, claiming there was a "very slim chance" he would flip his verbal pledge if the Bucks did offer.
Something funny then happened, as shortly after we spoke with Decker in late November, Urban Meyer hired Notre Dame assistants Tim Hinton and Ed Warinner. As recruiting coordinator at Notre Dame and an Ohioan, Hinton had a strong bond with Taylor, as did Warinner who was set to be his position coach in South Bend.
Hinton and Warinner joined Meyer's pursuit of Decker, resulting in an official visit which concluded with a verbal commitment, the 20th in the class of 2012. Getting a tackle was a big need as there were none in the class at the time, and together, Hinton, Warinner, and Meyer pulled the biggest win for Ohio State's recruiting efforts at that point.
We got the chance to sit down with Decker, now that he signed, sealed, and delivered, to discuss what went into his decision of switching from Notre Dame to Ohio State, how it feels to have this process complete, whether or not he will enroll early, and much more. Join us after the jump to catch up with the biggest member in the new group of Buckeyes, Taylor Decker.
Now that it is official, how does it feel to be a Buckeye?
It feels great to officially be a Buckeye. As I have said before, I grew up as a Buckeye, so I am excited for the opportunity ahead of me.
You were committed to Notre Dame for a long time, but switched to Ohio State a few weeks ago. What happened there that made you change your mind?
There are several reasons. To start, I grew up in Ohio and have always been an OSU fan, which, for apparent reasons, makes Ohio State an attractive school. Second and probably a pivotal reason that I switched would be the major I wish to pursue. Though Notre Dame is a great school, they do not offer exercise science. Next, Columbus is one hour away from my home which will allow for me to be closer to my family and hopefully be a role model for younger kids in my family. Finally, of course Coach Meyer and his staff are a motivating reason for my choice as well.
When did you call the Ohio State coaches? How did they react when you told them?
I called Ohio State's coaches about five days before I took my official visit to tell them I wanted to come to campus and to set things up. I committed to Coach Meyer on the last night of my visit with him. The coaches all reacted very excited when I gave them the good news, which was awesome for me to see.
How did Coach Kelly and Notre Dame take the news?
Notre Dame took the news well overall. After my explanation of why I was making the decision, they understood to some degree.
How big of a factor did Coach Warinner and Coach Hinton going to OSU from Notre Dame play in you switching to Ohio State?
They did play a factor, because I was familiar with them and I believe that they think I can fit in well along with Coach Meyer and the rest of the staff.
Rumor has it you are set to enroll early. Do you think you'll be able to make it for spring quarter? What do you still have to do to be able to enroll for spring practice?
I am still working out some kinks on that right now. When I know for sure I can tell more.
Do you know what you will major in yet? Who will your roommate be? What number will you wear and what position (LT or RT) will you play at OSU?
I want to major in exercise science. I do not know anything about my roommate(s) just yet. I would like to wear 68 if possible. I will play wherever the staff wants me to. I would like to play left tackle, but will play wherever I can to get on the field.
What are your strengths on the field? What do you need to work on before next season?
 I think I play with some anger and aggressiveness and move my feet well. Before next season I need to work on hand placement, kick steps, staying low off the ball, and continuing to improve all around.
Tell us about Taylor Decker off the field. What do you like to do besides play football?
Just like most kids my age, I love video games. I really like spending time with my girlfriend, we goof around a lot. Then I like hanging out with my friends, most of which I have known my whole life. I really do a little of everything.
If you can say something to Buckeye Nation, what would it be?
If I can say something, I would say they are amazing fans that they have embraced me right away. I also want to let them know that I am working hard every day to become a better player.
HIGHLIGHTS: