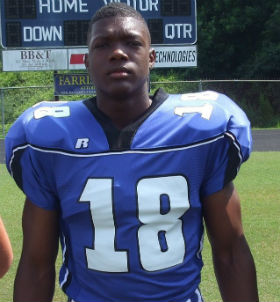 With Noah Spence, Se'Von Pittman, Tommy Schutt, and Adolphus Washington set to be on Ohio State's campus in the near future, the defensive line will not be a need in the next few recruiting classes.
That being said, Urban Meyer is a firm believer in the old mantra of "defense wins championships" and won't ever turn a talented prospect away because he feels he has too many bodies at a certain position. That is why in the class of 2013 there a few top level defensive linemen that have garnered Ohio State offers, even though the reality is that only one to two will likely end up with the Buckeyes come Signing Day next year.
One of those linemen who recently found himself on the receiving end of an OSU offer is Lewis Neal of James Hunt High School in Wilson, North Carolina. The 6-2/235 (and still growing) defensive end had an outstanding junior year that resulted with him being named First Team All-Conference and currently has him holding nine Division I scholarship offers.
The best part about Neal's game is that he is a speed rusher at weak side end and has the athleticism and ability to move to linebacker at the college level or even play a hybrid end-linebacker position that many programs are using these days.
Ohio State is one of the latest to offer Neal and the Bucks have a very realistic shot of landing the North Carolina native. You can attribute Neal's high interest in OSU to former UNC coach, Everett Withers, who has done an excellent job taking the relationships he forged while in Chapel Hill and bringing them with him to his new role as assistant head coach in Columbus.
We got the chance to sit down with Neal to further discuss the OSU offer, his relationship with Withers, his visit plans, and more. Join us after the jump to find out about one of the nation's fastest rising prospects, Lewis Neal.
How did your junior season go? How did your team do and how did you do individually?
My junior season went well. Our team was 13-1 and lost in the regional finals to TJ Logan's team, Northern Guilford. I don't really like to talk about my individual performance that much because football is a team game and I wouldn't be able to do anything I have accomplished if my teammates weren't all doing my job. This past year I had 88 tackles, 8 sacks, and 3 fumbles recovered, as well as made a lot of big plays and game-changing plays when the game was on the line. Once again, I couldn't do that without the help of my teammates, so a lot of credit has to go to them. At the end of the day, all I care about is getting a win, so individual stats aren't a big deal to me.
How is recruiting going? What offers do you have and who is showing interest?
Recruiting is going great right now. I have nine offers right now from East Carolina, Clemson, North Carolina State, UNC, Ohio State, Purdue, South Carolina, Tennessee, and Vanderbilt. I am going to Wake Forest today (Saturday) and expect an offer from them. Also coaches from Alabama have been calling me and told me they should have a decision on offering soon and I have a feeling that will be good news. Oregon, LSU, and Maryland are some of the other schools that have been in a lot of contact lately and I think could offer soon.
You just got the OSU offer recently. How did that go down and how did it feel to get that offer?
Coach Withers has known about me for a long time since he was down here at UNC and called my coach. My coach got me on the phone after they spoke for a little bit and I got to talk to him as well as Coach Fickell. They offered me a scholarship and after that I walked back to class with a huge smile on my face. Ohio State is big time football and you can't beat getting an offer from a program like that. I'm very excited, especially with Urban Meyer and the new staff they have there, and the fact that they are expected, along with Alabama, to have one of the top two recruiting classes in the country for my class.
You said Coach Withers knew of you but did you know him personally from his time at UNC? Will that play a factor in your decision regarding Ohio State?
Yes sir, I have known Coach Withers for a while now from when he recruited me at UNC. He knows me and where I'm from so it will definitely play a role in my decision as I am very comfortable with him already.
What is your interest level in the Buckeyes right now? Do you have any plans to visit Columbus?
My interest is really high with the program they have and what Urban Meyer is building. I definitely plan to get up there and visit, most likely some time in the spring. It could be early summer when I go though.
What other visits have you taken so far? Any visits lined up in the near future?
I have visited NC State, UNC, Virginia Tech, and Alabama. I will be at Wake Forest this weekend, as well as South Carolina, Vanderbilt, and Tennessee sometime this spring as well. I am going to take a lot of visits this spring and summer and plan to visit every school that offers me a scholarship.
When do you expect to make a college decision? Do you have a list of top schools?
Right now it's too early for a top list. My plan is to visit all of the schools that have offered me and to cut my list to five top schools after I see all of my options. I would like to make a decision before my senior year starts, or at latest at an All-American game if I am invited to one, but if I feel the time and a certain school are right for me, I could make a decision at any time. 
What are the most important factors to you when making your college decision?
I want a place that feels like home. I will be there for four years and what I learn there will play a major role in my life. Second, I want a school that has my major of Kinesiology or Exercise Physiology. Next, I want to have a coaching staff that cares about me outside of football and is looking out for my best interests. Finally, I want to play for a team that wins and can win championships.
What are your strengths on the football field? What would you like to work on this off-season?
My strengths are that I have the rare combination of being fast, strong, and quick. I want to continue to work on improving all aspects of my game to be the best player I can be and be the best player in America. I want to be the next "Michael Jordan of football" and be the best player to ever live. I have to work every day on improving to get to that goal.
HIGHLIGHTS: