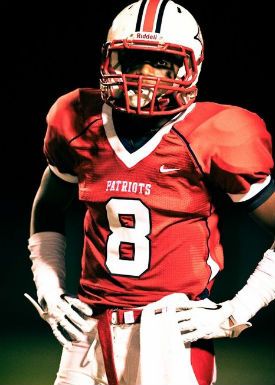 While Urban Meyer and his staff are trying to compile a recruiting class that would rank tops in the country for 2013, it's never to early to start thinking about the future and that includes some star studded players in the class of 2014.
One of those star players comes from Tyrone (GA) Sandy Creek High School in the form of WR Demarre Kitt. Kitt stands at 6-1/180 already as a sophomore and with recent Auburn signee (and former Buckeye recruit) JaQuay Williams, formed one of the deadliest receiving corps in the south.
This past year Kitt compiled 42 catches for 651 yards and 10 touchdowns, while also adding a punt return for a score, as Sandy Creek went 12-1, falling in the quarterfinal round of the playoffs. This year, with more experience and a stronger physique thanks to off-season training, he will look to capitalize on the opportunity to be the top receiving threat on his team and finish the season off with a state championship.
With such a great season in the books, Kitt has already garnered a lot of attention on the recruiting trail. In addition to offers from Clemson, Georgia, Cincinnati, South Carolina, Auburn, and Ole Miss, he is expecting offers from Florida and Alabama in the near future and his receiving interest from many of the top programs in the country, including Ohio State.
This weekend Kitt took the luxury of having off of President's Day to take a trip up north to Ohio to participate in the RAW Talent Sports Combine in Cleveland, as well as take a tour of the campuses at Ohio State and Cincinnati.
At the combine, Kitt was widely regarded as one of the top receivers in attendance, if not the top player at the position, despite being one of the youngest there. Kitt felt he did "pretty good" and said "I won all my 1-on-1 drills, catching most of the passes that came my way". He also showed some good speed for his size, running a 4.52 40-yard dash at the event.
After the day in Cleveland, Kitt went down to Ohio State first on Sunday. Despite being disappointed not many coaches were on campus (Urban Meyer is in Florida for one), he said "the visit went pretty well", adding that he enjoyed the campus and facilities as he was lead around by OSU Director of Player Personnel Mark Pantoni. He said that Pantoni told him that the coaches would be calling him soon and he was excited and eager to hear what they had to say.
After leaving Columbus without an offer from the Buckeyes, Kitt took the trip down I-71 South to see Butch Jones and the Cincinnati Bearcats. Once again a tour of the facilities and campus were on the agenda, but this time Kitt added another offer, his sixth to date. He said he really liked Cincinnati and the visit and offer put the school in his top three along with Clemson and Georgia.
While things are moving fast for Demarre early in the process, he says he is not going to rush to a decision, adding that he'll "likely wait at least one more year" before making a decision and "could wait until National Signing Day in 2014". More offers are sure to come his way, including one likely from Ohio State, and he wants to take more visits to see what each school that is after him has to offer.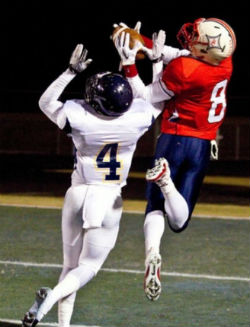 Not having grown up rooting for a team, despite having UGA and Georgia Tech in his home state, Kitt is pretty neutral right now. He does have his former teammate in Williams pulling on him to go play at Auburn, but says he doesn't know that much about the program yet and will have to take a visit there before he gives thought to joining his good friend.
In addition to making visits to Auburn and other schools during the spring, Kitt is working hard in the weight room and on the practice field to improve his game. While he feels his strengths are ability to use his speed and elusiveness to get open, as well as having good hands, he does want to improve on his "strength and explosiveness to beat jams off the line of scrimmage".
It is no secret that Kitt will be one of the most sought after players in the class of 2014. His current offer list and performances at combines like the one at Raw Talent Sports this past weekend show that and with more work this off-season he is only going to get better.
I expect Ohio State to be all over Kitt in the very near future and you can bet that after hearing that he came to campus for a look around this past weekend that Pantoni will make sure Urban Meyer is on the phone with him the minute he returns to his office at the Woody Hayes Athletic Center.
While it's hard to keep track of the 2013 class at hand right now, keep an eye on Kitt as he will be name talked about early and often all over the country when it comes to 2014 athletes.