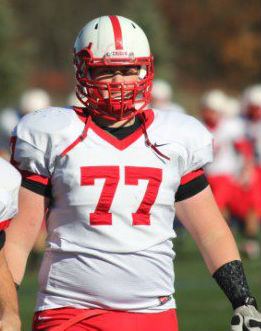 The offensive line was immediately made a priority for the class of 2012 when Urban Meyer came in to the head coaching position in late November. The results after just two months of recruiting yielded Joey O'Connor, Taylor Decker, and Kyle Dodson to go with incumbents Jacoby Boren and Pat Elflein, saving what could have been a less than mediocre group at a position of need.
Recruiting in 2013 won't be any different for Meyer and offensive line coach Ed Warinner, as they have their sights set on adding more talent and depth to the position come next February and are on the look out for the best offensive line prospects in the nation.
One of the prospects on their big board comes in the form of Canton (MI) OL Cameron Dillard. Dillard, standing at 6-3/280, played offensive tackle for his high school this past fall, but is projected at guard at the next level by most schools pursuing him. He already is in the double digits for FBS offers and some of the top programs in the nation have invited him to campus to check out their schools. He has been on the road traveling quite a bit recently, trying to check out all interested programs so that he can make the best and most informed college decision when that time comes.
This past weekend, Dillard was on the road once again, this time checking out West Virginia on Saturday before making the trip to Columbus for Ohio State's Junior Day on Sunday. We got the chance to sit down with Cam to discuss his visit, see how things are going with his recruitment, and more. Join us after the jump to get the latest news on one of the state up north's finest in Cameron Dillard.
First off, how did your junior season go? How did your team do and how did your perform individually?
In 2011 our team finished 8-3 after losing in the District Championship game. Despite our loss, I was selected to the 2011 Michigan AP Division 1 All-State First Team, The Detroit Free Press All-State Dream Team, The Detroit News All-Metro West First Team, The Detroit Free Press All-West First Team, All Observer First Team, and KLAA All League in 2011. As far as how I performed on the field, I felt I was more athletic and explosive in my movements from my sophomore to my junior season thanks in large part to Mike Barwis and his staff helping me become a better athlete.
How is recruiting going? What offers do you have at this time?
My recruitment is going well. I think I should have a big spring based on all the work I have put in this off-season so far. Right now, I have 13 offers that include Oregon, Arizona, Missouri, Arkansas, Indiana, Cincinnati, West Virginia, Wyoming, Bowling Green, Buffalo, Central Michigan, Eastern Michigan, and Western Michigan.
You have taken a lot of visits lately. Where are some of the places you have gone? What other visits do you have planned?
On my most recent Junior Day visits, I have gone to Michigan State, Clemson, West Virginia, and obliviously OSU. I head to Virginia Tech this weekend and after that everything else is up in the air.
What did you do while in Columbus and how did you enjoy the visit?
Well other than the traditional Junior Day stuff (stadium, facilities, academics), my family and I didn't do much while in Columbus except for go out to dinner at El Vaquero Restaurant. Next time I come back to Columbus, I definitely want to see some of the sites, such as Olentangy Indian Caverns and the Ohio Statehouse.
What coaches did you get to sit down with and what did they tell you?
Both Coach Bill Sheridan and Coach Ed Warinner were impressed with my film, however, they would like to see me in more pass protection since my school is run-dominant. They invited me to a Senior Camp to see how well I have done this off-season to improve this aspect of my game. 
What did you like most about your OSU visit? Do you plan to get back there at all?
I really enjoyed all aspects of my visit to OSU, but I liked seeing the Trophy Room as well as the Weight Room. I plan to be back in the Spring for Spring Practice, hopefully on multiple occasions. 
When do you expect to make a college decision? Do you have a list of "top schools" at this point?
I do not have a list of top schools at this moment. I guess whenever I get that gut feeling the school is right for me, then I will make my decision.
What is most important to you when making your college decision?
 It is my three A's for a school. These things are athletics, atmosphere, and academics.
What are your strengths on the football field? What do you want to work on heading into your senior season?
Well, I am consistently known as a dominant run blocker. In fact, I would call myself a "Grinder". I like going out on the field and grinding my opponent for four quarters. I think I have a wide body to take up space, but I can move in that space which makes it difficult for defensive players. One thing I wouldn't say is a strength but is slowly becoming an asset is my pass-protection skills. Our team is primarily run dominant, so I was blessed enough this off-season to work with Lomas Brown on my pass-blocking skills. Lomas helped me with my pass sets and trying to work on different angles to keep the defensive linemen away from the quarterback. Also, Lomas worked with me on my punch by showing me how to time the punch and where to strike. In the end, by combining both the run and pass blocking skills as part of my arsenal, I think I can be a complete player for any college program in 2013.
Besides football what are your hobbies? What does Cam Dillard like to do off the field?
Well, I am a volunteer in the community. In 2011, I had the opportunity to work with the Athletic Angels Foundation. This charity is all about connecting with local children and helping them during the holiday season to shop for winter clothing and Christmas gifts. Also, I participated in the Big House Big Heart Champions for Charity fun run. The portion of my entry went to the ALS research at The University of Michigan Program for Neurology Research & Discovery, the UM Cardiovascular Center and to C. S. Mott Children's Hospital and Women's Hospital in 2009. Additionally, I have assisted athletes in the Michigan Special Olympics to help those athletes attain their goals for success in 2008.
HIGHLIGHTS: