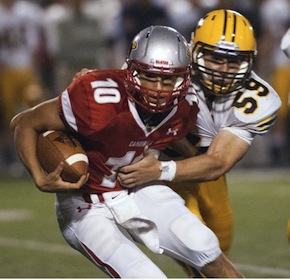 Good day folks, I hope that this afternoon finds you well. If you're somewhere that is being affected by this small snowstorm that's affecting me here in northwest Ohio, I hope that you're having a warm, safe and cuddly Valentine's Day.
This week my Tuesday time-slot will turn away from the non-revenue sports at OSU, instead turning to what should be one of the nation's top recruiting classes; Ohio State's 2013 group in general, and the quarterbacks in particular.
Urban and his staff ruffled a few feathers in as the 2012 class finished up by recruiting "committed" players and disregarding the antiquated notion of a "gentleman's agreement" in the B1G. This year should be full of intrigue throughout Columbus and the conference as coaches around the league have to change their approach or risk getting left behind.
OFF to a spectacular start
Today is February 14th, and Ohio State now has three commitments for the 2013 class, from three of Ohio's best prospects, including verbals from the state's unanimous top two, Jalin Marshall and Cameron Burrows. The third pledge came yesterday via Billy Price, the state's top two-way lineman and highest-ranked defensive lineman for 2013.
Ohio State looks to continue to add early commitments on Thursday, when Voorhees, New Jersey cornerback Eli Woodard will make his college choice public in a 4pm press conference. Woodard was in Columbus this past weekend, and it's expected that he will choose the Buckeyes. Woodard's commitment would give the Buckeyes two cornerbacks in the 2013 class, an area of significant need for the class as a whole.
As for who's "next" after Woodard this week? That's really anyone's guess. Could it be Mentor, OH QB Mitch Trubisky who reported an offer from Ohio State this past weekend? With this new coaching staff, it's becoming increasingly more difficult to discern how the "offers" are being disseminated. For now, I say that Trubisky is just another of the many in-state QB's that the staff is going to be closely watching. 
2013 Ohio State Commitment List

| NAME | POS | Hometown |
| --- | --- | --- |
| Jalin Marshall | ATH | Middletown, OH |
| Billy Price | DT | Youngstown, OH |
| Cameron Burrows | DB | Trotwood, OH |
Today we're going to take a look at some of those Ohio QBs as well as a few names across the fruited plains that could pop up in the future as Urban and Herman look for their next batch of signal-callers. 
but first, how many?
It is my belief that to remain as one of the top football programs in the country, it is vital to recruit a quarterback every year, no matter what. There are some who disagree with me as a matter of numbers and semantics, but I think to maintain program's continuity, knowing who your QB is going to be in two years is just as important as knowing who it will be this year.
The current Ohio State roster, after the departure of Taylor Graham to Hawaii, now has a total of three scholarship quarterbacks on the depth chart, only one who has played any significant minutes and if I may make so bold an assertion, only one that would have received an offer from the current coaching staff. I just don't see a scenario where Meyer would have offered Kenny Guiton or Cardale Jones (and I really like Jones' potential) or where he would have been in a position to have to. 
Jones was the lone QB in the 2012 class, although that was a by-product of him not handling his grades effectively in high school, or he would have been in the 2011 class. Meyer made a run at a few QBs late in the process for 2012, but to no avail, and because of that, 2013 is very important for the Buckeyes future at the position. Fortunately, there are roughly between 8-10 D1 prospects in the state at the position, a luxury afforded to Meyer that was never there for his predecessor at OSU.
The Buckeyes will likely take two more (if you consider Jalin Marshall at QB, which is possible, albeit unlikely) quarterbacks in the 2013 class, and while it wouldn't be surprising if they both hailed from the "Heart of it All", Urban will set his sights nationally in the hopes that he can snag a big fish, someone like a Jameis Winston who he was unable to land in 2012.
Simply put, Urban Meyer is not messing around. He will put the Buckeyes "in the game" for most every prospect he's interested in, and it's adding a new element to the way recruiting works for Ohio State.
Let's take a look at the guys that Urban is looking at, and you can what I am talking about.
who should we know about in ohio?
First off, we'll take a look at the great state of Ohio, and the prospects in the state who will be looked at closely by Ohio State.
Tra'Von Chapman - Theodore Kent Roosevelt HS - Kent, OH Chapman has the size, arm-strength and grades to be considered by nearly every major school in the country, but for whatever reason hasn't generated as much early publicity as some of his peers, but that doesn't mean he's flying completely under the radar. With current offers from Arizona, Northwestern and Illinois among others, Tra'Von is widely considered as one of the "favorites" to make his way into the OSU class of 2013. 
He visited Ohio State for their first junior day two weeks ago, and while he didn't come away with a coveted offer, he was able to spend some quality time with both Urban and Herman, who let him know that they want to see him live before they will make a final decision about his eventual place at Ohio State. 
He's stated that Michigan, Michigan State and Oregon are among the other schools that have inquired about him, but that he will likely attend camps this summer to change people's minds about his proficiency as a passer. 
His father played at Ohio State from 1980-1983, and went back to OSU to get his degree, graduating in 2009. If Tra'Von finds the Buckeye offer he seeks, it would be a major upset for him to wind up anywhere other than Columbus in 2013.
Kyle Kempt - Washington HS - Massillon, OH As a high school freshman in 2009, Kempt was standing out at camps in Salem, Oregon and reportedly was offered a scholarship to play quarterback at Stanford. As a high school sophomore in 2010, he was moving across the country as a result of his father being transferred by his employer and was instantly thrust into the spotlight as the next starting QB at one of the country's most high-profile high school football programs. 
That's a big burden to be cast on the shoulders of a 16 year-old kid, even if you're a 6'5", 200 pound 16 year-old kid. 
Since his transfer, Kempt has played well, but perhaps his "arc" hasn't been as extreme or as quick as the expectations, but he's going to be entering his senior season at Massillon Washington with offers from Stanford, Tennessee and West Virginia, to go along with a handful of MAC offers. He will be participating in the Semper Fidelis All-Star Game next January.
Darron Lee - New Albany HS - New Albany, OH Listed at 6'3" and 205 pounds and running a 4.6 40 yard dash, Darron Lee is a physical specimen under center. He has drawn scholarship offers from Boston College, Bowling Green and Toledo and was recently in Columbus to check out the Buckeyes, who are now checking him out, but is he a QB? 
When he visited Ohio State at the end of January, the Buckeyes coaching staff placed him with the defensive backs, and that would lead me to believe the Buckeyes are pretty clear about where they see Lee fitting in. 
Lee was told that Ohio State would like to see him at a camp this summer, and said that he plans on going to earn an offer from the Buckeyes, an attitude that will certainly win him some points from a coaching staff that values competitive nature more than some other tangible characteristics.
Brogan Roback - St. John's Jesuit HS - Toledo, OH Brogan is a kid I am going to be rooting for from a personal standpoint, no matter where he ends up. He plays for a team that was one of my rivals in high school, but his head coach was one of my favorite coaches from my days playing baseball; now that that's out of the way, here's the deal on Roback.
He's big, but he's skinny; but he's also very athletic and accurate as a passer. He has been making the rounds on the recruiting trail, including a stop in San Antonio for the US Army All-American combine, where he was named to the All-Combine First Team at quarterback. The evaluators there were impressed by his arm strength and accuracy, and commented on his consistency throughout the event.
He visited OSU this past weekend and had a great time, telling me how fond he was of Fickell and the coaching staff; and that they want to get another chance to spend some one-on-one time with him, although Brogan is not sure if he will be camping at OSU or not this summer, although he did say he planned on making some camps.
If an offer were to come, it changes things considerably, but this is a player that is about to blow up, and the Buckeyes might be waiting a bit longer than some other regional teams to make that offer.
Mitch Trubisky - Mentor HS - Mentor, OH The latest Buckeye-state QB to turn some heads with the Buckeyes interest in him, Trubisky has put up some big numbers at the D1 level, regularly playing against some of best competition in the state. He devastated school records in 2011, throwing for over 3800 yards and 41 scores, but also ran for over 600 to go with 12 scores on the ground. 
Trubisky is a Buckeye fan, and the rumblings over the weekend were that he had in fact received a scholarship offer from the Buckeyes. Trubisky's offer is one that may help us get a better handle on how Meyer and his staff exactly proceed when it comes to recruiting, because if that offer is in fact "valid", his commitment would likely be imminent. 
He's 6'3" and 200 pounds, runs very well and throws the ball well, but does have a tendency for turning the ball over, as evidenced by 13 turnovers in two games against St. Ignatius and his playoff game against Solon, which is obviously concerning.  Watch how this one plays out, if you don't see a gray box about Trubisky soon, it could tell us a lot about how OSU will handle recruiting moving forward.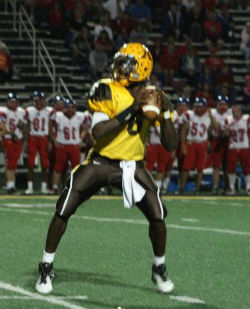 Malik Zaire - Archbishop Alter HS - Kettering, OH
Here's one that has everyone sort of scratching their heads. Malik Zaire received an Ohio State offer in October of last year, and at that time it was assumed by most that it wouldn't be long until he was a Buckeye commitment. 
When the coaching staff transitioned in late November, it was not really known how the changes would impact the players from 2012 who were offered, let alone the class of 2013.
Malik has told me that he is still waiting for Coach Meyer to extend to him an offer, which would explain why he has not yet committed, a common question that I am asked. If he gets a "new" offer from OSU, he commits, and it's really that simple. 
He's a very talented passer who has offers from Nebraska, Northwestern, Illinois, Boston College, Pitt, Wisconsin and more, but he continues to list the Buckeyes as his top choice. The Badgers and Panthers round out his top three choices, as it stands today.
When February of 2013 comes around, Zaire is still one of the QBs that I predict will have his signed LOI faxed to the WHAC.
The question for Zaire is when he gets that closer look from the coaching staff, and whether or not they want to see more of him this summer at camps, where he can be evaluated in person. 
There are plenty of qualified and worthwhile QB prospects inside of Ohio's border, but as I said, this is a different ballgame with this staff, and they will spend considerable time reaching out to the nation's best. Here are a handful of those names that deserve your attention. 
who are the national kids osu is looking at?
Aaron Bailey - Bolingbrook HS - Bolingbrook, IL The latest QB to report a Buckeye offer, Bailey is a dual-threat QB who could very well be a WR at OSU if he chose to accept the Ohio State offer. At 6'2", 225 pounds and a listed 4.50 forty, Bailey is a top-notch athlete who could be a perfect fit at QB in a spread offense as well. HIGHLIGHTS
Bucky Hodges - Salem HS - Virginia Beach, VA Hodges received an offer from Frank Beamer and Virginia Tech as a freshman, and with his frame, it's no surprise. He's 6'5" and 200 pounds and is very athletic (he's a hoops player, as well), but like a lot of high school athlete's whose size and speed give him an instant advantage, he lacks some mechanical fluency that will be necessary as he continues to develop. Currently has offers from Vanderbilt, Virginia Tech, UConn and and East Carolina. 
HIGHLIGHTS
Johnathan McCrary - Cedar Grove HS - Ellenwood, GA Offers from Alabama, Clemson, Georgia Tech, Oklahoma, Texas and a lot more are all you need to know about McCrary's options for college. He's a lanky athlete with natural talents that can't be taught, but will need to work on his mechanics to be big-time QB in big-time football. He will be difficult to get out of the south, but that won't stop Meyer and his staff from working their tails off to do it.
HIGHLIGHTS 
Tyrone Swoopes - Whitewright HS - Whitewright, TX The highest-rated and most highly sought QB that Ohio State will make a play for his upcoming year, Swoopes is the five-star QB that has offers from everyone, and with good reason. His 6'5", 220 pound frame and sub 4.6 forty make him the new prototype, and his strong arm and natural mechanics are an added bonus to his physical prowess. Swoopes has recently said that he wants to take out of state trips to Ohio State and Stanford, and that he's in no hurry to make a decision any time soon, which works out well for the the Buckeyes. As always with major out-of-state kids, it's about getting him on campus, and then anything can happen from there. 
HIGHLIGHTS
That's the in-depth look at the quarterbacks who are on the Buckeye radar for 2013, and of course it could always change, but that's where we sit today.
We'll break down 2013 running backs in two weeks, next Tuesday we will back with Around The Oval. See you then.