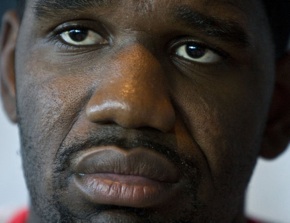 On Monday, Greg Oden, the #1 pick in the 2007 NBA draft and crown jewel of the "Thad Five", was in Vail, Colorado, for a routine surgery on his knee. (Similar to what Trent Richardson recently had done, sounds like.) When the surgeon opened up Oden's left knee, however, he discovered additional damage. The needed microfracture surgery was done on the spot.
Afterwards, it was announced Greg Oden would miss the remainder of the 2011-2012 season. It was hard news for the five year NBA vet, who has now had three microfracture surgeries (five knee surgeries over all) and only played in 82 regular season games during his career.
For fans of Oden's team, the Portland Trailblazers, it was even worse. It was their franchise who chose Sam Bowie over Michael Jordan, and now, 23-years later, it appears they repeated the same mistake by taking Greg Oden over Kevin Durant. (Not to mention, their All-Star shooting guard, Brandon Roy, was forced into an early retirement due to knee problems this off-season as well.)
Going forward, there probably won't be many mentions of Greg Oden without Sam Bowie, namely because they both have poorly erected, big bodies and were taken in drafts in front of future stars. (MJ becoming the 2nd best player to ever play the game, and Durant being the best small forward of his generation not named "LeBron James" [and with a chance to grab LeBron's torch likely coming this June].) Bowie, though, managed to play in the NBA for a decade. I'm not sure Greg Oden will make it that long. (Oden isn't retiring, but his days in Portland are probably over.)
Not to say a man who made 23 million dollars while working one year out of five is worthy of your pity, but it makes me sad to watch Oden reduced to jokes about his age, all three of his legs being of unequal length, and his draft status. I enjoyed watching Greg Oden play basketball, but he also changed the way I looked at sports.
Greg Oden was the first athlete in my life that made me realize, "Good Golly, that dude there is younger than me!" My whole life, athletes had always been bigger, larger-than-life figures. Then suddenly one day, there was this marker on my own life's mortality, and it came in the form of a 7-foot black kid from Indianapolis who looked like he fathered LeBron James. Suddenly, I felt as if I knew what it was like for Caesar to come across that statue of Alexander the Great in Spain. There were kids younger than me who were balling and acquiring currency and stacking women. It was a radical notion. 
Like a lot of white middle class bros in America, I grew up with some idealized belief about sports. I thought shoes stitched together by a thirteen year old in China for 13 cents a day gave me super powers. I thought sports were some proving ground between "right" and "wrong". I hadn't realized sports were just another commercialized commodity fueled by greed, no better than those "AWEE SHIT, KIM KARDASHIAN HAS A BUN IN THE OVEN, AND THE BAKER IS JEREMY LIN" celebrity-gossip rags dudes generally roll their eyes at in grocery stores.  (For the record, if Kim Kardashian were to ever have a baby with Jeremy Lin, just know I would already swinging naked from a twine noose in my closet with a neatly folded American flag on the floor to catch my evacuated feces.)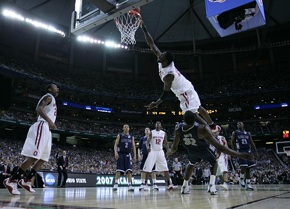 That's why, in 2006 when I was home for Christmas break, I took up an offer from my best friend to take in an Ohio State basketball game. I have never cared for college basketball, so it was much chagrin when we got to the game and it turned out Oden wasn't yet fit enough to return from his wrist injury. To make matters worse, my friend's seats were literally in the last row of the Schott. Between the vertigo and nausea created by the altitude of the seats/angle from which we had to watch, we left at halftime, probably to do super cool things like drink Natural Light from a can while being surrounded by other people drinking Natural Light from a can.
I missed Greg Oden that night, but I didn't miss much of him the rest of the year when he finally returned from injury sabatical. It was helped by the fact Ohio State had three future NBA players on it (four once David Lighty gets his proper shot), but Oden was the primary reason I watched. I couldn't get enough of the stoic way in which he went about obliterating all those who stood in front of him. (He could have easily been Bill Russell and won 11 straight titles in an era where players smoked Marlboro Reds at halftime.)
Oden averaged 15 pts and 9 rebounds a game during his 32-game career at Ohio State, but he saved his best work for when the lights shined the brightest. Sure, Ron Lewis saved the Thad Five in the first round, but Greg Oden put up 14-12 as a freshman in a game where he also nearly killed a Xavier player, which was awesome; if for nothing else, than to see the primal fury which was acually boiling under the tranquil sea of his exterior during games. (This incident then led to one of the saddest public meltdowns of all time and Oden being labeled a "thug" , a descriptor which I can only guess he earned for being black.) 
Before proceeding as such, I was going to divert a whole post to Greg Oden's national title game effort: 25 points on 15 shots, 12 rebounds (8 defensive, four offensive), one assist, one steal, and four blocks against one of the greatest college basketball teams of all time. It was one of the most Herculean efforts I've ever seen in a college basketball game. Years later, it's a performance that I feel will never be truly appreciated by Ohio State fans because it was the capstone on a career which will probably also never be truly appreciated by Ohio State fans. Not that I can blame them, I'm not sure I would have had the same appreciation for it if his and my parents hadn't had sex 12 months apart. 
I don't know where Greg Oden goes from here. Because of his pedigree, an NBA team will take a waiver on him if he comes back from yet another surgical setback. Though, he will certainly become more of a punch-line on the national scene as Kevin Durant and That Team Oklahoma City Stole from Seattle continue their ascent. Greg Oden deserves better than this, but then again, Greg Oden deserved better bone structure than the brittle one the Gods gave him. Maybe that's just the tragedy of Greg Oden's athletic career.
The Buckeyes faithful turned from Greg Oden to Kosta Koufos to Byron Mullens to Jared Sullinger. Byron and Kosta Koufos -- SHOCKINGLY!!! -- have earned their spots in the NBA; and Jared Sullinger is well on his way. Hopefully history won't let Greg Oden fall through the cracks.