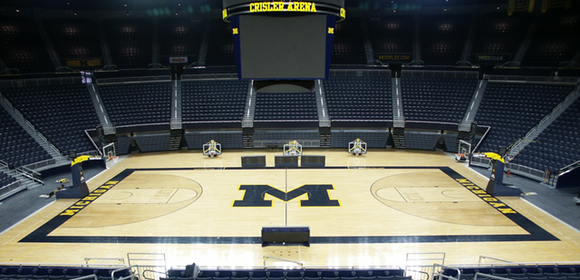 This Saturday night, Ohio State will travel to Ann Arbor for a rematch against The Team Up North. On January 29th, the Buckeyes prevailed over the Wolverines 64-49 in Columbus. This time, Ohio State holds just a one game lead over Michigan in the conference standings. Michigan State, who faces off against Wisconsin tonight, is currently 1/2 game out of first, so this is a critical contest in the Big Ten race. 
After a six-day break, the Maize and Blue should be rested and ready to go, playing in Crisler Arena where they are a perfect 14-0 so far this season. The Buckeyes will undoubtedly be walking into a hostile environment, greeted with derogatory chants that will offend John Groce. I think we can also expect Michigan football celebrities like Denard Robinson (courtside) and Brady Hoke (near the concession stands) to be in attendance. 
If that doesn't get your juices flowing, there's always this. 
Before the rivals clash in two days, set for 9pm on ESPN, Ace Anbender of MGoBlog joins us to discuss Michigan hoops and how he thinks this game will be different, and similar, from the first go-around. 
Even though Ohio State and Michigan met a few weeks ago, what are three things about the Wolverines you would tell people still unfamiliar with them?
This isn't your average John Beilein team, in three very distinct ways:
First, the strength of this team, at least in conference play, lies in their defense. Despite being incredibly undersized—6'4" Zack Novak is back to starting at power forward after Evan Smotrycz was benched early in Big Ten play—Michigan has managed to come in fourth in the conference in defensive efficiency. They force a lot of turnovers (21.5 TO%, 2nd in the B1G) due to sound positional play, and they don't allow teams to get to the line very often. This makes up for their tendency to get outmuscled on the glass, which I'll talk more about later.
Second, the style of defense isn't what people have come to expect for a Beilein team. While Michigan will likely break out a little bit of his signature 1-3-1, as well as the 2-3, against Ohio State to try and nullify Sullinger, the Wolverines mostly play man-to-man. Instead of relying on the zone, they use it more as a change-of-pace to catch their opponent off-guard, especially coming out of timeouts.
Third, the offense is really at its best when the team is getting to the basket, even though Michigan takes a lot of threes. The key to stopping them is finding a way to shut down the high pick-and-roll, but Beilein is so good at finding different ways to get his best players in position to score that there's no one way to attack this team defensively.
Michigan is currently one game out of first place in the Big Ten standings. What chances do you think they have of winning at least a share of the B1G title? How do you see the rest of their season unfolding?
I think Michigan has a shot—and Ohio State losing to Michigan State certainly helps—but I don't see them winning the title outright. First of all, I really don't expect them to beat OSU, which won't help matters. Also, MSU and OSU are just better teams, in my opinion.
The Wolverines do have the schedule working in their favor. After Ohio State, Michigan should be favored in every remaining game except a road tilt at Illinois, and that should be a tossup. In the end, I think Michigan wins three of their last five games, which would give them a 12-6 Big Ten record. That could be good enough for a two-seed in the conference tournament, but I think either MSU or OSU will end up with 13 wins.
Michigan has lost four conference games. What have been the major factors contributing to those losses?
The main factor in their last two losses—against the Spartans and Buckeyes—has been getting dominated on the boards. Michigan is just eighth in the conference in offensive rebounds allowed, a product of the team's (lack of) size, and big squads like MSU and OSU can give them a lot of trouble. Once you get past starting center Jordan Morgan, who often finds himself in early foul trouble, Michigan either has to play a skinny 6'9" power forward (Evan Smotrycz) or a very limited, perimeter-oriented big (Blake McLimans) at the five. Backup center Jon Horford is likely out for the year with a foot injury, and that's really hampered Michigan's depth up front.
Another issue has been the streakiness of some of their top scorers, namely Tim Hardaway Jr. and Evan Smotrycz. Both have spent much of conference play mired in shooting funks, and when those two—especially Hardaway—aren't scoring Michigan has to really lean on Trey Burke. That's a lot of pressure for a freshman point guard.
This season, the Wolverines have a perfect home record. How do you expect their performance to improve from the previous time these two teams faced off?
I'd like to think Michigan will shoot better than 36% from the field this time around, and at home I'm guessing there won't be an 18-4 free-throw disparity, either. That's not to say that the Buckeyes won't get to the line more than Michigan—I expect that to be the case—but with Big Ten refs I think a few more of the borderline calls will go M's way.
Also, everyone's favorite guy to hate, Zack Novak, scored zero points in the first game. I don't think he'll let that happen in this one, even if he still has to focus most of his attention on defense and rebounding against the bigger Buckeyes. Novak has been the most consistent outside shooter and he's shown a knack for getting to the basket, as well—he's far and away the most efficient offensive player on the team, according to KenPom.
Many Ohio State fans have been following Trey Burke's success this season. What has impressed you most about him?
Most people would probably talk about his poise, and I'd be hard-pressed to argue; the guy's facial expression barely changes no matter the situation. What's probably struck me the most, however, is his ability to find a way to get to the basket. Burke's quickness is obviously a huge asset, but he's also very adept at using his body to ward off larger defenders and create the space to finish. He's a very special player, and I think at this point most Wolverine fans are simply hoping he sticks around for more than a couple seasons.
Like William Buford, Tim Hardaway Jr. has been plagued by inconsistency lately. Do you expect a turnaround? How much of Michigan's season depends on him?
I think he's beginning to turn it around. He showed signs of improved shot selection—a major issue that's contributed greatly to his recent slump—against Nebraska last week, then broke through with 15 points on 5-9 shooting against Illinois on Sunday. The key for him is making sure not to force his offense—he too often settles for quick shots from long distance, including the dreaded pull-up 19-footer—and getting to the basket. A player with his athleticism should not be settling for outside shots, plain and simple.
If Michigan is going to make a run in the Big Ten or NCAA tournament, they need Hardaway to play the way he's capable of playing. Burke isn't yet a scorer at the level where you can rely on him to carry a team by himself, and Michigan's other players function best as secondary options—the only other guy who can consistently create his own shot is Novak, and he only does so occasionally.
This may be blasphemous to you, but if you could add one Ohio State player to UM's roster, who could it be and why?
If it's for this year, I'd choose Jared Sullinger for what should be exceedingly obvious reasons. For one, he's one of the three or four best players in the country, and Michigan also desperately needs size and depth up front. He could turn this squad into a potential Final Four team with his inside scoring presence and rebounding ability.
If I'm taking a player for the duration of his career, I'd have to take either Aaron Craft—after Burke, the Wolverines really don't have a true point guard—or Deshaun Thomas, whose size and potential make up for his relatively lackadaisical defensive play. I know I'm hammering this point into the ground, but Michigan could really use an infusion of size up front, though having a healthy Horford next year while bringing in Mitch McGary should go very far towards alleviating that concern. Gun to my head, I take Craft.
Do you have a score prediction or any other thoughts about the game? Should we be expecting a "just like football" chant to break out?
I would love to say yes, but I have a tough time seeing Michigan pull this one out. In the end, I just think OSU's overall talent and size will overwhelm the Wolverines again, and we could see this one play out much like the first game. Michigan will probably keep it closer and I expect a higher-scoring contest, but if I had to throw out a prediction I'd go with 68-60, Buckeyes.
It will take Michigan catching fire from outside for them to win, because in order to keep Sullinger from dominating they need to focus so much on him that they end up giving up a lot of second-chance points. It could happen, but the Wolverines haven't been consistent enough from outside for me to predict an upset.
---
Thanks again to Ace Anbender of MGoBlog for taking the time to answer our questions. To read more from Ace and the rest of his crew, check out the following links: