Good morning Buckeye fans and friends of the program. I hope you're all greeted with sunshine and love this morning.
As we move further and further away from the college football season and into the dead of winter, it becomes a bit more difficult to remember what happened from September to December, and for us, this year at least, that's a good thing.
Urban has the Buckeye machine rollin' right along, and after a year of being brutalized by the media, both local and national, it's quickly becoming "cool" to be a Buckeye again.
Just in the nick of time, too, because if we had to go through another year like we just did, I don't think I could take it.
 TURNING THE CORNER. With the dismissal of cornerbacks Dominic Clarke and Derjuan "Pee-Wee" Gambrell, the Buckeyes now find themselves staring a serious lack of bodies at the corner position squarely in the face. Rising star Bradley Roby returns, as does the oft-maligned Travis Howard, but after the two of them, there is little to no game experience to be found at corner for the Buckeyes.
Freshman Doran Grant, highly-touted out of high school, picked up some minutes on special teams last year and will be counted on to provide the Silver Bullets a boost, but who else will be there for the Buckeyes? Corey Brown has not been able to get on the field and stay there for any significant time due to injury and his off-the-field miscues.
With the departures of the aforementioned, the Buckeyes now have only four scholarship athletes to fill the cornerback spot.
There was a lot of discussion as to why Ohio State was working so hard to get into the conversation with Mesquite, TX CB De'Vante Harris (who committed to his father's alma mater, Texas A&M, this week) and West Roxbury, Massachusetts corner Armani Reeves, and maybe now we know why. Clearly, Urban was aware that some changes would be made to the roster's makeup, and the Buckeyes are putting a lot of faith in their ability to close the deal with Reeves, who is visiting Columbus now with HS teammate and fellow Penn State "soft commitment" Camren Williams.
If Reeves remains committed to Penn State, or decides to go to Michigan, it could put Urban and the recruiting staff in an unenviable position. Do they let it ride for 2012 knowing that 2013 recruiting class has some major DB talent in it (Ohio's Cam Burrows and Caleb Day, New Jersey's Eli Woodard to name a few) or do they extend some last minute offers to less-heralded players in the 2012 class to get the roster filled?
It will be curious to see how Meyer and his staff play this one.
 MATTA OF PERCEPTION? The Buckeye basketball team is in the middle of an unusual mid-season week off, but that doesn't mean we can't talk about the Buckeye hoopsters. Currently 16-3, the #6 Buckeyes are three four wins away from giving Thad Matta his 12th consecutive 20-win season to start his head coaching career, an incredible accomplishment for a coach who gets a lot of flak for his "in-game" coaching decisions. He is a three-time B1G Coach of the Year, and it appears that his career, (unless it's derailed by some physical ailment) is on the ascendency and his coaching tree is growing nearly every year. Matta's former assistants now hold head jobs at Arizona, Ohio, Charlotte and Dayton. 
Thad has been blessed to have some of the best players in Ohio State history suit up for him, but that credit goes almost entirely to him and his coaching staff, not because of the school's basketball legacy. Matta himself has pounded the pavement to sell a Buckeye program that was on the probationary ropes when he took over and deserves a lot more credit and praise from Buckeye fans than he receives, in my opinion.
While I don't intend to spend too much time looking backwards, especially in criticism of a 17-point win against a Top 10 team, I couldn't help but question the decision on Sunday to keep the starters in as long as he did in the second half. With the crux of the B1G schedule upcoming, and the need for experienced depth in the overly-officiated conference (especially against the road team in any given contest), it would have made sense to let Sam Thompson, JD Weatherspoon and more get PT early and often in the second half.
Those players have stood up and played well when forced into action at Indiana, Kansas and Illinois, and will likely be called on again when the "Big Four" of Craft, Sully, DT and Buford find themselves in foul trouble in tough road environments.
I'm not sayin', but I am just sayin'.
**On an unrelated basketball note, if you felt that my story on Dennis Hopson in November was compelling enough to make you think about his place in the rafters at Ohio State, you can sign a petition here to let the school know.**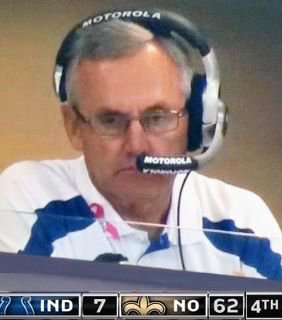 HOW DIFFERENT IS IT? According to ProFootballTalk.com, Jim Tressel will be interviewing to become the head man in Indianapolis after the Colts fired Jim Caldwell on the heels of their 2-14, Manning-less season.
While I do not know if Tressel's demeanor and personality will translate to NFL success (given the opportunity for it), I do know that he is a man that most players respect and listen to, and that he would likely be the most "unique" head coach in the league. It's a different beast when you're trying to motivate and develop millionaires versus the entitled college athletes that JT was so often surrounded by (of his own choosing, of course) at Ohio State.
Given the chance, I know I wouldn't bet against him, especially if he's fortunate enough to inherit a team with Peyton Manning and Andrew Luck taking the snaps.
H(ATE) FROM THE IZZO. I have a quasi-confession to make that will please in some way my nephew Isaiah if he were (able) to read it: if the Buckeyes didn't exist, I would probably be a Michigan State fan.
Tom Izzo solidified my adoration for him before Tuesday night's one-point loss to Michigan in Ann Arbor.
"So if you are asking me do I respect John Beilein? Tremendously. Do I respect Michigan? Tremendously. Do I like 'em? Not one bit."
Ahh, good ol' fashioned hate. It's nice to see it can still exist, and of course, as Kyle Kalis helped point out, the UM folks find a way to make it easier and easier with every tiny success they achieve. 
 TEAM AMERICA. Ohio State commitment Se'Von Pittman will be participating in the International Bowl, a high school All-Star game in Austin, Texas on February 1st. That Wednesday is national signing day, and Pittman will sign and fax his letter of intent from Austin at a breakfast that morning.
Current Buckeyes Ron Tanner and Michael Bennett participated in the International Bowl in 2011.
QUICK SLANTS. The Boss is back... Ok, so sports reporting is LITERALLY getting awesome... Art imitates life, but some of these might surprise you... If you're ticking off Hollywood, I figure you're winning... Do you have any other choices?