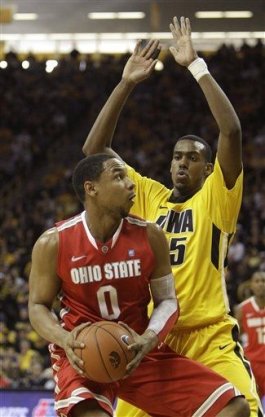 Leading by just nine at the half thanks to another foul plagued 20 minutes, Ohio State used 2nd half runs of 10-2 and 29-9 and a season high 28 points from Jared Sullinger to blow past Iowa 76-47 this afternoon in Carver-Hawkeye Arena. 
Sullinger looked completely healthy as he dominated at both ends of the floor. Offensively, he drained 13 of 18 shots with two o-boards helping OSU post a 44-22 edge in points in the paint while adding six defensive caroms, four steals and a block. 
With Sullinger patrolling the paint and the bevy of perimeter defenders harassing Iowa shooters, the Hawkeyes shot a dismal 32% from the floor including 3/12 from downtown with 20 turnovers. Ohio State racked up 12 steals led by Sullinger and three from William Buford. 
Buford also added a season high 11 boards and five assists but the senior from Toledo struggled to find the range shooting a horrific 3/14. For all the talk about the bigs missing Jon Diebler, there's little question in my mind that WB misses Diebler's offensive presence the most. Sure, WB's never been hesitant to take a shot but he seems to press more often than not knowing he has to shoulder the perimeter scoring load. 
Deshaun Thomas was the only other Buckeye in double figures with 10 points (4/6) despite playing just nine minutes in the 1st half thanks to foul trouble. 
Thomas wasn't alone on the pine as fellow starters Aaron Craft and Lenzelle Smith also picked up two early fouls forcing Matta to play without those three over the final 10:52 of the 1st half. 
The Buckeyes hardly missed the trio as they went on a 12-4 run just after Craft picked up his 2nd foul turning a 9-9 score into a 22-13 lead. Sullinger shouldered the load with seven points but the reserves also chipped in as Shannon Scott hit a deep jumper, JD Weatherspoon rattled the rim and Sam Thompson outdid him capping the run with a high flying alley oop off a perfect pass from Scott. 
A return of cold shooting allowed Iowa to score six straight points cutting the lead to 22-19 with 2:47 until intermission but OSU responded with a 6-0 run themselves to close the half thanks to the Northland connection. Sully went to work on the low block for two, Weatherspoon flushed another strong look from Scott and Sully capped the run with a putback dunk of Buford's ninth miss. WB would miss one more as he forced a shot in the lane to take an 0/10 streak into the locker room. 
Sully's 15 first half points were huge as Smith, Craft and Thomas played just 22 combined minutes and even when Craft was in (9min) he was largely ineffective with three turnovers. 
Aside from Sully, the other two main storylines from the first half were Scott's play and a team defense that held Iowa to 5/23 from the field (22%) with 12 turnovers. Scott was fantastic with two points, five boards and five assists against zero turnovers in 11 heady minutes of action. 
Lowlights of the 1st half included Buford's 0/10 donut which weighted down the team's 39% shooting, another struggle from distance (2/7) and 10 team fouls. The fouls kept Iowa in the game as they 8-0 from the stripe to trail just 28-19 at the half.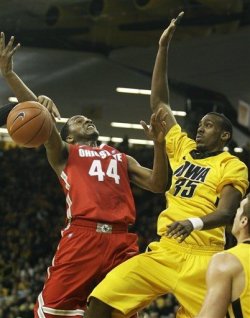 Able to put the starters back on the floor, Matta's troops came out firing to start the 2nd half. Thomas got it started with a triple and Buford recorded his first bucket in 11 tries off a drive one possession later. After an Melsahn Basabe deuce, Smith splashed a triple from the left wing, Craft hit a driving layup and Sully finished the 10-2 spurt with a bucket in the lane off a feed from Craft pushing the Buckeye lead to 38-21 with 17:52 left in regulation. 
Iowa would score on their next three possessions trimming the lead t 40-27 with with 16:12 left but after the under 16 media timeout, Ohio State buried the Hawkeyes with a 29-9 run to take a commanding 69-36 lead with 5:50 left in the manhood stripping. 
Sully had 11 points during the haymaker with Buford adding six and Thomas four while Iowa was busy missing 10 of 13 shots with six turnovers in the roughly 10 minute span of Buckeye dominance. 
For the game, OSU shot 52% from the field, 50% from distance (7/14), won the glass 41-3 and scored 23 points off the aforementioned 20 forced turnovers At one point, OSU had held Iowa to 10/40 from the floor.  
One final impressive stat about the defense - Iowa didn't have one player reach double figures as Eric May led the Hawkeyes with nine points on 4/10 shooting. The team's leading scorer, Matt Gatens (13.6), was held to six points on just 3/8 from the field. 
The win improved the Buckeyes to 15-2 overall and 3-1 in the B1G. 
Next up is another roadie, this time a much tougher task at Illinois on Tuesday. ESPN has your TV coverage at 9pm.