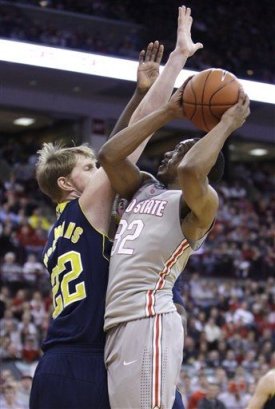 Lenzelle Smith Jr. paced four Buckeyes in double figures with an unlikely 17 point, 12 rebound performance and Ohio State used a key 14-2 spurt in the 2nd half to runaway from the Wolverines 64-49 this afternoon in the Schott.  
The win is the sixth straight against That Intramural Squad From Up North and the 15th in the last 17 tries.
Moving to 7-2 through their first half of the conference slate, the Buckeyes currently hold sole possession of 1st place, a half game ahead of a 6-2 Sparty team that travels to Champaign next Tuesday night. 
Jared Sullinger played just 28 minutes due to 1st half foul trouble and found himself frustrated from time to time but he still managed 13 points and five boards. 
Deshaun Thomas and William Buford each added 12 points and five boards but Buford was generally awful shooting 5/13 with six of OSU's 10 turnovers. 
Coming into the game, the showdown of Aaron Craft vs. Trey Burke took center stage and Craft did not disappoint tallying seven points, four assists and two steals while upsetting Burke's flow at the other end of the floor. Averaging 16.0 ppg in B1G play, Craft held Burke to 13 points on 5/11 from the field and helped force five turnovers, offsetting Burke's five dimes. 
In a generally sluggish game, the Buckeyes used back to back And-1's to take an early 13-9 lead but Michigan responded with a 10-2 spurt to take a 19-15 lead with 5:15 left in the opening half. Despite Sully watching from the pine with two fouls, the good guys closed the half on a 9-2 run to take a 24-21 lead at the break. 
Smith keyed the run with a putback of an errant triple try from Thomas, an incredible rebound in traffic and long pass up court to Thomas who was fouled and converted one of two FT's, and a strong layup from the baseline off a look from Thomas before Buford splashed a triple with 1:09 left providing the slim halftime cushion. 
With Sully missing eight of the opening 20 minutes, Smith picked up his slack with nine points and seven giant boards, four at the offensive end with zero turnovers while helping hold Tim Hardaway Jr. to 2/7 shooting. Craft was also a factor as he held Burke to 1/4 from the floor (2 pts) with three turnovers against four assists. 
Neither team shot it well in the 1st half with OSU checking in at 35% compared to Michigan's 36% and both teams combined to shoot 5/20 from distance. 
To start the 2nd half, the teams exchanged mini-runs of 8-0 by OSU and 7-0 by Michigan as a Burke trey cut the Buckeye lead to 34-33 at the 15:47 mark, setting up Ohio State's decisive 14-2 blitz.
Buford got it started using nice body control on a dribble drive for two. After Evan Smotrycz was whistled for a moving screen, Smith put back a Buford miss and on the following possession, Buford picked Burke's pocket and raced upcourt for the dunk making it 40-33 Buckeyes at 13:51 forcing Beilein to call timeout. 
On the ensuing Buckeye possession, Craft drove the lane for two drawing the 4th foul on Jordan Morgan in the process though he'd miss the free throw. Moments later, Sully buried two free throws and Buford dropped a dime to Smith for a layup pushing the lead to 46-35. 
Michigan still had no answer as Evan Ravenel drew a charge on the next possession and Thomas got loose for another offensive rebound. Fouled on the putback try, Thomas sunk both completing the spurt and giving Ohio State an insurmountable 48-35 lead with 10:50 to play. 
The Wolverines would get no closer than seven at 50-43 at the 5:44 mark as Sully scored six straight points ahead of a Thomas spinning bank shot, a pair of free throws from Smith and a 17 foot fadeaway jumper from Buford to round out the scoring. 
Despite just five from Sully, OSU hurt Michigan on the glass to the tune of 37-22, grabbing 14 offensive caroms in the process, an incredible eight of those by Smith. The kid was absolutely spectacular on the windows while burying 6/12 from the floor and 5/5 from the stripe. 
For the game, the Buckeyes shot a meh 42% overall and a dismal 3/15 from distance but the defense held Michigan to 36% shooting in addition to their dominance on the backboards. Also, for all the talk the bench has received lately, roughly 29 minutes of Evan Ravenel, Sam Thompson and Shannon Scott produced three points (all Rav) on 0/5 from the floor though they did grab eight boards. 
Hardaway Jr. led Michigan with 15 points but hit only 5/12 shots including 2/7 from three. 
The agressors all day, the Buckeyes converted 15/18 from the line (83%) while Michigan's passive offense yielded just four free throw attempts. 
The win is Ohio State's 38th straight at home. 
Next up for the Buckeyes (19-3), a Saturday trip to the Kohl Center to take on Bo Ryan's Badgers. ESPN has your 2pm tip.