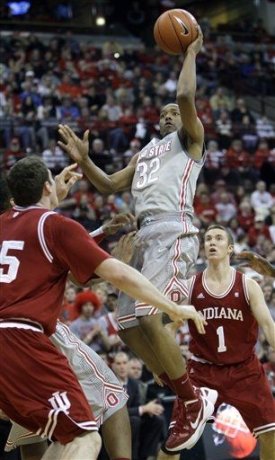 Lenzelle Smith Jr. went off for a career high 28 points and the Buckeyes used a rejuvenated team defense to suffocate the Indiana Hoosiers 80-63 this afternoon in the Schott, exacting revenge for a 74-70 loss on New Year's Eve in Bloomington. 
Jared Sullinger (16 pts, 9 boards), William Buford (12 pts, 5/12 FG, 4 reb, 4 asst, 4 TO) and Deshaun Thomas (11 pts, 5/9 FG) joined Smith in double figures while Aaron Craft stifled the Indiana offense in the early going while adding eight points and seven dimes at the other end of the floor. 
A raucous sellout crowd saw Indiana stay relatively close for 10 minutes but after a Cody Zeller and-1 cut the Buckeye lead to 20-12 with 10:02 left in the half, OSU unleashed a 15-2 run the rest of the way buoyed by 11 points from Smith and a defense that collectively harassed IU into 1/11 from the floor with seven turnovers. 
Despite being quarantined from the team on Thursday and Friday due to strep throat, Smith was dialed in as he started the run with a layup and a triple off a nice look from Buford giving OSU a 25-12 lead with 8:22 left in the half. After a WB layup followed by a boatload of empty possessions by both teams, Smith bottomed his 3rd trey of the half off another feed from Buford to make it 30-12 good guys. 
Two possessions later, Craft tied up Verdell Jones for a turnover before hitting a floater from just inside the right elbow increasing the lead to 32-12. Zeller countered with a bucket at the 1:02 mark, Indiana's first FG in nine minutes, but Smith lined up a 4th triple from the top of the key just before the buzzer capping the 15-2 blitz and sending the Buckeyes into the locker room with a three touchdown lead at 35-14. 
The final trey from Smith gave him 18 points in the half on 7/9 from the floor (4/5 3FG) meaning he easily outscored the Hoosiers and their collective 6/22 shooting (27%) with 12 turnovers. 
Ohio State's seven steals fueled the Hoosier turnover machine and the Buckeyes took full advantage building a 14-0 disparity in points off turnovers. Craft's on ball defense kept IU from getting into a flow. The Hoosiers came into the game with the nation's best 3FG% by were held to 1/6 in the 1st half. 
It wasn't just a strong finish to the 1st half as OSU, looking to come out and make a statement against the supposedly resurgent Hoosiers, went on a 20-5 run after spotting IU an opening possession layup. Smith had seven during the run including a triple putting OSU in front 14-5 just 5:15 into the game. 
With a 21 point lead in their hip pocket, the Buckeyes coasted for most of the 2nd half content to trade buckets as IU never got closer than 16. 
Flashing excellent ball movement that's been missing at times, Ohio State had little trouble wrecking Indiana's zone defense. One stretch in the 2nd half saw back to back crisp plays in which Buford attacked the zone by finding Thomas at the elbow who turned and faced up, finding a cutting Sullinger for buckets on the block. After an IU turnover the next trip down, Buford found a trailing Smith for a two handed flush putting OSU in front 47-23 with 15:16 left in the slaughter. 
Interestingly, Matta never really emptied the bench despite the big lead as all five starters were on the floor with 1:02 to play nursing a 20 point lead. I choose to believe that was for Crean as it's no secret Matta's not a fan of the whiny Hoosier. I mean, it's just a little strange that Sully logged 38 minutes, Buford 37 and Craft 33 in a game that was as competitive as a December non-conference tilt. 
Smith scored 18 of his 28 in the 1st half as IU frequently doubled down on Sully in the post. The move worked in that it helped hold Sullinger to two points in the opening 20 minutes on 1/5 shooting but with Smith red hot, Indiana was forced to abandon that strategy in the 2nd half and Sully responded with 14 points after intermission. 
Smith's emergence was obviously the story of the game, just ahead of the defensive effort that forced IU into 7/21 from distance while turning 17 turnovers into 20 points but it was also great to see Craft get back into his groove. Stricken with loose handles and bad decisions at times in the past handful of games, Craft was in full control at both ends all night. He took just six shots and those seven dimes look even better against zero turnovers. 
Buford was less impressive at combating his recent struggles. He shot a meh 5/12 taking a couple of bad ones in the 2nd half and coughed it up four times. The shot selection and overall decision making continue to perplex. 
Evan Ravenel led the reserves with five points and three boards playing some stingy defense on the perimeter against smaller players at times following switches. Interestingly, Sam Thompson was again the first guard off the bench and it looked like Jordan Sibert might not even see the floor but when Matta pulled the starters, Sibert stepped up and recorded a trillion along with Amir Williams. 
Zelled led IU with 16 points and Christian Watford added 11. Jordan Hulls finished with 11 points (1/6 3FG), five turnovers and an even greater hatred of Craft's defensive prowess. 
The win improves OSU to 16-3 overall and 4-2 in conference play just behind Sparty and Illinois at 4-1. 
Next up for Ohio State is a Saturday trip to Lincoln where they'll meet the lowly Cornhuskers. BTN has your 8pm tip.