Tonight Ohio State athletics invades Lincoln NE for the 2nd time in the last 12 months, but hoping for better results than the school achieved on the last trip. Ironically, both basketball teams are coming off home wins over Indiana, with Nebraska having shocked IU 70-69 on Wednesday night. That game showed that the Big Red can be kind of spunky at home, and so the Buckeyes need to be on their guard tonight lest they drop yet another conference road game.
The Bob Devaney Sports Center is named after Nebraska's legendary football coach, but strangely enough the center has nothing to do with football. It is home to their basketball, swimming, diving, indoor track, and gymnastics teams. At a capacity of 13,595 the basketball arena is only a shade larger than OSU's venerable former home St. John Arena, and the cozy atmosphere can provide a big boost to the hoops squad when they take on a prominent opponent like Ohio State.
The Buckeyes will once again be trying to prove that they can win on the road in the Big Ten, and this should be a test similar to the game at Iowa a few weeks ago. After pummelling the Cornhuskers at the Schott back on 1/3, some fans might be tempted to take this game lightly, and in fact it probably will not be a close game. However, it pays not to be too cocky as an OSU fan when your team travels, because the road has been a scary place this season. It also pays to respect the basement.
| # | Name | YR | HT/WT | PTS | REB | ASST | P | # | Name | YR | HT/WT | PTS | REB | ASST |
| --- | --- | --- | --- | --- | --- | --- | --- | --- | --- | --- | --- | --- | --- | --- |
| 4 | A. Craft | SO | 6-2/190 | 8.1 | 3.2 | 5.3 | G | 3 | B. Richardson | SR | 6-0/190 | 6.5 | 2.9 | 2.8 |
| 32 | L. Smith Jr. | SO | 6-4/205 | 6.4 | 4.7 | 2.1 | G | 23 | B. Spencer | SR | 6-2/193 | 15.2 | 3.3 | 3.7 |
| 44 | W. Buford | SR | 6-6/220 | 15.2 | 4.6 | 3.5 | F | 25 | C. Walker | SR | 6-4/205 | 6.7 | 4.4 | 1.2 |
| 1 | D. Thomas | SO | 6-7/225 | 15.1 | 4.1 | 1.0 | F | 0 | T. McCray | SR | 6-6/210 | 10.4 | 4.7 | 0.9 |
| 0 | J. Sullinger | SO | 6-9/265 | 17.3 | 9.3 | 0.9 | C | 13 | B. Ubel | JR | 6-10/240 | 6.3 | 5.3 | 1.1 |
Opponent
Nebraska's mediocre record in their inaugural B1G season is deceptive until you consider the quality of the teams that have beaten them. Prior to Wednesday, the one thing that the Huskers had not achieved, either in the conference or in non-conference play, was a win over a quality team. That all changed when they beat the Hoosiers, and now the team is walking with a more confident stride than before. 
Leading the charge for Nebraska is senior guard Bo Spencer. Spencer is a transfer from LSU, where he averaged 14.5 points per game his junior season. He is a dangerous 3-point shooter, but also spreads the ball around effectively in the Huskers' 4-guard offense. However, he struggled in the first game against OSU, finishing with only 10 points on 5/15 shooting.
Statistically, Nebraska looks positively wretched on offense, averaging roughly 62 points per game on 43% shooting. They also are turning the ball over an average of 14 times per game, against roughly 12 assists per game. Spencer averages 15 points per game, but he's shooting less than 40% overall and 32% from distance. More dangerous, but also more hesitant to shoot, is fellow senior Toney McCray, who is shooting over 40% from distance but only attempts 3 triples per game on average. McCray and Spencer are also turnover machines, accounting for more than a third of their team's TO's all by themselves.
The Cornhuskers shoot over 75% from the free throw line, but they almost never get there due to their lack of any inside game. One wild card is reserve center Jorge Brian Diaz, who averages over 28 minutes and almost 10 points per game off the bench. Diaz is a big body, and he's much more aggressive in looking for his shot than starter Brandon Ubel. Diaz did not play in the first game against OSU, but he could be a factor in this one not only on offense but also on defense where he leads the team with 28 blocked shots. 
Nebraska is on a high right now after the win over Indiana, but they are facing an OSU team that is focused and determined. The Huskers will need to summon all of the mojo left over from Wednesday's upset to stay in the game with the Buckeyes. They also might have to ditch the 4-guard line-up for much of the night if they struggle to defend Ohio State's big men up front. Nebraska does not have the size to handle Sullinger or Thomas and they may have to play a lot of Diaz and Ubel in tandem just to keep the Buckeyes from dominating the paint.
Buckeye Breakdown:
Ohio State unveiled a new offensive weapon against IU on Sunday: Lenzelle Smith Jr. The sophomore had been shooting a high percentage all season long, but he seemed content to let the big guns take most of the shots and he concentrated on being the defensive stopper and extra rebounder that the team needed in the absence of long-time starter and team leader David Lighty. As a result, Smith is averaging only a little more than 4 shots per game.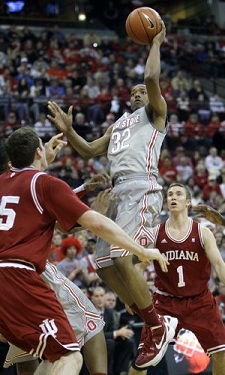 But William Buford's extended shooting slump has hurt the team, and it was necessary for someone else on the team to step up and start hitting from outside in order to take the pressure off of the inside players. I am certain that Indiana game-planned for Buford much more than Smith and so the sudden outburst of points from Smith took them completely out of their defensive plan. Nebraska has undoubtedly seen the tape, and they will probably not grant as many open looks to the young shooting guard. 
Will the shift of attention over to Smith help Buford get some better looks? It seems likely, but lately he's had trouble hitting even when he's wide open. Last season teams not only had to reckon with Buford, but also the driving and slashing of Lighty and the long-distance threat of Jon Diebler. It may be necessary for the remainder of this season for not only Smith but also Aaron Craft to look more aggressively for shooting opportunities, especially driving in the paint. This will create more penetrate-and-dish opportunities for the big guys and also open up more space for Buford.
OSU should not need all of this to happen against the Cornhuskers tonight. A steady dose of Sullinger down low, combined with a lot of looks for Deshaun Thomas in the high-low game will give Nebraska fits as they try to match up with the two big men. If the Buckeyes play their normal clean game with lots of ball movement and action on the boards, it should be more than enough to get a win in Lincoln. 
Still, coach Thad Matta will undoubtedly be thinking about the tough stretch the team has coming up in late January/early February and trying to get the team to play a more balanced game on offense. We might see a bit of that tonight, along with some new line-up combinations as they try to continue the improvement. This is still a very young team compared to last year's OSU squad and further growth will probably yield a few more surprising contributions like what we saw from Smith on Sunday. 
Etc
Tonight's game will be Thad Matta's 400th as a head coach. His current overall record is 308-91, including 206-60 as OSU head coach. 
OSU is 5-2 all-time against Nebraska, including the win a few weeks ago in Columbus. They are 1-1 in Lincoln, but they have not played there since 1987. 
Buckeye legend Jim Jackson will join play-by-play man Eric Collins on the broadcast for Big Ten Network.