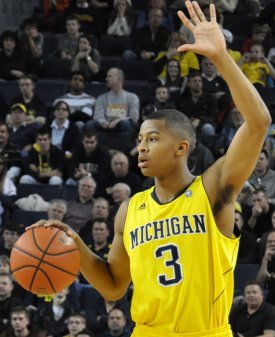 As you know, the Buckeyes take to the homecourt Sunday afternoon for a showdown against the Maize and Blue with 1st place in the conference standings on the line. The series has been extremely kind to Ohio State since Thad arrived in Columbus as the Buckeyes have posted a stellar 14-2 mark over the last 16 contests.
This year presents Michigan's best chance yet to finally figure out the Buckeyes with the backcourt of Columbus native Trey Burke and Tim Hardaway Jr. leading the charge. 
In prep for the Sunday tip, Dylan Burkhardt, orchestrator of the must read UMHoops.com, exchanged Q&A with me in an effort help fans get an educated glimpse at the respective dark sides. Let's see what Dylan has to say about the hated Wolverines. 
Trey Burke is the only true point guard on Michigan's roster and Michigan fans don't like to think about what this team would look like without him. Burke has not only run the team effectively, he's Michigan's second leading scorer and has been a playmaker in big games rather than just a game manager.
Burke is scoring 14.1 points per game while handing out five assists and grabbing almost four rebounds in a team high 34.9 minutes per night. On a team that features a sophomore scorer that was on many preseason All-Big Ten teams, Burke has emerged as the most important player on Michigan's roster. Freshman moments have few and far between and he's stepped up in big games, outplaying Jordan Taylor and scoring 20 points on 11 shots versus Michigan State.
Based on what you've seen, for one season only, would you take Burke or Craft to run your offense and why?
That's a tough question. They are very different styles of point guards and seem to be better fits for their respective teams.
When you look at Michigan's roster, it needs a shot taker or a high usage player that can create his own shot and create for others. Darius Morris took 25% of Michigan's shots while he was on the floor last season and players like Stu Douglass or Zack Novak aren't going to start attempting five or six more shots per game, it's not their role. Tim Hardaway Jr. is really the only other player that's comfortable in that high usage role in the Michigan offense. Burke has essentially shouldered the offensive workload and has proven extremely comfortable as the focal point of the Wolverine offense.
When you look at Ohio State, there are an abundance of high usage guys that need shots. You have Jared Sullinger in the post, Will Buford on the wing and Deshaun Thomas attacking the basket. There are only so many shots to go around and all of these guys need the ball in good spots. Aaron Craft is the perfect player for this role. He makes his teammates better and makes everyone else on the floor better. For comparison, Burke takes 25.6% of Michigan's shots while he's on the floor while Craft takes 13.6% of Ohio State's shots.
This isn't to say that Burke doesn't make his teammates better, his assist rate is actually higher than Craft's, or that Craft can't score the ball, he has a higher offensive rating on the year. I'd also give the nod to Craft as the better defender at this point but Burke is plenty proficient on that end as well.
The debate will go on and on given the fact that Ohio State didn't recruit Burke and it will be fun to watch both players go head to head.
What's one particular matchup that you think favors Michigan and could be the key Michigan stopping OSU's 37 game home winning streak?
Craft is such a good defender that it will be a tough game for Burke. Buford and Hardaway is an interesting one, both players are known more for their offense than defense but aren't immune to shooting slumps. Jared Sullinger is an obvious advantage in the post over Jordan Morgan. Zack Novak will likely match-up with Deshaun Thomas and that's certainly not a clear advantage for Michigan. Then you have the final head-to-head match-up of Stu Douglass against Lenzelle Smith Jr.
Strictly by talent, I'm not sure any of these are any sort of major advantage for Michigan. The biggest benefit for Michigan might be its offensive style of play which should put Ohio State in some uncomfortable situations. Michigan will run a lot of high pick-and-roll but you'll also see the spread offense, shooting five man (Evan Smotrycz) and backdoor cuts that John Beilein is known for. Of course, Ohio State boasts the best defense in the Big Ten so it's tough to use defense as any potential weakness but it could be something to watch.
I'm pretty sure Michigan is just 2-4 on the road this year with the wins coming against Oakland and Purdue and while it's no secret it's tough to win away from home, is there any particular recurring theme that's kept them from performing better on the road?
First of all, winning on the road is tough for just about anyone. Michigan has lost road games at Virginia, Arkansas, Iowa and Indiana. Virginia, Arkansas and Indiana have lost two games on their home floors combined this season and the Iowa performance was one of those lackluster performances that just seem to be unavoidable once or twice in any given season.
The losses at Indiana and Arkansas both came down to the final possession, just like Michigan's win at Purdue earlier this week. In terms of any sort of recurring theme, I would say that the Wolverines have just struggled to put together a complete 40 minute game on the road. Even in its win at Purdue, Michigan allowed a 17-3 Purdue run before bouncing back and holding on at the end.
At 16-5 overall and 6-2 in conference, Michigan is off to a strong start. How has their start fared against your preseason expectations and what does Michigan have to accomplish in the postseason for you to consider the season a Meets Expectations?
I continue to have a hard time figuring out exactly how to judge Michigan's season to date. Right now I would give it a "meets" grade. Michigan is tied for first in the conference but sterner challenges lie ahead. I think that this team should compete at the top of the league but doesn't have the horses to beat out Ohio State. It's bold and they still have plenty to prove but I think a top four finish in the league and a Sweet 16 appearance would qualify as a "meets" when all is said and done.