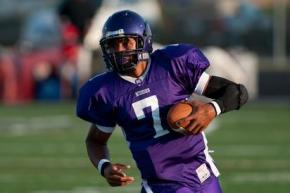 Moments ago it was leaked that Middletown, Ohio standout junior Jalin Marshall has announced his intentions to become an Ohio State Buckeye come signing day 2013.
Marshall stated a few weeks back that he would make his decision tomorrow evening, on his father's birthday, but his decision has been made public early today. In what can only be characterized as "unsurprising", yet incredibly important for Urban Meyer's first full recruiting class; Marshall is a 6-1, 190 pound playmaker who stars at quarterback for the Middies, but will likely end up playing wide receiver for the scarlet and gray.
Ranked as an early five-star prospect across the major recruiting networks, Marshall figures to be the centerpiece of the 2013 recruiting efforts. He joins Trotwood-Madison cornerback Cameron Burrows, who committed to Ohio State on January 19th, as a committed member of the class. 
Alex had spoken with Jalin back in June of last year, and he had the Buckeyes on the top of his list at that time along with Notre Dame, but clearly the hiring of Urban Meyer and the thought of playing in a new and exciting Buckeye offense made this decision a bit easier for the speedy Marshall to make. 
What's uncertain is whether or not Jalin and Cameron will be active in helping persuade other key 2013 pieces to join them in Columbus, but it's definitely something we'll keep our eyes and ears on.
Get your ticket for the Urban train boys and girls, because the next year should be just as exciting as the last two months.