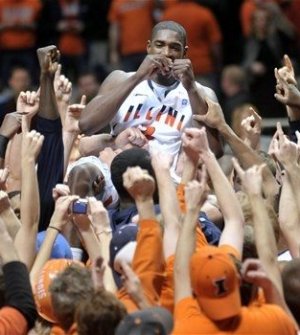 Looking for a meaningful conference road win to back up the laugher at Iowa on Saturday, the Buckeyes ran into a Brandon Paul buzzsaw tonight in Champaign. 
The 28% shooter from distance and 12 points per game scorer scorched the Buckeyes for 43 points on 11/15 shooting including a blistering 8/10 from downtown as the Illini took care of the Buckeyes 79-74 tonight in the other Assembly Hall. The loss snapped Ohio State's 57 game winning streak versus unranked teams. 
Paul absolutely shredded the Buckeye defense all night but saved his best for last scoring 28 points in the 2nd half including the final 15 for the Illini as he singlehandedly outscored OSU 15-8 over the final three minutes to secure the win. 
After Deshaun Thomas gave OSU a 66-64 lead putting back a William Buford miss, Paul hit a pair of free throws then splashed his 7th triple of the night in transition off a Buford turnover giving Illinois the lead for good at 69-66 with 2:02 left. Buford's turnover keyed the fast break and though Sam Thompson tried to trail Paul, a very close to a moving screen from Meyers Leonard gave him all the space he needed to drop the dagger from the corner. 
Jared Sullinger would answer with a bucket cutting the lead to one but Paul answered with a pair of free throws upping the margin to three at 71-68. Unfortunately for the Buckeyes, the zebras missed a travel as Paul shuffled his feet prior to being fouled on the dribble drive. 
Aaron Craft would find Thomas slashing to the rim again cutting the lead to a point at 71-70 but then Paul dialed up another dagger. With the shot clock at four, Paul took an inbounds feed off a screen and bottomed another trey from the left corner making it 74-70 Illinois with just :43 remaining. Tip your cap on that one (above all the others). Hell of shot. 
Sully answered cutting the lead to 74-72 but Paul again hit two free throws for a 76-72 lead before Craft committed yet another late game turnover. Forced to foul, Paul again found himself at the line and hit both making it 78-72 Illini with :11 remaining. Game over. 
Craft would hit a meaningless and uncontested layup before Paul hit two more free throws to round out the scoring. 
Though it was likely there was little anything could be done to slow Paul on this night, he did have an incredible amount of wide open looks. Poor switching and an overall inability to stick with him by Craft and Smith, above all others combined with zero intent by Matta to employ a double team dropped Ohio State to 15-3 overall and 3-2 in conference play. 
Paul's 43 points were the 3rd most in Illini history and the 4th most scored by a player against Ohio State.  
Thomas led Ohio State with 23 points on 8/12 from the floor with six boards and Sullinger added 21 points (9/16) five boards and three steals. 
It wasn't all roses for Sully however as Leonard more than held his own with 14 points (7/12) and five boards and was often involved in screens freeing up Paul for great looks. 
Buford finished with 15 points on 7/18 with four turnovers, none more costly than his lost handle on the ill-fated dribble drive that sprung Paul for what was in effect the game winning triple. 
It looked like Buford might have a shot at being hero instead of one of the goats after his own 5-0 run off a pretty 17 foot jumper and a three from the corner pocket helped OSU turn a 59-61 deficit into a 64-61 lead with 6:17 to play. Once again, however, the loose handles of Buford and Craft did the Buckeyes in down the stretch, in addition of course to Paul's absolutely outstanding shooting. 
Behind Paul's hot hand, Illinois shot 60% for the game (27/45) and 61% from distance (11/18) while the Buckeyes shot a respectable 47% overall but just 33% from deep (5/15). 
A 10 point edge in points off turnovers (26-16) and a 15-6 advantage in 2nd chance points thanks to a 15-5 bulge in offensive boards helped the Buckeyes stay in the game. 
After seeing plenty of reserves the last few outings - though some of that was due to foul trouble and lopsided scores - only three subs saw action tonight for a grand total of 26 minutes. Thompson saw 18 of those minutes but scored zero points (0/2 FG) as he focused on chasing Paul. JD Weatherspoon was ineffective in six minutes going 0/2 from the floor with two boards and two turnovers. Evan Ravenel played two minutes going 0/1 without a rebound. 
Interestingly, Jordan Sibert and his 29% shooting percentage (27% from deep) never left the pine. 
With no reserves earning stripes while Buford and Craft struggle to consistently fill their expanded roles, things are looking a little shaky in Buckeyeland. Sure, this team is going to win it's fair share of games and be a high seed but unless a consistent 3rd scorer (WB) can be counted on and a 4th sometimes-scorer emerges, this team will be lucky to escape the Sweet 16. The more time goes by, the more I feel the grade issues that kept LaQuinton Ross from getting November practice time might be a silent killer for this team. 
That thought and the fact even the players (Craft tonight) admit they don't see a consistent effort in practice and games is a bit sickening. 
Whatever. It's late and I'm getting grumpy writing about what went down tonight. In fact, this seems like the right time to remind everyone that we're looking for your donations to help fund the hiring of a beat writer. There's lots of questions we'd like to ask Thad and the players tonight but unfortunately, we're couchside in Columbus. 
Next up for the Buckeyes, a Sunday rematch with the Fighting Creans of Indiana at 4:30 in the Schott. CBS has your TV coverage.