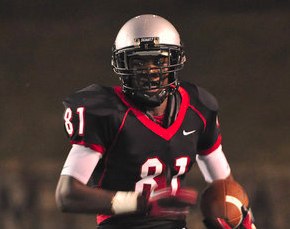 My quest to get you guys caught up on every single recruit of interest for the Buckeyes in 2013 continues, and this time we're going to take a minute to get Uriah Lemay, a big, fluid wide receiver from Matthews, North Carolina into your collective conscience. 
If it seems that the Buckeye recruiting efforts are a bit more "national" than you're used to, there's a simple reason for that: it is. 
In a year that is stocked full of high-caliber wide receiver talent, few have the early offer list that Uriah Lemay does. His collection of scholarship opportunities sits near 25, including a virtual "who's who" of the Midwest and east coast programs that regularly litter the Top 25. 
Urban Meyer didn't take long to recognize Lemay's talent, offering him a scholarship in early December, less than two weeks after he was named the head coach at Ohio State.  Recognizing that the competition for Lemay includes the likes of LSU, Michigan, Auburn, Arkansas, Miami, Florida, Florida State and more probably sped up the time-frame for the offer as well. 
His junior season saw Uriah make 43 catches for 842 yards, while toting the rock 38 times on the ground for another 397 yards. He caught 14 touchdown passes and scored five more times running the ball. Lemay is a wanted athlete, but will the Buckeyes be there in the end? How does Florida play into the chances of the Buckeyes landing this star receiver?
I talked to Uriah to get his thoughts on Ohio State and the rest of his recruiting process. Check in after the jump if you'd like to know more.
How did your junior season end up for you and your team? What can you do to improve yourself for 2012?
It was pretty good. It didn't end the way we would have hoped but in hindsight it was a good season for both myself and my team. The majority of our team were juniors, and most of them (myself included) where honored in the all-conference listing. One thing people always ask is what do I have left to improve on after being all-conference, #1 (ranked) player in my area, ESPN watch list player etc.. But as many lists as I make and things I make, basic skills are something everybody can always improve on. Footwork ,hand drills, and speed drills will be what I work on to improve on in the 2012 season.
What are your current measureables? Height/Weight/40?
Right now I'm 6-2 and 198 pounds. I haven't run the 40 this year but my last (time) was a 4.52.
How are you enjoying the recruiting process? Is it something you like, or does it get tiresome and wear you down?
The recruiting process is going great, I am really starting to get around and see everything about the schools I visit. The process as a whole is enjoyable, and I just feel very blessed to be in the position of having the interest that I have acquired over the years.
How many scholarship offers do you currently have and do you have a few favorites?
I currently have have 25 offers but no leaders just yet.
Were you looking at OSU before Urban Meyer was hired? Or did you have a connection with Everett Withers and his hiring open your eyes to the Buckeyes?
They were among the schools of interest last year before Urban was declared head coach because of their interest in me, and what a school they are! But, the addition of Urban boosted my interest.
Do you plan on making any trips to Ohio State? Were you unable to make it to their junior day this past weekend?
I was not able to make it to there junior day last weekend, but I do definitely plan on making a trip to Ohio State when the opportunity presents itself. As many people have probably already read, Urban is a friend of the family, with my dad being the team chaplain at UF while he was there. He also recruited my brother during his college selection process.
What is it about Ohio State that first captured your attention?
First thing that captured my attention with Ohio state is Braxton Miller, he is a good QB that has the tools to be great and is also young which gives me a chance to play with him if I were to go there. Secondly, with Urban being the coach there he is just one of those guys that can draw people to him and rally them behind them for a common goal, and then getting to know him on both aspects of life as a coach and person. He is a good man.
How are your grades? Do you have an idea of what you want to major in when you get to school?
Grades are pretty good. I finished up last semester with an two As, two Bs, and a C. I'm planning to major in sports media, physiology or sports journalism.
What will ultimately be the single biggest factor in your school choice?
One of my factors in a college choice is honesty from coaches, and a safe environment where I can grow academically, athletically,and spiritually.
If you could tell one thing to the Buckeye fans who will be reading this about YOU as a person, what would you want them to know about you?
That I'm the type of guy that will lead on and off the field as well as make big plays whenever needed. Winning is what i am bred to do and with God's grace I intend to do just that. Always more, nothing less.
Buckeye fans should definitely keep an eye on Uriah Lemay. You can check out his 2011 highlight below.