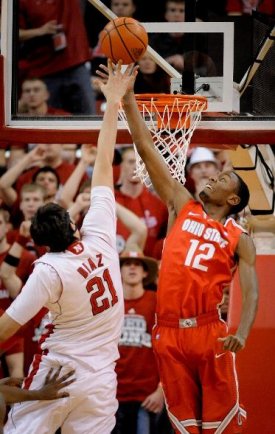 Playing in Lincoln for the first time since 1987, the Buckeyes once again had little trouble heel-stomping Nebraska 79-45 tonight in the Bob Devaney Sports Center.
William Buford led three Buckeyes in double figures with a solid 15 point, zero turnover showing featuring improved shot selection (6/13 FG) and 3/5 from distance. 
Jared Sullinger chipped in 14 points (4/8 FG), five boards and three steals while Deshaun Thomas added 14 points and six rips. 
Fighting through the distraction of one of the ugliest courts in the conference (suggestion: shrink down the "N" about 40% and lay off the Pledge), Ohio State used first half runs of 13-0 and 12-2 in building a 36-20 lead at the break.
Trailing 6-5 in the early going, the Buckeyes soon led 18-8 with 10:01 left in the half.
Despite double and triple teams against a packed in Husker zone, Sullinger was a factor using crisp passes to set up teammates. He found Aaron Craft on a pretty cross court look out of a triple team for three to start the run.
On the next trip, he located a slashing Lenzelle Smith for two before Thomas got involved hitting from his spot on the left block and dropping a triple following a Brandon Richardson miss. Evan Ravenel capped the spurt with a free throw and a man's offensive board and putback of a Thomas miss.
The Huskers would trim the lead to six on a couple occasions and looked to make a move after Sully picked up his 2nd foul at the 4:05 mark but the Buckeyes responded with the 12-2 blitz to end the half.
Willie B got it started splashing a triple and Thomas added three points while Ravenel continued his solid half off the pine with a bucket in the lane and a buzzer beating jump hook off a well timed dime from Craft from the top of the circle.
The Buckeye defense was effective but it looked like Nebraska's commitment to sucking was also a factor. The Huskers hit just 7/28 from the floor in the opening 20 minutes including a 1/9 effort from downtown.
Meanwhile, Ohio State was far from scorching hitting 44% including 36% from distance (4/11). Thomas led the effort with 10 points (3/6) while WB added eight points on 3/5 shooting.
The 2nd half looked a whole lot like the 1st as the Buckeyes opened with a 13-5 run to take a 49-25 lead with 14:50 left in regulation.
Buford kicked off the scoring draining a three from the right baseline and three possessions later he found Thomas in transition for a dunk and a 41-20 lead.
Sam Thompson got his rim-on shortly thereafter taking a missed Buford three to dunk city. Buford stayed in the mix putting back his own miss of an aggressive drive down the middle of the lane before Sully polished off the run with a pair of free throws and a follow up dunk of a Buford miss.
The game became an open gym from there with Thompson continue to impress. His athleticism was on display at the defensive end as he picked three blocks and two steals, giving OSU a spark as the definitive first guard off the bench. 
As the first big off the bench, Ravenel also had a strong night especially in the 1st half as it was still somewhat of a game and Sully was saddled with foul trouble. He was difference maker in Sully's absence tallying seven points and four boards.
Oh, and before I forget, Bo Spencer is a whiny chump. I have no idea how he wasn't T'd up and some point either from punching the basket support, spiking the ball or continuous annoying gestures and gum-flapping at the zebras. His frustration reached stupid level with about 7:20 left as he tomahawked Jordan Sibert in the cornea, his 5th foul, ruled intentional. The disqualification capped a night of 2/8 from the field including 0/5 from distance for eight points, seven below his average. 
For the game, OSU held the Huskers to 29% shooting overall and 18% from deep (3/17) while connecting on 43% of their field goal attempts including 38% (8/21) from downtown. 
The stat of the night has to be 28 turnovers by Nebraska. Ohio State had plenty to do with it but so did Nebraska's inability to consistently dribble and pass at a high school level. 
The win improves OSU to 17-3 overall and moves them into a three way tie for 1st in conference play with a 5-2 mark.  
Next up for the Buckeyes, a hump day home tilt against Penn State at 6:30pm.