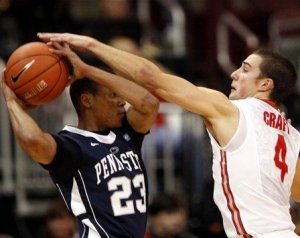 Ohio State opened with a 24-6 run and never looked back spanking the Nittany Lions 78-54 tonight in the Schott. The win was the 17th straight over Penn State and 37th in a row overall at home. 
Jared Sullinger led the Buckeyes with 20 points and 13 rips, good for his 4th dub-dub in the last six games and ninth of the season. 
William Buford had an excellent overall game with 15 points (3/6 3FG, 6/6 FT), nine boards and just one turnover in 32 minutes. Though he has a tendency to blow up against bad teams, hopefully this can still be a building block as he has just one turnover in his last 59 minutes. The fact he had a legit impact on the game despite taking only seven shots is good to see. He did a better job driving to the rack and getting to the foul line instead of trying to shoot himself out a slump. 
Aaron Craft was also a beast scoring 11 points on 4/4 shooting with three assists in just 22 minutes, 16 of those logged in a stellar 1st half performance. 
Showing no mercy from the opening tip, Craft dominated the much anticipated matchup with PSU PG Tim Frazier who came in leading the league in scoring, assists and steals.
In building the early 24-6 lead at the 6:10 mark, Craft tallied seven points on a game opening lefty layup off a nice look from Sullinger and two textbook pull up jumpers off the dribble drive, one of the and-1 variety. Meanwhile, Frazier was busy clanking 2/7 from the floor. Frazier's struggles were contagious as the Buckeye defense harrassed the Lions into just 3/21 from the floor to that point. 
Penn State would shoot 4/11 over the remaining six minutes but still trailed by 20 at the break, 38-18, as Buford got hot draining a pair of triples before a bucket from Thomas. The final highlight of the half came moments later as Craft attempted a lob from 30 feet to Sam Thompson and instead drained the accidental three though it looked like Helen Keller Mike Sanzere missed basket interference. 
For the half, Craft recorded 11 points on 4/4 shooting with two assists while holding Frazier to four points on 2/9 shooting. 
Craft's effort was backed by seven points and eight boards from Sully with Buford (8 pts, 5 reb) and Thomas (6 pts, 6 reb) providing additional support. 
The team defense forced PSU into 7/22 from the floor (22%) including 2/10 from distance while the Buckeyes shot an even 50% from the field (13/26) while owning the glass 25-16. The Lions did grab a few too many o-boards early but when you miss that many shots...
The lead would swell to 56-29 at the 12:20 mark after a 7-0 run sparked by Thompson. Already having cemented his position in the rotation as the first guard off the bench, Thompson dominated a three minute stretch in style. First he took a Craft lob off an inbounds pass and converted a thunder dunk. After a PSU miss, he dropped a dime to Sully for an easy two. After a few empty possessions for both teams, Thompson blocked two shots on back to back possessions before capping the impressive spurt by finding Sully again for a dunk. 
Thompson's final stat line read six points (2/3 FG, 2/2 FT), three assists, two boards and two blocks in 17 minutes. 
It would be great if this kid had a jumper that defenses were forced to respect but with what he provides defensively and the sporadic highlight reel dunks that fire up the team, he's a very worthy first guard reserve when compared to Matta's other options. 
Speaking of which, Shannon Scott was again average at best hitting just 1/4 in 17 minutes with two assists, two turnovers and three fouls.  
J.D. Weatherspoon looked good in garbage time scoring eight points in 10 minutes, knocking down 2/2 from the floor and 4/5 from the line. Amir Williams also made the most of his eight minutes of mop up duty grabbing four boards and blocking three shots. 
For the game, Ohio State shot an even 50% (25/50) and earned 34 trips to the line though they hit just 24 (71%). At the other end, they held Penn State to 31% shooting while winning the backboards 41-31. 
Frazier led Penn State with 16 points but 12 of those came after halftime when the game was already a laugher. Frustrated with Craft's physicality, Frazier was whistled for a flagrant foul early in the 2nd half as he dropped Craft with an elbow to the chops. Stay classy, Tim. 
The win improves Ohio State to 18-3 overall and keeps them in a tie for 1st in conference play at 6-2.
Next up for the Buckeyes is a Sunday showdown against Michigan at 1pm in the Schott. The game will be televised nationally by CBS.