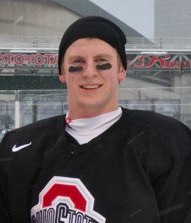 Ohio State operates the NCAA's second-largest athletic department. Eleven Warriors is committed to keeping you informed of what's happening with those sports that make Ohio State athletics more than just football and basketball. Around the Oval will be your bi-weekly update on these teams.
Welcome back to your Eleven Warriors look at the "little guys" that make up Ohio State's athletic department. This is our first ATO following the football team's first seven loss season in 105 years, so I figure that I could write 12 paragraphs of greek and most of the readers wouldn't notice.
If you didn't gouge your eyes out after Monday afternoon's horrawful display of football, then I implore you: read on and try to enjoy yourself. 
pucking buckeyes get back on the ice
The Buckeye men's hockey team, #4 in the nation, finally got back on the ice after a 20 day respite for the holidays, and did so in a familiar fashion: with a victory.
Led by stand-out goaltender Cal Heeter and his 33 saves, Ohio State improved to 14-4-1 on the year with a 4-2 "w" against Robert Morris in Pittsburgh. 
The Bucks and Heeter came out of the gate a tad rusty, truth be told, with Heeter surrendering two goals in the first frame, but the attackers kept the scoreboard even. Curtis Gedig and Nick Oddo kept the #4 ranked Puckeyes in the game, each scoring an equalizing goal in the first period. 
As the second period got underway, the Buckeyes seemed to get their legs back and turned up the defensive pressure, limiting the Colonials to only 8 shots in the second period after 18 in the first. Heeter was able to turn each of the eight away, and on the strength of Devon Krogh's 5-on-3 power play goal, his second goal of the season, the Buckeyes took a 3-2 lead into the final stanza. 
The third period had a strikingly similar feel as the second, and that turned out to be a good thing for Ohio State. Heeter was able to get in front of all nine RMU shots, and the Buckeyes played keepaway for the majority of the period until Danny Dries found Chris Crane in front of an empy-net with 14 ticks left on the game clock. Crane put it away with his team-leading (tied with Dries) 11th goal of the year and Ohio State skated away with their 11th win in their last 12 contests.
Oddo was named CCHA "Rookie of the Week" for his efforts against the Colonials. He picked up two points on a goal and an assist. The goal was his fifth of the season. 
Ohio State will travel to Bowling Green this Saturday and Sunday for a two-game set with the Falcons. BGSU, 6-13-3 overall and 1-11-2 in the CCHA, has struggled mightily this year, and the once proud program will be looking to score a big upset or two as the Bucks come to town. Bowling Green has scored two goals or less in 15 of their 22 games this year, and the Buckeyes rank in the top six nationally, allowing 2.1 goals per game. 
prahalis and hill too much to handle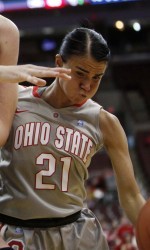 It's becoming too much for Buckeye opponents to deal with, and even the women on the OSU hoops team recognize the challenge they are posing for their opposition night in and night out.
Last Friday in Madison, Tayler Hill put 21 on the Badgers as Ohio State started off it's B1G conference slate with a 77-61 win against Bucky. On Monday night in Columbus, she combined with fellow backcourt-mate Sammy Prahalis to score 58 of Ohio State's 84 points en route to Ohio State's 15th straight win, 84-71 against the now 9-6 Iowa Hawkeyes. 
Against Iowa, Prahalis recored a career-high 30 points to go along with 5 boards and 7 dimes. Hill went for 28 and four rebounds, and the two Buckeye superstars couldn't help but wonder how teams are going to gameplan to stop them. Tayler Hill, the mistress of the understatement:
"It's probably hard for them."
Prahalis was a bit more elaborate in her explanation, but didn't refute the basic fact: if these two continue to play at this level, losses for Ohio State will be few and far between.
"What are you going to do, double one of us? It's difficult."
The lady Buckeyes will try to improve to 16-0 this Saturday against rival Michigan in Ann Arbor. The Wolverines are 12-2 overall and 1-0 in the conference. They are 0-1 against Top 25 opponents this year, falling to #7 ranked Maryland 74-65.
Ohio State's 15 straight wins to start the season is the best in program history, but the team record for consecutive wins is 20, a feat they have accomplished twice, the last time in 2005-2006. Prahalis is now 75 assists away from becoming the conference's all-time leader; she averages 7.4 per contest on the season and barring injury should surpass Northwestern's Nancy Kennelly by the end of the conference schedule. 
buckeye bits
The Buckeyes have hired a new assistant field hockey coach. Andy Smith joins the staff after 10 years at Dartmouth. 
Gain one, lose one - Ohio State women's soccer associate head coach, Greg Miller, has left Columbus to become the head honcho in Pittsburgh. 
Thanks for reading Buckeye fans - see you next week.