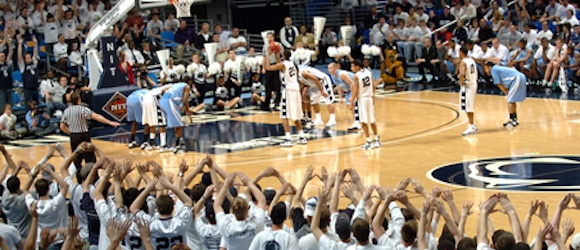 A young Nittany Lions basketball team, and its first year head coach, travel to Columbus to take on Thad Matta and the Buckeyes tonight at 6:30 EST. At 2-6 in conference, and 10-11 overall, Penn State is tied for last place in the Big Ten. Nevertheless, the Nittany Lions have shown some signs of life, a couple players to watch for, and an upset over Illinois.
My guest this week, Ben Jones of Black Shoe Diaries and StateCollege.com, shares his thoughts on this Penn State team, their strengths, what they need to improve on, and how he thinks they'll match up against Ohio State. Keep reading for some insight into tonights game, and who to watch for.
For our readers that haven't seen much of Penn State basketball this year, what are three things you would tell them about the Nittany Lions to get them up to speed?
1. I think the biggest thing is hustle. If there is anything you need to know about Penn State this year, it's that they might not be better than you, but they'll outwork you if you aren't making shots.
2. Since beating Purdue by 20, they've given every team hell.
3. Pat Chambers has these guys playing at a high intensity level. 
The Nittany Lions are 2-6 in conference play. What are some of the biggest factors in the struggles they've had, so far this season?
They're young. Ohio State never really got the Talor Battle treatment, but losing almost every major player outside of Tim Frazier has really put Penn State back. That being said, this team isn't bad by any stretch, they're just learning on the fly. I would think that given those same 8 games Penn State could have won 5 or 6 of them in a year or two.
Penn State was able to pull of an upset over Illinois, is there anything in particular that was clicking for them that game? 
Besides Bruce Weber being on the bench? It comes back to hustle plays and rebounding. Penn State doesn't quit, and when they're shooting well they can hang with any team in the conference. In the end they just wanted it more and played solid aggressive defense when they needed it most.
This Penn State team has certainly had it's difficulties, and ranks pretty low in quite a few statistical categories, but what are the biggest strengths of this team that they may be capitalizing on, moving forward?
Some of their defensive numbers are lower than how well they actually play. They got shelled by Indiana from the outside but for the most part you won't get many easy baskets against Penn State which hasn't been the case the past 5 years.They have an ok inside-outside game but it isn't quite where it needs to be. Penn State is good at the little things which keeps them in the game, but in the end their shooting isn't where it should be.
The Nittany Lions are coming off a 73-54 loss to Indiana. The media made no secret of the fact the Penn State community was mourning the loss of Joe Paterno during the game. Do you think that was a valid, contributing factor to the rout? Were mental errors playing a big role in that game?
It's possible but I think Penn State just couldn't stop Indiana when they needed to. Three straight treys set them back early in the second half and it was downhill from there. The 73-54 score is a little misleading in terms of how close that game was played.
I don't think Paterno had anything to do with it. For what it's worth though, the entire team was in the first row or two at the vigil.
Who are a couple Nittany Lions that Ohio State fans should look out for, when Penn State comes to Columbus tonight? 
Matt Glover and Ross Travis. Glover is a work horse on the floor, he doesn't score but they don't really run offense through him. He's the kind of guy that makes a play you can't find a place for on the stat sheet.
Ross Travis is also extremely athletic. If he gets in a groove he's a matchup issue for any team.
Obviously Tim Frazier does what Tim Frazier does. He's now at 10 games this season with 20 or more points. Averages 5 rebounds and 6 assists as well.
How would you rate the job that first year head coach Pat Chambers has done so far? Are you seeing reasons to be optimistic for the future of PSU basketball?
I think he's done a fantastic job. Penn State probably won't win, but I think Ohio State fans are going to see a new style of Penn State basketball. This was supposed to be his free year with nothing to recruit with and little to work with. Chambers has this team playing pretty close to its peak and is recruiting with little to offer and stealing names from in-state and close to beating Bo Ryan out on two different players.
Results aren't always wins and losses which makes it hard not to give him an A.
Lastly, do you have a score prediction, or any final thoughts on the game?
I don't see Penn State winning this game. I imagine that isn't a surprise to anyone but that being said I wouldn't be shocked if they managed to hang around longer than you'd expect. Penn State struggles to find offense on the road, but if they start off ok it could be a fun game. I expect Ohio State to pull away at some point though.
57-69 Ohio State.
---
Thanks again to Ben Jones, of BlackShoeDiaries.com and StateCollege.com, for sharing his Penn State hoops insights with us this week. To read more from Ben, and the rest of his crews, check out the following links:
Black Shoe Diaries Twitter: @BSDtweet
StateCollege.com Twitter: @StateCollegecom