There is less than one week of the 2011 college football season left, meaning that after Monday's tussle between LSU and Alabama you have two things to look forward to as a fan of the sport.
The first thing that pops into most fans' minds is the amount of time until spring ball. Despite not being able to play in a bowl next year, this is still front of mind for Ohio State fans, as the Urban Meyer era is officially under way and everyone will get their first glimpse of the new coach's revamped Buckeyes during practices and the Spring Game in April.
The second thing, front of my mind, is National Signing Day, which will take place in early February. The Buckeyes already have 19 verbal commitments for the class of 2012, but are looking to fill 4-6 more spots, depending on availability, and the home stretch is underway with January hitting and the live period about to be opened up again.
In this edition of the 11W Recruiting Notebook, we bring you the latest from the high school all-star games, tell you what prospect may be back on Ohio State's radar, update you on what visitors are expected to Columbus, and take you through what is happening during Under Armour and US Army practice weeks. Join us after the jump to get the latest scoop on all things Buckeye recruiting, as we take you down the home stretch to National Signing Day.
Cards In the Deck(Er)

Taylor Decker started his recruiting process wanting to play for Ohio State. The 6-8/290 offensive tackle never really had a chance though, as he was flat out not recruited by Jim Tressel, Luke Fickell, Jim Bollman, or anyone else on the Buckeyes' staff. Turned off by the way OSU handled things, Decker moved on and committed to Notre Dame back in March of 2011.
After Urban Meyer was hired and the new coach contacted the Vandalia Butler star to see if there was any interest now that a new sheriff was in town, Decker's interest was piqued, but he ultimately decided to stay loyal to the Irish coaches and his verbal pledge. It was all but a signed deal that one of Ohio's top three linemen would be playing his college ball in South Bend next season.
Key words there: "all but signed". Things have now changed a bit for Decker as Meyer has filled out his staff with two integral people in Decker's recruitment in new tight ends coach, Tim Hinton, and more importantly, new offensive line coach, Ed Warinner.
Both Hinton and Warinner were key cogs in Decker's decision to choose Notre Dame. Taylor was aware of the possibility that Hinton may leave, but he was under the impression that Warinner would 100% be staying on staff next year and thought he could even get a promotion to offensive coordinator. Clearly that didn't happen and now the star lineman is mulling things over a bit.
When I contacted Decker he told me he needed a few days to talk some things over with his parents before he was ready to do an interview with 11W. I respected those wishes and will definitely try to get the latest scoop, but one thing that is clear is that Ohio State is very much back in the picture with the hiring of Warinner, and Notre Dame, by not being able to retain their line coach, may be in hot water.
Stay tuned as this one could get very interesting really quickly.
Visits Lining Up

It seemed like the Ohio State campus was a revolving door when Urban Meyer was hired, as visitors came and went, sending the recruiting world into a whirlwind. Things took a little bit of a break over the holiday season, but now that the hiatus is behind us, Urban is on the prowl once again, trying to get the nation's best players to come check out what Columbus has to offer.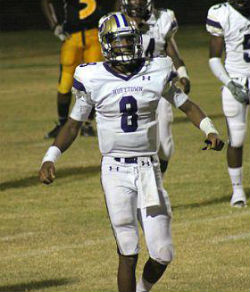 There are no visits on tap for this weekend, but next weekend things heat up again, as the Buckeyes will host South Bend (IN) Washington LB/RB David Perkins, Scottsdale (AZ) Chaparral WR/CB Davonte' Neal, and Windsor (CO) OL Joey O'Connor on official visits.
Perkins has visited Missouri already and will come to Columbus next weekend. He will also visit Michigan State on January 28 and Oregon on January 20, leaving just one more visit up for grabs. Michigan, Pitt, Arizona State, and a few other schools are in the mix after LSU (too many linebackers in class) and Tennessee (LB coach and DC went to Washington) trips were recently temporarily canceled. I think Perkins is a secondary option for the Bucks at linebacker behind Camren Williams, but he is a tremendous athlete and it will be interesting to see how things unfold after his trip.
Neal is still in the early process of making his decision, which is good news for the Buckeyes as they came into things late. The star athlete grew up in Akron until he was 9 and was even ball boy for a couple of big games for the Buckeyes back in the early 2000's, including the national championship game against Miami. It is no secret there is a special place in Neal's heart for Ohio State, but it will be up to Urban Meyer to close this out over other schools in contention, including Notre Dame, Arkansas, Arizona (Rich Rod just hired his high school head coach), Arizona State, Hawaii (father played with Norm Chow), USC, Auburn, Miami, UNC, Florida State, and others.
O'Connor also appears to be a back-up plan, not because of skill, but because of position. At 6-4/290, O'Connor is projected as more of a guard than a tackle, where played in high school, and right now OSU needs tackles. If the Buckeyes can land two of three in Taylor Decker, Kyle Dodson, and Jordan Diamond, I think adding O'Connor would be smart, but right now the former three are Urban Meyer's priority.
On January 20, the biggest name on this list is supposed to come to town. That prospect would be QB Jameis Winston of Hueytown High School in Alabama, who is currently committed to Florida State, and is rated as one of the top 10 players in the nation by multiple outlets.
Urban Meyer and Tom Herman have not made it a secret they aren't exactly comfortable with the quarterback situation behind Braxton Miller (Kenny Guiton and Cardale Jones) and have been recruiting Winston hard. Winston has visited Alabama already, will take a trip to Stanford next week, and will make his official to Florida State the weekend of January 27. He stated this week that he wants to visit Ohio State on January 20, and if that visit happens, anything is possible. I don't expect Winston to end up in Scarlet and Gray, and he may not play college football at all next year as he's expected to be a first round pick in the MLB draft, but if Urban can get him on campus for 48 hours, never say never.
Mentioned before, linebacker Camren Williams is Ohio State's top prospect at the position. Williams is currently committed to Penn State, but loved his official visit to Columbus back in December and is waiting things out to see what happens with the PSU coaching situation before making a decision between the two schools. Williams is expected to visit Happy Valley next weekend and will make a return trip to Columbus with his mom for an unofficial visit before hosting both coaching staffs at his home in Massachusetts. I like Ohio State's chances right now, especially since the Nittany Lions still don't have a head coach and when they pick one it is not expected to be a home run hire.
A couple of other linebackers are also considering making the trip to the Buckeye State this month and they are not to be overlooked by anyone. The first is OLB Jamal Marcus of Durham (NC) Hillside and the second is MLB Dalton Santos of Van High School in Texas.
Marcus played defensive end in high school but at 6-3/240 is being recruited primarily to play outside linebacker. He currently has Florida, East Carolina, UNC, Georgia, Georgia Tech, Auburn, and USC on his list in addition to the Buckeyes, but with Urban Meyer and Everett Withers now in Columbus, things could get real serious on this front. Withers could play a big factor in this recruitment as he was one of the main reasons Marcus appeared to be headed for Carolina Blue just a few months ago.
Santos, a Tennessee commit, is a new name to Buckeye fans and his interest in visiting on January 27 was first reported yesterday by Bill Greene of Scout/Buckeye Sports Bulletin ($). He is a 4-star middle linebacker prospect and will be participating in the Under Armour Game later tonight. It appears that Santos is thinking things over a bit after Tennessee linebacker coach, Peter Sirmon, and defensive coordinator, Justin Wilcox, are both leaving the school to join Steve Sarkisian's staff at Washington. Sirmon was Santos's primary recruiter and now that things aren't as certain for the Texas native, a late January visit to Columbus looks to be on tap.
Another player could also be making an official visit in January if the invitation goes out and that is Archbishop Moeller WR Monty Madaris. Madaris is a known name to Ohio recruiting fans, but interest from the Buckeyes has wavered during the past few years. OSU appeared to be all filled up at receiver, but Madaris's coach is now claiming the Buckeyes' staff has been in contact again, meaning there may be a current commit at the position. Ricquan Southward has been rumored to be wavering and another player has some academic issues in question, so Urban may have Madaris on speed dial just in case either of those fall through. The talented receiver from Cincinnati has officially visited UC and Michigan State already, has a trip planned to Michigan next weekend, and was also looking to visit Kentucky later this month.
Finally, Stefon Diggs liked OSU from the start, dropped them last summer, liked them again when Urban Meyer was hired, dropped them again last week, and now apparently likes them again. Down in San Antonio for US Army All-American Bowl practices, Diggs said he still has Ohio State in the picture and would like to try and make a visit to campus for an official to see what Urban Meyer has to offer. I still would be surprised if that visit actually happens, but like Winston, if Meyer can make magic happen and get him to come to Columbus, the Buckeyes will have as good of a shot as anyone. At the end of the day I don't expect this star receiver to end up playing Saturdays in the Horseshoe, but would love to see what this coaching staff can do with him on a visit.
Looking In At The High School Bowls

The Offense-Defense All-American Bowl and the Semper Fidelis All-American Bowl have come and gone, now leaving the Under Armour All-America Game and the US Army All-American Bowl left on the slate for the nation's high school all-stars.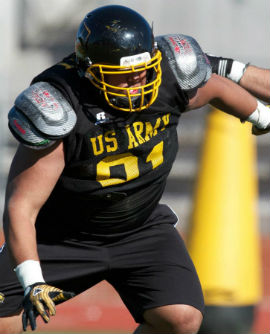 Down in sunny St. Petersburg, Florida, Under Armour practices have gotten under way and featured in the game is Ohio State commit DE Noah Spence, as well as aforementioned OSU recruiting targets OL Joey O'Connor, QB Jameis Winston, and WR/CB Davonte' Neal.
Spence is playing a bit nicked up, but has dominated regardless of a sore back. Reports are that Spence is lightning fast off the line of scrimmage and that not one of the offensive linemen has been able to keep up with him. I expect this pass-rushing talent to be put to good use next year, and I think you will see Spence seeing the field right away, at the very least in situational formations for passing downs.
O'Connor has reportedly struggled a bit during practice week, playing both guard and tackle during the sessions. Windsor ran a triple option so pass protection was not something Joey has too much experience in, so while it is not necessarily his fault, it is something he needs to improve on at the next level. I think O'Connor will be a very good get for whoever lands him, but there is no question he is not game ready at the Ohio State football level just yet.
Winston has had good days and bad days down in Florida, but the one thing everyone is talking about is how good of an athlete he is. What's even more impressive to me is how mature of a kid he is. If you listen to the interviews, such as this one, you really get a sense that this is a great kid and one you would love suiting up for the Buckeyes next year.
Finally, when talking to people who have watched Neal, all I hear is how much speed he is. Davonte' was selected to the game as a corner back, but is playing wide receiver for the Black team as well, showing the versatility that makes him one of the more sought after prospects in the nation. I think this kid is an absolute stud and would play him on both sides of the ball in college if it was my choice, as well as on special teams. Watch out for him tonight in the UA Game (7:30 EST ESPN) and you will see him make some big plays.
In the US Army All-American Bowl down in San Antonio, two Buckeye commits in DE Adolphus Washington and DT Tommy Schutt, as well as three prospects in WR Stefon Diggs, WR/DB Joel Caleb, and OT Kyle Dodson are all members of the East squad.
Washington has been everything he was billed up to be during practices, winning all of his 1-on-1 drills with the offensive linemen, which unfortunately didn't give us a preview of Adolphus against Kyle Kalis. Washington has shown great explosion and strength at the point of contact and looks to be ready to make an immediate impact in Columbus next season.
Like Washington, Schutt has also dominated offensive linemen all week, showing those who weren't impressed by his size in the "looks test" before the sessions started, earlier in the week. Schutt has been an absolute beast in the middle for the East, being both an unmovable object for blockers, as well as showing the athleticism to make a play at getting after the quarterback or ball carrier in the backfield. With so many talented defensive linemen at OSU it is hard to see how anyone can find a way into the rotation, but Schutt also looks ready to play immediately and will be tough to keep off the field next season.
Diggs has also been everything you expected, showing off his speed and more importantly an ability to run routes well, something many high school receivers lack due to being able to beat inferior competition with pure jets and strength. Adolphus Washington has been in his ear all week about playing for the Buckeyes and it appears he is bonding well with the Columbus-bound defensive lineman, obviously good news for Urban Meyer.
Caleb has flown a bit under the radar at practice, as I haven't heard much on him. That is good in a sense that he is not playing poorly, but also isn't making too many plays. The roster has him slated as a defensive back, but like Neal in the UA Game, I expect him to play a little bit of both come Saturday. He is down to Ohio State, Virginia Tech, Georgia, West Virginia, and Florida State and is expected to decide around Signing Day.
Finally, Dodson will not participate in the game as he has a torn labrum, but has been getting an earful from commits of all schools. Wisconsin is technically still where he is committed to as of now, but with visits taken to OSU and Auburn and a visit planned to USC and possibly Michigan State or Michigan, Badger fans should be very worried here. I think Ohio State wins out in the end for Dodson, but with the way things could go in the next few weeks, he may want to make that decision sooner rather than later.