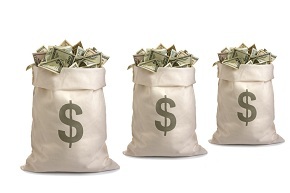 Well, it's that magical time of the year! Exhibition season, baby! You see, this is why I like college football. After the regular season -- where EVERY SINGLE SECOND OF EVERY SINGLE GAME MATTERS, UNLIKE, SAY, THE NBA -- the NCAA stages a series of exhibition games featuring match-ups between teams that would normally be too scared to schedule each other during the regular season (you know, WHEN THE GAMES MATTER) leading up to the only game that actually matters: the national title game (which is a match-up gifted to us by the computerized heavens.) Was that a run on sentence? Maybe... but the rules of grammar have never stopped me from self-butchering the point I'm trying to make.
Dumb grammar rules aside, why would we want to watch games like Florida State-Notre Dame in September when they could play teams like Lousiana-Monroe or Pittsburgh instead? And even if you are a contrarian and want a play-off... surely you can't argue it'd be more entertaining to watch Florida State-Notre Dame in a play-off game rather than "one of the nation's fastest rising bowl games"... the Champs Sports Bowl? Who amongst us won't own the Champs Sports Bowl DVD by the end of this holiday season? I, for one, have already dusted off a spot for it next to ConAir on my alphabetized DVD stand that I would totally have if internet piracy (hypothetically) didn't exist. 
And when I win the MegaMillions here in the coming months, plz believe I'm spending 20 Warren G. Harding 1,000,000 dollar bills on the rights to a bowl game and calling it the "Riz ft. Red Cafe - 'Racks' Bowl". Speaking of the 29th President of the United States, I'm afraid I bring bitter-sweet news on that front this week, comrades. After Warren G. Harding ground his enemies' bones to dabble the tip of his Newports in as a pre-smoke ritual, he has retired to the J.P. Kellogg sanitarium in Battle Creek, Michigan, to get his mind and soul right. He is particuarly ashamed of his $10,000 Presidential Power Parlay late-season skid, even though he netted him and his followers $190,000 since August; and he's requested time to research his galaxy and star charts to piece together something he calls the Presidential End-of-the-Season Bowl Banger Power Parlay. I am but a lowly acolyte and not in any position to question the moral compass and guiding light of my life; so, look for that in the coming weeks. 
Before we get to Saturday's three FBS bowl games, we're going to start with the FCS semi-finals. 
TWO WEEKS AGO: 4-1
SEASON: 75-54
NATIONAL GAMES
FCS Semi-Finals: #4 Montana (+2.5) at #1 Sam Houston State - Friday 8:00 EST - ESPN
I'd like to shout-out the Montana State Cocaine Bobcats. I apologize for even expecting you bums to handle the business. Had the Bobcats been able to upset Sam Houston State last weekend, I would be en route to Missoula, Montana, to watch the bitter foes clash in Washington-Grizzly Stadium for the first time in FCS play-off history. Instead, I'm typing this from Columbus, Ohio, during a 50-degree rainy day because Sam Houston State dispatched of the Montana State much like Montana did in Bozeman three weekends past. 
There's an old Montana saying: "Never send a Bobcat to do a Grizzlies' work." Montana comes in winner of their last nine games since a week four shellacking at the hands of Sacramento State. While the #1 seeded Bearkats of Houston State haven't lost a game all season in what has been an absolutely dominating run, they know Montana is the best team they've faced all season. If this game were in Missoula, there's absolutely no way Montana would lose this game. It just wouldn't happen. If you're not watching anything else on Friday night -- And really, what else is on during a Friday night? -- turn to ESPN and watch this game. I promise you: it will be a high-scoring, entertaining game. 
Now, I'm the same guy who predicted Ohio State to go 11-1 and win a Rose Bowl game this year, so do you really think I'm going to pick against my Montana Grizzlies in a semi-final game?  If Mike Vick were white, his name would be Jordan Johnson and he'd be playing quarterback for Montana. (196 yards and three touchdowns through the air and 86 yards and one touchdown on the ground last week against Northern Iowa.) Jabin Sambrano, one of Montana's players expected to counter the "OMG IT'S SOUTHERN SPEED OUT HERE FOR US" arguments from Bearkats-backers, has never backed down from a big stage in his life. I fully expect him to continue the blinder he's been having these last few weeks. 
It's going to be a high-scoring affair early, then I think the defenses will settle in after some second half adjustments. I ain't betting against no Grizzly bear during winning time, that's for sure. I think Montana is headed to the title game for the third time in the last four years.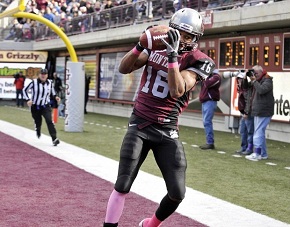 FCS Semi-Finals: #3 Georgia Southern at #2 North Dakota State - 2:30 EST - ESPNU
Just because this game has been relegated to ESPNU so ESPN2 could let Skip Bayless and Stephen A. Smith scream at each other about Tim Tebow, don't think this game will be any less entertaining than the game on the other side of the bracket. I couldn't find a line for this game anywhere, but please believe -- North Dakota State is getting dumped. This game could be exhibit 1a) in the budding scientific theory "Southern boys can't play football during northern winters" but alas, North Dakota State plays in a dome. (Though it must be noted, it's a very raucous dome.) Five years ago, Georgia Southern's first year head coach, Brian VanGorder, took a 34-14 loss at home to the Bison. After the game, he noted North Dakota was the type of program they were striving to be.
Five years later, VanGorder is taking his troops to Fargo, North Dakota in attempts to avenge the loss. Last month, Georgia was holding its own at Bryant-Denny stadium. (Hey, it scored more points than LSU was able to.) I like the mind-set of a program which would swing up like that in the late months... and for whatever reason, I believe this kind of attitude trickles down to the players on the field. (Do I have any evidence to back this up? LOL.) North Dakota will bring its balanced offensive attack (they average 179 yards per game passing and 166 yards per game rushing) but this will be the best defense they've played against this year. I don't think North Dakota's offense will be able to punish Georgia Southern with the run like they normally do to their opponents. I'm taking the points (Southern will definitely be dogs), and I'm feeling good about it.
New Mexico Bowl: Temple (-7) vs. Wyoming - 2:00 EST - ESPN
This game would be much more exciting if it was played at Estadio Azteca and called "The Old Mexico Bowl". I might watch that. (Did I just envision some poor white dude from Wyoming frowning as he realizes he just got hit in the back with a bag of urine? Yes. In fact, I would watch a reality TV show of Wyoming fans making this hajj. Alas, I guess I'll have to settle for Storage Wars.)
With Steve Addazio potentially headed to UCONN, would the Temple position be the hottest coaching ticket in Pennsylvania? Is this why PSU hasn't been able to lock down a coach yet? Are available coaches like drunk dudes at the bar passing on the advances of a girl in hopes her prettier friend will be available down the road? Hell, Penn State, just hire somebody. Don't you realize Urban Meyer is out there -- *~*RIGHT NOW*~* -- gobblin' up your recruitz!?
Oh, yes. The New Mexico Bowl! I can't wait to tell my grandkids about this classic exhibition game I didn't watch. I'm picking Temple only because of this Bill Cosby video.
Famous Idaho Potato Bowl: Ohio (+1.5) vs. Utah State - 5:30 EST - ESPN 
The Bobcats deserve to end up in Boise, Idaho, in December after blowing a 20-0 second-half lead to Northern Illinois in the MAC Title game. Just for the record -- and I apologize for being a repetitive dick on this matter -- schools will send their teams to play an exhibition game (and risk life-altering injury) in Boise, Idaho, in December, just for bags of money. Even if your job was to sit in a cubicle all day (*half of the audience nods wistfully at their monitors before looking over their shoulder to make sure their boss isn't coming*) how excited would you be about a trip to Boise this weekend? Now imagine if your job was to play a high-impact sport outdoors for the entertainment for ten of your team's fans and a handful of people who don't care about the outcome of the game either way? Now imagine your job paid you for this trip with "experience" and a North End winter coat, Kombi gloves, a Nike beanie, an Ogio Fugitive Backpack and something called a "Big Game suveneir football"? Because, that's what Utah State and Ohio are doing to their employees. But hey, let's keep defending this system!
While Ohio's collapse against NIU in the MAC title game was shameful, they covered the spread! And they're getting points again? Give me Ohio! (*Brady Hoke's Mouth Full of Marbles Voice*)
New Orleans Bowl: San Diego State (-5.5) vs. Louisiana-Lafayette - 9:00 EST - ESPN
If places like Boise, Idaho, were on the board... I guess you could do a whole lot less worse than New Orleans. Semi-kidding, but is there some rule against Louisiana football teams leaving the state to play their bowl game? Although, I guess these are the benefits of having a warlock of Les Miles' powers elected to the highest office in the state.
This game seems to come down to a simple stat: If Louisiana-Lafayette can hold San Diego State's Ronnie Hillman to under 110 yards on the ground, then the Rajun Cajuns may have a chance. The problem though is the fact Ronnie Hillman is the FBS' 3rd leading rusher and averaging 138 yards a game. The Aztecs are 10-2 in games where the running back eclipses the 110 yard mark. Worse for the Aztecs yet, their defense gives up an average of 144 yards a game on the ground. Their secondary is even worse -- giving up 248 yards a game through the air. Hillman scored 4 touchdowns in his last game against Fresno State... with a sprained ankle. I think the Aztecs are going to give Louisiana-Lafayette a steady dose of the 175 pound back and then burn them down the field. Aztecs win big.