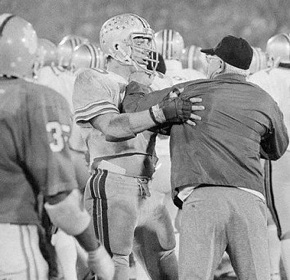 And just like that, Gene Smith's ineptness has taken any magic left out of this season for me. I mean, I can't blame the NCAA. I'm sure they saw Urban Meyer's introductory conference where Gene Smith's arrogance about potential NCAA penalties was flaunted about by none other than Gene Smith himself. Why Ohio State didn't ban themselves the second it was obvious they were headed to the freaking Gator Bowl, I'll never know. Then again, I don't get paid ~1.2 million dollars a year to make those kind of decisions.
I'd also like to personally shout-out people like Bobby DiGeronimo and other grown-ass men who feed their ego's insecurities by being a college football "insider." I can almost picture DiGeronimo it some clandestine country club room, slapping scotch glasses with his friends and telling them things like, "I know that guy!" when people like DeVier Posey score a touchdown. Of course, college football's dirty little secret is that it needs Bobby DiGeronimos to keep the sport profitable (do you think Ohio State is picking up the entire tab on Urban Meyer's coaching fees?), but this whole situation just makes me feel dirty -- and when coupled with all that's gone on in college football this year -- really has me longing for NBA games like never before. Seeing as the envelope filled with cash handshake has been a part of college football since Woody Hayes' days, it's not like the NCAA will ever be able to regulate this anyway. They will always be too slow and one step behind the Bobby DiGeronimos of the world. I'm sure all elite programs are just one email away from ending up in Ohio State's situation. Really makes you feel good about college football, no?   
Now, I'm sure Jim Bollman is sitting in his lair right now, cooking up offensive philosophies and schemes which will stand for the next 300 years; I'm sure the offensive display will have me back in college football's saddle soon enough. And if that doesn't, then the first time I watch Urban Meyer trotting out in front of the 2012 Buckeyes will. 
Speaking of bowl games featuring under-whelming teams, have any of you peeked at this weekend's slate? There are two games to get you through this weekend! (I mean, honestly, can't we just get the SEC love-fest national title game over with and crown LSU already?)
LAST WEEK: 2-3
SEASON: 77-57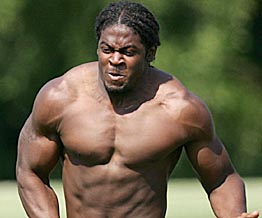 MAACO BOWL: Arizona State (+14.5) vs. #7 Boise State - Thursday 8:00 EST - ESPN 
An excerpt from BCS President Bill Hancock's letter to Boise State, et al: AND LET THIS BE A LESSON TO ANY OF YOU UPPITY MID-MAJORS TRYING TO CRASH THE BCS MONEY PARTY. WHEN YOU LOSE -- AND YOU WILL LOSE -- WE WILL CAST YOU DOWN WITH THE SODOMITES TO PLAY A 6-6 TEAM WITH NOTHING TO LOSE AND A COACH WHOSE ALREADY BEEN GIVEN WALKING PAPERS. 
​This game will feature my favorite defensive player ever not named "Mike Doss", Vontaze Burflict. I mean, I wish I could've gambled on him being a future NFL star the second he was christened "Vontaze". If you're named Vontaze, you have no choice but to be a destroyer of worlds. NO CHOICE. *And thus concludes my entire scouting report on Arizona State* 
As for Boise, I mean... really? This is where they slid due to a single loss? I guess it could be worse -- they could've been relegated to playing in Boise -- but still, I feel this team deserves a little better. Tell me, Boise, why don't you have a national fanbase of smug people with money who haven't been to a BCS bowl game in a few years? THEN MAYBE YOU COULD BE PLAYING THE SORRY-ASS VIRGINIA TECH HOKIES. (/billhancock voice)
I'm sure the expectation of this game is for Kellen Moore to put a whoopin' on ol' ASU. But, I like the Sun Devils and the points in this one. Sometimes having a dead man walking for a head coach and lack of expectations has a way of freeing teams. (Think about how Rick Neuheisel's firing sparked his team into covering a 32.5 point spread against the Oregon Ducks in the Pac-12 title game!) Plus, what exactly is Boise State playing for here, again?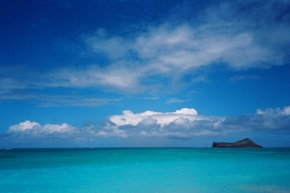 HAWAI'I BOWL: Nevada vs. #21 Southern Mississippi (-8) - Saturday 8:00 EST - ESPN
Talk about hitting the jackpot! A free trip to Hawai'i? Now THAT's some compensation for risking bodily injury for people's entertainment! How many players do you think would trade a non-title game bowl in order to play in the Hawai'i bowl? I'm thinking that number is probably around 85%. (The fact that Nevada has played in this bowl three times since 2005 is probably the #1 reason their recruits signed with them.)
This years rendition of the Hawai'i Bowl brings another game where the teams' records are lopsided. The best team in Mississippi, the Golden Eagles of Southern Mississippi, come in with a sterling 11-2 record. Their opponents are the innovators of the pistol formation, the 7-5 Nevada Wolf Pack. The Hawai'i Bowl will be where Southern Mississippi's coach, Larry Fedora, makes his last stand before heading east to take over North Carolina's stuttering program.
Expect this game to have a lot of points, as Southern Mississippi's senior quarterback, Austin Davis, has compiled over 3,330 yards  passing and 28 touchdowns in Fedora's spread attack. Nevada's All-American defensive tackle, Brett Roy, will be doing his best to scuttle Davis' final game.
If the team that smacked Houston in the mouth shows up, then I think Southern Mississippi pulls away from the Wolf Pack and sends its coach off to Chapel Hill the right way.