Good morning, starshine. The earth says hello. No, I have not been listening to the soundtrack of Hair, but instead, I'm on my way to Florida for the holidays. I plan on enjoying a week of warm temperatures and sunshine, assuming I don't pull a Home Alone 2 and accidentally wind up in New York. This is not a brag—humble or otherwise—because upon my return, I will probably face tundra-like conditions and endless hours of shoveling snow.
Anyway, this Wednesday Skull Session is brought to you by another musical, the 2002 Best Picture winner Chicago1. Like Mses. Zeta-Jones and Zelleweger, I think we should all belt out, "We move on!" The NCAA verdict is in, and we can all put that mess behind us, right?
Well, maybe it's not that easy. On the first day of Hanukkah, appropriate given that this scandal feels like it has lasted 8(00000000) days, we found out that next year's team is forbidden from playing in a bowl or the Big Ten Championship Game. It's unfortunate, especially since those players were not the ones involved in the Pandora's box that was the TatGate affair.
But remember, Urban Meyer teams have a history of excellence in his second year with a program. So FYI, the 2014 BCS National Championship will take place in Pasadena. I can smell the roses already. 
IT'S (NOT) THE END OF THE WORLD AS WE KNOW IT. I think most of us anticipated the NCAA to tack on additional penalties, albeit exclusively in the form of probation and scholarship losses. Honestly, I probably would have expected a bowl ban if Gene Smith hadn't been so insistent that it wouldn't happen. In retrospect, that alone should have clued me in that one was coming. And while we would have preferred if this season's 6-6 Gator Bowl-bound team had been the ones serving the punishment, sanctions tend not work like that. 
On the bright side, as everyone from The Plain Dealer's Terry Pluto to Yahoo's Mike Huguenin to the Chicago Sun-Times' Rick Tealander has pointed out, Ohio State's in good enough shape to weather this storm. The new captain of the U.S.S. Buckeye knows what he's doing, and even though Meyer did not forecast a postseason ban, it's only for one year. Ultimately, it shouldn't be much of a detriment to his preternatural ability to recruit, and many commits have already shown their support.
As Noah Spence's father relayed, "We look at it as a lifetime commitment. We consider Ohio State and Urban Meyer family now.''
MAIN REACTIONS. Telling Pete Thamel that he was "livid" and sitting in his vehicle2 when he received yesterday's news, Gene Smith also had to apologize to the new coach, who said, "'I'm with you." In his public statement, Meyer conveyed, "It is still my goal to hire excellent coaches, recruit great student-athletes who want to be a part of this program and to win on and off the field."
Meanwhile, current juniors like Jake Stoneburner ("Damper on the day...") and Etienne Sabino ("Wow ...smh") were not exactly thrilled that the final bowl game of their collegiate careers will be the TaxSlayer.com Gator Bowl. 
Smith explained to Doug Lesmerises that he was convinced there would be no postseason ban, and yet, he incompetently3 would have rather it come next season instead of now:
"These young men fought through adversity. I know that Buckeye Nation is all about next year and looking forward to winning a national championship, and that is right...But when you think about Michael Brewster and Andrew Sweat and those young people, you don't want to deny them that opportunity. We have young people who have earned that right to play in a bowl. "
Although it's true that Brewster and Sweat did nothing wrong, neither did next year's team. Somehow, I think Brewster and company would have fallen on their swords and given up the Gator Bowl in exchange, but since the NCAA COI would not offer an opinion on a hypothetical matter, that may not have been a possibility anyway. 
In his interview with Bob Baptist, Gordon Gee said as much by stating, "a voluntary ban is different from an NCAA sanctioned ban", but then, he also maintained his support for Smith, like he did in embarrassing fashion for Tressel last March, so take that article with a grain of salt, I guess. I'm sure most agree that the current athletic director will not and should not be around much longer.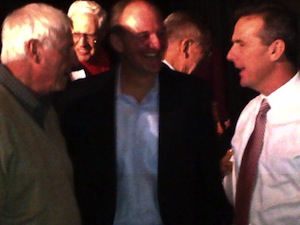 THEY'RE HERE ALREADY! YOU'RE NEXT! As many of us are aware, even if other sports fans tend to forget it, several programs besides Ohio State are in hot water with the NCAA. SI's Stewart Mandel outlined what it could mean for them if Ohio State's case sets a precedent.
North Carolina should be the next school to receive a verdict, and they also face a Failure to Monitor charge. However, their violations entail academic fraud and illegal benefits from an agent, for which the NCAA has little tolerance. 
Miami, whose investigation will not conclude for a while, has to deal with the repercussions of Nevin Shapiro, who was like Bobby DiGeronimo, if you add drugs, hookers, clubs, abortions, yachts, and much more money handed out to many more players. The hammer may not have been dropped on Ohio State, but Miami better prepare for the effects of Mjolnir.
Oregon has the Willie Lyles issue to answer to, and Mandel thinks that will bring scholarship losses and a possible Tressel-esque show-cause penalty applied to one or more of their coaches. However, he believes that the NCAA will eventually leave Penn State's ordeal to the justice system. 
AND A RAP BY LITTLE OLD ME LAMAR4. Aside from J.D. Weatherspoon's free fries-providing dunk near the end of the game, the basketball team's win over Ben Folds Five fans Lamar was fairly uneventful. Still, Sullinger was back to his usual double-double ways, despite noticeably limping. After the game, he told a busy Bob Baptist, "I've got to get back into the routine. I can't really sit here and wait for it to heal up" with the Big Ten season around the corner.
Buford left the game in the first half in visible pain, but Matta asserted that it was just a stinger. Although he returned in the second half, the senior missed all four of his shot attempts post-injury. Matta was noncommittal about the chance of LaQuinton Ross, someone who could help with the team's inconsistent three-point shooting, seeing the court soon.  
At halftime, Ohio State alum Bob Knight was presented with a University Ambassador Medal. In his speech, he spoke highly of the school and the job Matta has been doing. The General also praised the addition of Urban Meyer and proclaimed, "I really believe very strongly that Ohio State, now with its basketball staff and its football staff, has the best combination of these two coaches of any university in the country."
BOWL CUTS. For the Bo Derek fans who picked the Big Ten to go a perfect 10-0 in bowl games5, it might be time to rethink that stance. Iowa running back Marcus Coker will sit out the Insight Bowl against Oklahoma due to a violation of the Student Code of Conduct, and BHGP is cursing the Angry Iowa Running Back Hating God once again.
Last night, Florida International and Marshall faced off in the Beef O'Brady's Bowl. Despite a sponsorship that includes Brady Hoke's first name and the implication of a high calorie diet, Michigan was not involved, though it would have made more sense than a spot in the Sugar Bowl. Anyway, the contest was light on excitement until the fourth quarter when Marshall blocked a punt and quickly broke the 10-10 tie with a field goal. With just over 30 seconds left, and on 4th & 5, the Thundering Herd's QB, Rakeem Cato, hit Aaron Dobson for a 35-yard TD. At the end, there was a bit of a scrum between the two teams, because brawlers gonna brawl.  
In much more pleasant news, a couple Louisiana Tech players donated some of their bowl gifts to the Make-A-Wish Foundation. Both WR Quinton Patton and LB Adrien Cole gave up their $300 Best Buy cards. Cole added the $97 watch presented by the Poinsettia Bowl, which will be played tonight versus TCU. 
BEFORE THE LINK IS DRY. Stop it... Ohio State recruit Adolphus Washington: best or the bestest HS athlete in the country?... Party Down, the movie? Are we having fun yet?... Breaking Bart... Every commenter on end-of-the-year lists... Year-End Lists... The truth behind holiday greetings... Neko Case's cover of "Christmas Card From a Hooker in Minneapolis". 
1 Really? Her?
2 Samir-style (language warning). 
3 No surprise there. 
4 As requested by @StevePoland.
5 Class? Anyone? Anyone? Anyone seen this before?