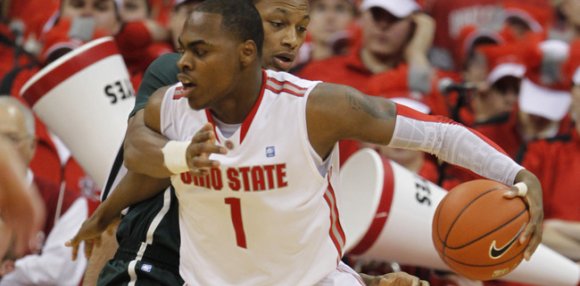 The Buckeyes got Jared Sullinger back from injury but DeShaun Thomas was the story tonight as his 23 points and career high three assists helped Ohio State overcome a sluggish start before eventually burying USC Upstate 82-58 tonight in Value City Arena. 
Sullinger didn't start - at his own request - instead entering at the 14:37 mark but still racked up a double double with 12 points (3/8 FG) and 10 rips in 24 minutes of action. 
William Buford was the only other Buckeye in double figures with 14 (4/9 FG) with Evan Ravenel chipping in nine points in 12 minutes. 
Ohio State appeared to suffer from a Kansas hangover early as the Spartans built a 21-17 lead via a 12-4 run with 6:42 left in the half thanks to stagnant effort defensively and sloppy play with the rock. 
Finally awakening from their slumber, OSU closed the half on a 20-7 run fueled by a pair of triples by Buford, six points from Sully on a dunk, putback and free throws while Thomas hit a couple buckets in traffic before Ravenel capped the blitz with a slam as the Buckeyes took a 37-28 lead into the locker room. 
Despite curing insomnia in the first half, Ohio State managed to shoot 52% from the floor and forced 13 turnovers but managed just 13 points of them thanks to eight miscues of their own. Thomas led the way with 11 points (5/8) while WB and Sully added eight points each. The first half also saw Thad insert both Sam Thompson and JD Weatherspoon early with Thompson registering two highlight reel blocks and a pair of assists. 
The Spartans hung around until about the 13 minute mark as the Buckeyes finally delivered the knockout punch with a 13-4 spurt expanding a 49-40 lead to 62-44 with just under nine minutes left in regulation. 
Thomas was the catalyst as he found Ravenel underneath for an and-1 opportunity, hit a circus scoop shot off a nice look from WB, drained a triple from the wing before finding Thompson for a jam off a tremendous backdoor feed. The stretch of unselfish, disciplined basketball by Thomas was fun to watch as it seems things are really starting to click for the explosive sophomore. 
His shot selection was solid as he connected on 10/15 from the floor. He took five treys but was often so wide open the shot selection was hard to argue. He's now gone for double figures in nine straight games and is shooting 17/29 in his last two outings (59%). 
Sullinger showed no signs of back issues even as he subbed in/out multiple times though conditioning/energy was a factor. He was admittedly tired and it showed as he wasn't real quick off the floor and took awhile to get revved up. 
Aaron Craft was a beast early racking up two steals and two fouls in the opening minutes and harrassed the Spartans throughout picking up five steals in 30 minutes. Offensively, he finished with six points and four dimes in a ho-hum effort. 
I thought the insertion of Thompson and JD early would lead to the debut of LaQuinton Ross but no such luck after just one practice for the recently cleared frosh. Instead, Sibert and Scott seemed to fall in the rotation though Scott dished out four assists in 10 garbage minutes with two turnovers. 
Thompson was the real story off the pine however as he finished with eight points on a perfect 4/4 from the field to go along with his two and two (Chuck Woolery!) in the first half. The kid is freakishly athletic as the VCA rims can attest. The competition for spots 7-9 in the rotation certainly heated up tonight and Ross has yet to see the floor. Thad has to be happy with that as guys are hungry to play. He noted as much commenting that Thompson has recently been pushing the starting five in practice. 
Overall, the Buckeyes shot 57% from the field (33% from deep) and 83% from the stripe (20/24) while holding the Spartans to 46%. The stat that stands out the most however is Ohio State losing the glass 30-22 including 10-5 at the offensive end. Sully was the only Buckeye to record more than two boards. 
Offsetting the beating on the boards, Ohio State scored 26 points off 25 Spartan turnovers and won the points in the paint to the tune of 40-18. 
The win was Matta's 301st and improved OSU to 9-1 overall. Next up for the Buckeyes, a noon tipoff this Saturday on the road against South Carolina. (That's "South Carolina Classic" as noted by @sarbucks)