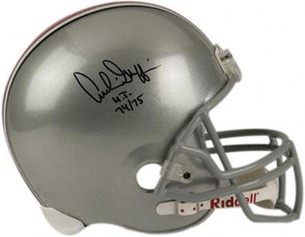 It's that time of the year again.
It's time to cozy up with FEI Ratings, a workbook full of strength of schedule rankings and your dog-eared copy of Phil Steele's annual to determine which team will win each of the 35 bowl games on tap this year.
If you're on top when the dust settles, you'll win the Archie Griffin autographed helmet that you see to the right.
Typically we roll a straight-up pick-em, but this year we're adding a the wrinkle of confidence points, so not only will you have to pick every bowl winner, but you'll also have to rank your picks, 1-35, depending on how confident you are with each pick. HAHA HAVE FUN WITH THE FIGHT HUNGER BOWL OF INFINITE SADNESS.
So, we're ready whenever you are. You'll be able to login with a Facebook, Google or Yahoo account.
The relevant bits:
Good luck!