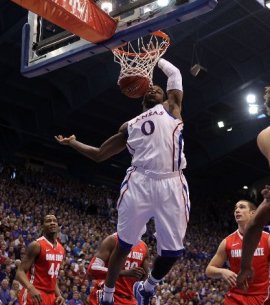 Even with Jared Sullinger it was going to be a tall order to walk into Allen Fieldhouse and end a 46 non-conference game winning streak.
Without him, the Buckeyes simply couldn't create enough good looks at the offensive end and gave up far too many at the other end as Kansas took down the Buckeyes 78-67 this afternoon in Lawrence. 
Ohio State never led in the game but trailed by just four at 62-58 with 5:39 to play following a 10-3 run sparked by William Buford. WB couldn't throw it in the ocean in the opening 20 minutes (1/7 FG, 4 pts) but caught fire early in the second half scoring 14 of 19 Ohio State points during one stretch as the Buckeyes inched toward a possible upset.  
It wasn't meant to be however as Kansas closed out the game with a 16-9 run behind 10 points from Thomas Robinson as he abused Amir Williams and to a lesser extend Evan Ravenel at a time when the Buckeyes had to have defensive stops. Robinson led the Jayhawks with 21 points and seven boards behind the huge 2nd half that saw him pour in 14 points along with all seven of his boards. 
Buford's 21 points (8/23, 17 pts in 2H) paced the Buckeye attack with DeShaun Thomas adding 19 points (7/14 FG, 3/7 3FG) and five boards. 
Aaron Craft was the only other Buckeye in double figures with 11 points (4/11) coupled with six assists and five boards against three turnovers. Craft had his usual huge impact at the defensive end as he helped coax Tyshawn Taylor into seven turnovers though the quick senior PG dished out 13 dimes and scored nine points. 
It was an uphill struggle right out of the gate. The Buckeyes fell into an early 9-2 hole thanks to 0/6 shooting but managed to cut the lead to 14-11 behind a Craft triple and a couple acrobatic shots from Thomas in the lane. 
Kansas, as they did all day, answered the run with a 9-2 spurt pushing the lead up to 23-13 at 8:26 following a Robinson jumper in the lane. The bucket improved Kansas to 10/14 from the floor while the Buckeyes were busying clanking 3/13 with five turnovers. Only six Jayhawk turnovers kept it close. 
To their credit, Ohio State fought back with consecutive treys by Thomas and a dunk from Amir off a great find by Buford sandwiched a KU three cutting the lead to 26-21 at 6:25. On cue, Kansas responded with a 7-2 run pushing the lead back up to 10 at 33-23. The poor sequence from OSU saw Amir get lost on D and miss a pair of free throws before Buford took a horrible shot leading to a breakaway dunk with 4:19 left in the half. 
Again picking themselves up off the mat, OSU held Kansas to just two points over the final four minutes while scoring six behind another triple from Thomas to trail just 35-29 at the half. 
Thomas was absolutely outstanding in the opening half as he scored 15 points on 3/5 from distance while holding Robinson to seven points and zero rebounds. His offense was all the more impressive as Buford could do nothing to complement him with Craft also struggling at 1/4 from the floor. 
Struggling inside without Sullinger, the Buckeyes allowed KU to outscore them 20-6 in the paint and shoot 65% from the floor. Only a 16-6 edge in points off turnovers kept OSU within striking distance. 
Matta's troops started the 2nd half with a flurry as Thomas hit a patented jump hook and Ravenel sandwiched back to back inside buckets between an Elijah Johnson triple to trail by just three at 38-35 with 18:16 left in regulation. Of course, KU again answered with a 9-2 run taking a 47-37 lead before Buford got hot fueling the noted last gasp. 
For the game, Kansas shot a blistering 58% from the floor including 52% from distance (9/17) and won the points in the paint battle 34-26. Meanwhile, Ohio State shot a chilly 38% overall including 29% from deep (5/17) but hung in there 18 Kansas turnovers into 24 points. 
Playing their first roadie of the season, Ohio State got a taste of how the home crowd impacts the zebras as they were whistled for 22 fouls. Starting in place of Sully, Ravenel racked up 5 fouls in 25 minutes finishing with nine points and five boards. Williams tied his season high with 15 minutes. He tallied two points and three boards and was overwhelmed at times by Robinson.
Fellow reserve Jordan Sibert logged 15 minutes but took at least 15 days off Matta's life with a pathetic sequence midway through the 1st half in which he got beat on a screen allowing a KU triple, took a horrendous shot at the other end and after Taylor hit a jumper to take a 19-11 lead, Sibert walked to set up another Jayhawk bucket pushing their lead to 21-11. I'm not hating on the kid but if he doesn't pick up the production at both ends, Matta is going to be more than willing to give Ross chances to eat into Sibert's minutes. Lenzelle Smith also struggled a bit defensively today as he was slow in rotating to open shooters - also drawing the ire of Matta. 
Overall, the loss is meaningless in the grand scheme of things. If anything, it helped kids like Williams get a taste of the big time and should give the entire team confidence as they hung in there in maybe the toughest environment in America without the best player in the country. 
The key now is to get Sully healthy and give Ross enough chances to see if he can mesh within the schemes as the Buckeyes play the next four games with the intent of establishing their rotation prior to kicking off the B1G slate against Northwestern on December 28th.