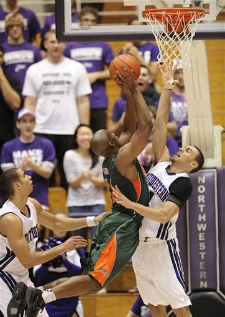 After demolishing the Dookies on Tuesday night, 85-63, Thad Matta goes for his 300th career victory tonight, in the first ever meeting with UT Pan Am. This game is only available on-line, at btn.com and it will cost you $14.95.
Word came down late yesterday that Jared Sullinger is going to sit this one out due to some back spasms experienced in the Duke game. After the initial hyperventilation when the news broke, it looks like the injury isn't serious and Sully will be ready in a week at Kansas.
There wasn't going to be much need for Sully today anyhow. Most of OSU's cupcakes this season have played at least one tough team to start the season, but UTPA's toughest games have come against Northwestern, Toledo and DePaul. Their only wins have come against Texas St. and Victory University.
| # | Name | PTS | REB | ASST | POS | # | Name | PTS | REB | ASST |
| --- | --- | --- | --- | --- | --- | --- | --- | --- | --- | --- |
| 4 | Aaron Craft | 10.3 | 3.3 | 5.9 | G | 12 | Nick Weiemiller | 5.6 | 3.3 | 3.5 |
| 32 | Lenzelle Smith Jr. | 5.4 | 4.9 | 2.7 | G | 11 | Jared Marre | 13.6 | 3.3 | 2.1 |
| 44 | William Buford | 18.0 | 4.3 | 3.3 | F | 23 | Jesus Delgado | 3.0 | 2.3 | 1.5 |
| 1 | Deshaun Thomas | 13.1 | 3.9 | 0.7 | F | 20 | Earl Jefferson | 5.1 | 6.1 | 0.9 |
| 30 | Evan Ravenel | 4.6 | 1.9 | 0.7 | C | 13 | Ruben Cabrera | 8.0 | 4.1 | 0.6 |
Opponent
UT-Pan American is a Hispanic serving Institution in Edinburg, Texas, just 10 miles north of the US/Mexico border. With an overall enrollment of just over 19,000 students, UTPA awards the 3rd most Bachelor and Master degrees nationally for Hispanics.
The Broncs come in scoring 64 PPG and shoot just 41.7% from the floor. They attempt 37 percent of their shots from deep, where they hit at a 31% clip, while connecting on 68% from the charity stripe. They're not a tall team, playing no one over 6'9", so it's no surprise their rebound totals are only 34 a game and they dish out 14 assists, while committing 17 TO's a game.
UTPA is a veteran team, starting 2 seniors and 3 juniors, with another senior and 2 juniors coming off the bench. The Broncs will roll with at least 9 players, but as you can imagine, no one will pose a threat. Josh Cleveland, a 6'6" SO. will lead the way off the pine, playing 19 minutes, scoring about 5 points and snagging 2.5 boards.
Aaron Urbanus, Kieondre Arkwright and Enique Mason will also see significant minutes, with each player roughly averaging around 13 minutes, 4 points and 2 boards. Mason is a 6'9" SO., while the other two hover around 6 foot and have made a combined 22 of 72 shots this year.
Brandon Provost is the Broncs leading scorer on the season, but didn't see any action last game. Amongst the plethora of media reports regarding the Bronc program, I didn't see why he was out or if he'll play today. He is scoring 15.3 PPG, to go along with 4.7 boards and 2 assists.
Buckeye Breakdown:
The news on Sully is definitely a little concerning, but he'll have 11 days to rest the back before they take on Kansas and as someone pointed out yesterday, Buford sat a game last year and didn't miss a beat. The loss today of Sullinger is good news for the likes of Ravenel, Amir Williams, J.D. Weatherspoon and Trey McDonald. Though Williams and McDonald are at least a year away, increased minutes for Ravenel and Weatherspoon could be beneficial next week.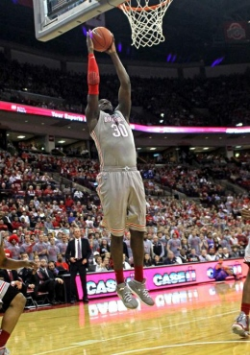 Ohio State enters the game scoring 85.1 PPG, which is good for 10th in the country, while their 52.6% shooting from the floor puts them at seventh. The 3-point percentage is starting to rise, thanks to William Buford and Craft's 3/4 performance Tuesday.
Craft has averaged 15 PPG and 8 assists over the last 3 games, and the 20 APG the team averages puts them 4th in the nation.
The only concern for today is a flat start that could extend into most of the game. This is the earliest start on the season for the Bucks and they are coming off the emotional win Tuesday, plus their best player is out. Luckily the opponent is the worst they've seen all year and Craft sets the tone for this team.
As mentioned, Thad Matta is going for his 300th career win today, a feat he accomplished in just over 12 years. He is 299-88 in his 3 stops, including 197-57 in his 8 years here. It's well known that he and Mark Few are the only coaches in NCAA HISTORY to start their careers with at least 20 wins in each season and he is now 126-10 at the Schott. We can only hope his back doesn't limit his years at Ohio State, as the thought of him and Meyer running things for the next decade makes me giddy.
The Buckeyes really aren't going to be challenged today, so it's a good thing this is the game that's on-line only. The entire team is going to get plenty of minutes and everyone will have to avoid getting sloppy, but OSU is still going to win by 30+ and take a week to get ready for Kansas.
Etc
William Buford is now 13th in career scoring and needs 17 points to pass Terrance Dials and 23 for Allan Hornyak.
Ohio State has trailed for a total of 2:57 over the last five games.