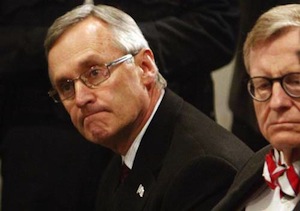 Tuesday afternoon the NCAA released the long awaited report on their investigation into NCAA violations at Ohio State, under former head coach Jim Tressel. The NCAA gave Ohio State a one year postseason ban, took away a total of nine scholarships over three years, put the program on probation until 2014, vacated the 2010 season, gave Jim Tressel a five year show-cause penalty and had OSU forfeit their portion of the revenue sharing from the 2011 Sugar Bowl.
Being an Ohio State enthusiast, while living smack dab in the middle of USC territory, I've had the privilege1 of hearing the crying from both fanbases.
In June 2010, the NCAA released their decision, after a four year long investigation into the USC football program, that had many crying foul. The decision to take away, among other things, a total of 30 scholarships and USC's ability to play in the postseason for two years, was referred to by many as quite a heavy hammer. And, it was.
In fact, the NCAA ruling on USC was one of the harshest it's made in quite some time. Was it too harsh? Perhaps. Only time will tell how this will all really affect USC, as they have delayed their scholarship reductions, the most severe of their penalties, until next year.
But, should the fact that the NCAA issued lighter penalties for Ohio State have caused the uproar among the Trojan faithful and USC apologists that it has? To anyone who has been watching and reading the output of the national media, possibly. But, to anyone who has read both reports, no, and for several reasons.
The usc ncaa investigation
The simple point of view that has been thrown out there is that USC had one player (Reggie Bush) violating the rules, and an assistant coach (Todd McNair) who possibly knew what he was up to. When compared to Ohio State, where the violations included multiple players and a head coach who lied to the NCAA, it certainly seems less severe.  But, in reality, it wasn't.
The lengthy explanations of the many violations that occurred at USC are exhausting to get through, all 67 pages of them (compared to Ohio State's 34). There are pages upon pages detailing the paid-for housing and trips to Hawaii for family, parties at a former NFL player's house, relationships with agents who were in locker rooms, trips to Las Vegas, limousines, a car and the audio system and rims to go with it, and… I could go on.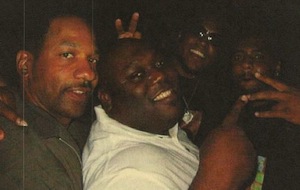 Many with a rooting interest in USC have said that the evidence that former USC running backs coach, Todd McNair, knew of these violations is weak, at best. The NCAA report, however, contains many variations of the phrase, "yet another example of the assistant football coach's lack of credibility." To anyone who reads the report, it is obvious that if McNair didn't know of the violations that Reggie Bush was committing with these agents, that he felt the need to lie to the NCAA for some other, unknown reason during the investigation. And these lies would be in addition to the NCAA forms he signed (same as the ones Tressel signed), claiming he was not aware of any violations that were occurring at USC.
Many will dismiss Pete Carroll's involvement in the violations at USC, particularly when comparing the cases of the two programs, by saying he wasn't even remotely involved in any of it. The truth is, these violations aside, Carroll knew years before the report came out that McNair's integrity is questionable.
McNair failed to mention during his hiring in 2004 that he had been convicted of animal cruelty, animal neglect, failure to obtain licenses and keeping animals for the purpose of fighting, on two separate occasions. Why did McNair not reveal this information? In his words, he "had no reason to think it would ever come up. I didn't look at it as I did a crime." When did he make Carroll aware of his crimes? In 2007, when the Michael Vick news broke, and McNair thought his own skeletons would come out.
Once informed, what did Carroll think of McNair's crimes, and the fact that he kept his convictions a secret for three years? Carroll said he "wouldn't have recognized it as an issue" and that he still would have hired McNair. To think that Carroll was shocked by the dishonesty that McNair portrayed during Bush's violations, and the resulting NCAA investigation, would be a stretch. For a man who happily invited OJ Simpson to a USC practice before the Orange Bowl, because it would be exciting for his players, it's easy to see why none of this would have struck him as potentially improper.
In addition, to think that Carroll and the rest of the athletic department had no dealings with any of the agents and marketers these violations centered around, would be inaccurate as well. The NCAA report states that Pete Carroll "encouraged sports marketer A to hire student-athletes as interns" and that "sports marketer B2 contacted the associate director of athletics to determine if student-athletes would be interested in an internship with his agency." Ultimately, multiple football players were hired for these "internships", that were never made available to the general public.
None of this is meant to deflect from Ohio State's wrongdoings. The media has been more than happy to make us all aware of all the details of those transgressions, which are inexcusable as well.  And one thing interested parties, on both sides, can likely agree upon, is that the NCAA needs reform in its method of punishment.
For one, a set of standards by which they determine punishments would be nice. Additionally, how about a system that punishes those involved in the violations, above all others? How is Reggie Bush feeling these days, compared to the USC players that are watching all the bowl games from home? And how will John Simon feel when his senior season at Ohio State ends without any postseason play, while Boom Herron and DeVier Posey's final game will be in the postseason?
usc's cooperation with the ncaa
The real lesson that has emerged, by comparing the cases of USC and Ohio State, is revealed through the different ways in which the two handled their respective circumstances.
For starters, Pete Carroll left USC before this news broke, making him a bit of a non factor in all of this. And while the hire of a coach, who had made a name for himself in Knoxville by pissing off the NCAA, to take Carroll's place, likely wasn't looked upon favorably, it was forgivable.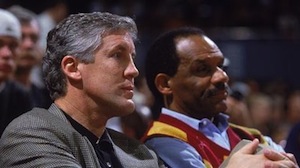 So, then, whatever happened to Todd McNair, the assistant coach who was at a nightclub with a player, a recruit and an agent? Who had lied to the NCAA, repeatedly. His contract expired about three weeks after the release of the NCAA report, and it was simply not renewed. USC in no way, during the investigation, attempted to disassociate with a convicted criminal, who was aware of violations within their program. In fact, his bio still remains on the USC Athletics' website, with no mention of the fact that he is no longer coaching at USC.
The NCAA report does include some concessions USC had made throughout the investigation, in relations to their violations, but they were incredibly minimal concessions at best. Even more so than it's been portrayed in the media, USC stood defiant of the NCAA every, single step of the way.
The NCAA report is littered with instances in which USC denied wrongdoing, disagreed with findings, and objected to certain violations of theirs actually being as severe of violations as the NCAA claimed.
This doesn't even touch on their publicly displayed attitude towards the entire process after the report was released. Mike Garrett, then USC Athletic Director, said the decision was  "nothing but a lot of envy. As I read the decision by the NCAA, all I could get out of all of this was … I read between the lines and there was nothing but a lot of envy, and they wish they all were Trojans."
Even as he claimed he was planning on appealing the ruling, Garrett didn't pretend to be taking the process seriously. He didn't even attempt to show the NCAA the remorse and respect they were likely hoping to see. And, that's fine, I suppose, if that's the way USC wanted to play it. It can be fun to play to the crowd, and get them excited, something their incoming head coach, Lane Kiffin, was also great at. But then, their supporters shouldn't be surprised that the NCAA didn't respond favorably towards their program either. If USC wanted to prove a point, how can they later protest that the NCAA attempted to prove one in return?
life after punishment
Finally, the situation at USC has also taught a lesson that can be valuable to Ohio State moving forward, even now that the investigation is over. That lesson being, that the arrogant attitude does come in handy, at some point. Be glad the investigation is over. Your fate has been determined. Own it. And then... own your opponents. Own the AP Poll.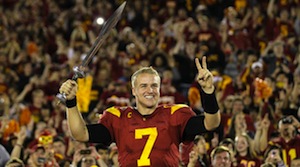 Would USC and its supporters get upset at my implication of "arrogance"? Likely not. This is a fan base responsible for Arrogant Nation, known for catch phrases such as, my personal favorite, "You can't sanction the endzone." Slightly annoying? Yes. Until it's an attitude you can adopt, now that Ohio State's own investigation is over.
In the final year of it's postseason ban, though it couldn't compete in it's conference championship game or a bowl, USC proved to the nation that it belonged in both. Though many voters seemed to have, arguably unjustly, left Matt Barkley off their Heisman ballots, he proved he belonged in NYC. Though it had been left out of the Coaches' Poll, USC climbed the ranks of the AP Poll, instead.
The Trojans were able to put together an incredibly exciting 10-2 season to watch. They created lasting memories for themselves, and the supporters that stuck with them. They poked fun at the ridiculousness that they would be punished for things that happened while they were in middle school. Most notably, they set the stage for their run at a national title next season.  And that, is when arrogance and defiance can pay off.
1 You're not the only privileged one, Kirk Cousins.
2 Sports marketer B had been convicted of mail fraud, and Pete Carroll was aware of this as well.