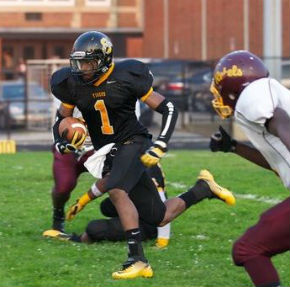 One of the first things Urban Meyer did after his introductory press conference on November 28 was to get on his phone and dial up the nation's top prospects. It was clear Meyer was going to change the way recruiting was done at Ohio State. It also turned out he changed the way one prospect saw things unfolding in his recruitment.
Class of 2013 Cleveland Heights WR Shelton Gibson had an early offer from Auburn, the 2010 national champions. Gibson was so excited about getting that prestigious offer that he took a trip down south for the Iron Bowl to see the Tigers' take on Alabama. It was his second trip to the school in five months, as he was down there in July for summer football camp. 
After the trip, Gibson proclaimed Gene Chizik's squad was his far and away leader and it seemed that a commitment to Auburn could come at any minute. Then, things changed course just slightly, as Urban Meyer called.
Meyer made Gibson the first player he offered as head coach at Ohio State. While all the other prospects he called that afternoon were already offered by the Buckeyes, Gibson was not, as the coaching staff under Luke Fickell seemed to be evaluating all of the players and needs in the junior class. Meyer clearly fell in love at first sight with the in-state product, who stands at 6-1/190 and has been clocked in the low 4.4s in the 40-yard dash.
While Gibson still favors Auburn and the strong relationship he has built there, the Buckeyes are definitely on his mind now that they have offered. It may also help OSU's cause if Gibson's teammate Kyle Dodson comes to the Buckeyes as the two are close friends. Either way, a once early commit candidate is now taking his time and looking around thanks to one little phone call from the Ohio State staff.
We got the chance to sit down with Shelton to discuss his thoughts on Auburn, what his thought process is now with recruiting, what other schools he may visit, and more. Join us after the jump to catch up with Shelton Gibson.
First off, how did your junior season go? How did your team do and how did you do individually?
We had a great season. We finished with a 9-1 record overall. I believe I played pretty well, but feel like I didn't play to the best of my ability. I'm working real hard right now to reach that potential.
It's no secret Auburn is high on your list. What made a kid from Ohio so enamored with a school down in Alabama?
I like the Auburn coaches a lot. Coach Troop [WR coach Trooper Taylor] and I have a good relationship. I feel like I can fit in down there.
What is Coach Chizik telling you about coming down to play for the Tigers?
I mean I talk to Coach Chiz a lot and he said he likes speed. I have speed, so it would be a great opportunity to play a in a place with the 2010 SEC and National champs. That's what he's really telling me.
Coach Meyer called you the other day and made you the first player he offered a scholarship to. How did that feel?
It felt great. I mean, I heard a lot of things about Coach Meyer. He can change the Big Ten in my personal opinion.
What else did Meyer tell you about coming to play for the Buckeyes?
He was talking about me playing with Braxton Miller and that they are going to run the plays that I'm used to running with my high school team, which is a great thing. Back to Braxton, in my personal opinion, he is a nice size quarterback that has a year of playing under his belt. He is very smart and can read defenses well.
I know you were pretty close to committing to Auburn, but after Urban called you, you're thinking about OSU again. Does Ohio State have a real chance in this?
I mean, yes, Auburn is my top school, but Ohio State has a chance. I'm going to go on officials to both schools and visit both schools about five times. After that I'll be able to see what the best place for me is.
When do you expect to make your decision? Are you planning to visit anywhere before you do?
Not sure when I will make my decision. Oregon, Wisconsin, and Miami are schools I could look at visiting in addition to OSU and Auburn. I love all three school's playbooks and I would like to be in the huddle for any of those programs. If I get an offer from Oregon, that would set my top five schools with all those I just mentioned. Right now, I'm focused on school work though, because my work in high school comes before any college.
Does the opportunity to play close to home have any factor in your decision?
Yeah it does. That would mean my parents could come watch me play every weekend, so it definitely does.
You are teammates with Kyle Dodson who is committed to Wisconsin, but is looking around. Has he tried to get you to join him in Madison or wherever he ends up playing?
I know Auburn is recruiting him and Coach Meyer is trying to jump back in as well.  Kyle is great player and wherever he goes, he's going to be a great brother to me.
What are your goals for this off-season? What do you want to work on before your senior year?
I really want to work on my speed. Speed kills.
HIGHLIGHTS: