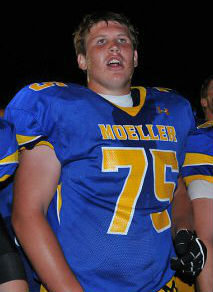 There is no question that the biggest need when it comes to Ohio State recruiting is the offensive line. Urban Meyer has clearly already taken note of that and gone after some of the best 2012 lineman still on the board.
While there are a couple players that would be quality additions to the 2012 class (Kozan, Diamond, Davidson), the big overhaul will come in the 2013 class, where there is a plethora of talent both in the state of Ohio and nationally at the offensive line position. The Ohio State coaches have already started recruiting a number of these talented prospects, but you can bet Urban Meyer and the new staff will be making this a priority once all the dust settles in Columbus.
Although not offered yet, one of the players in the Buckeye State that is getting a lot of attention from programs around the country is Alex Gall of traditional power, Cincinnati Archbishop Moeller. Gall, who stands at 6-5/285, has a tremendous stint on the camp circuits last summer, and followed it up with a very good season, in which he was named to the first team offense in the GCL.
We got the chance to sit down with Gall to discuss his junior season, the latest in his recruitment, his thoughts on Urban Meyer and Ohio State, and much more. Join us after the jump to catch up with Alex Gall.
First off, how did your junior season go? How did your team perform and how did you do individually?
My junior season went great.Our team made it the farthest that we have in over five years. The senior class showed me what you have to do in order to get it [winning season] done. I ended up making First Team All-GCL, along with being named the top lineman in the GCL. I feel like I played pretty well and improved my technique during this year.
How is recruiting going. Who do you have offers from and who is showing interest?
Recruiting is going well. I currently don't have any offers, but schools from all over are showing a lot of interest.
Do you have a favorite school or list of favorites at this time?
I don't currently have a favorite school. I'm trying to keep my options open and see what comes my way.
What is your plan of attack for recruiting? Would you like to decide by a certain time or will you wait things out as long as it takes?
I'd like to decide sooner rather than later. I definitely don't plan on waiting until the last minute.
What was OSU telling you before Urban Meyer was hired?
They were telling me that they were interested and to keep up the good work. 
Has OSU contacted you since Urban was hired? 
I have not been contacted by them since he was hired, but I definitely plan on speaking to them soon.
What do you think of the hire of Urban Meyer for Ohio State? Does that impact your thinking on OSU in any way?
I think that the hiring of Urban Meyer will take this program over the top. This makes me want to learn about what kind of man Urban is and what his goals for OSU are.
What are your goals for your senior year? Is there anything you want to improve in your individual game?
My goals for my senior year are all going to be focused towards my team. I am going to do whatever it takes to make my team as successful as possible and take them as far as possible in the playoffs.
What are you looking for in your future school?
I want a good program that has tradition, a nice campus, and good academics.
What are your plans for the rest of the year? Any visits lined up? Any camps this summer?
I am not sure about my plans yet. I will probably take a few visits, but I don't know where or when yet.
HIGHLIGHTS: