Good morning, Scarlet and Gray aficionados! Today's Skull Session commemorates the last day of month, and my, what a difference a couple of days make.
After the football team failed to win their last three games in November (?), including a loss to those loathsome Wolverines (??), Ohio State took a page out of Bielema's playbook and decided it was a good time to be a Buckeye.
First, the football team welcomed a new coach who incites fear in the rest of the college football world. If any other fans claim a blasé attitude towards Urban's hiring, they're lying.
Then, the basketball team thoroughly dominated Duke, the perennially "most annoying college hoops program on the planet", who last week, won the Maui Invitational and entered the Schott ranked #4.
Unfortunately for the Blue Devils, but fortunately for the rest of us, the #2 BB Buckeyes looked like the best team in the country.
The future is bright, ladies and gentlemen. And apropos of that, Happy Birthday, future Heisman winner Braxton Miller!
STAR POWER. Though many former Buckeyes and current NBA players were in attendance to watch Matta's crew hand Duke their worst loss in over two years, the real stars of the evening were on the court. Ohio State hit 59% of their shots and a season-high 57% from three-point land, leading to 47 points in the first half. In their last game against Kansas, Duke surrendered a total of 61 points.
The Buckeye defense held strong on the perimeter as the Blue Devils were only able to make 3 of 15 shots from behind the arc, far lower than their 46% average. Craft was his usual pesky self as he shut down Seth Curry and Tyler Thornton, neither of whom notched an assist.
After playing a complete game against a top five opponent, Sullinger put into words what we were all thinking:  "What can I say -- this basketball team is something special."
Matta was more cautious with the praise, stressing that this is a young squad who still has plenty of room for improvement. Yet, it doesn't hurt having, as Coach Krzyzewski declared Sully, "the best player in the country" to lead the way. 
CALL OUT THE INSTIGATOR BECAUSE THERE'S SOMETHING IN THE AIR. With students camping out for the game since Sunday, the energy in the Schott was palpable. Perhaps now that they finally had something to celebrate after a tough sports year, the Nut House created a rollicking atmosphere, and the team seemed to feed off their fervor. 
Oftentimes, the Ohio State fanbase is accused of treating the basketball team like a redheaded stepchild, or of failing to produce an intimidating presence at home1. Speaking to Doug Lesmerises, Evan Turner noted that "people think Ohio State is a football school, but this shows it's a basketball school, too."
As evidence to support that claim, the men's volleyball team, last season's national champions, were honored at halftime, and Urban Meyer did not make an appearance. For last night's crowd, the basketball Bucks destroying the easily-hateable Duke on the big stage was enough of a reason to rejoice. 
TODAY I MET THE BOY I'M GONNA COACH. Many times during this football season, especially in the second half, Braxton Miller dazzled me with his moves and playmaking ability. He committed his fair share of mistakes, but for an 18-year-old being thrust into the responsibility of carrying an offense, he impressed me far more and he improved leaps and bounds from the beginning of the season. Later today, the birthday boy should be named B1G Freshman of the Year. 
Under the tutelage of Urban Meyer, though, the young QB should become an unstoppable force. Meyer, who was doodling Braxton's name in is notebook as far back as signing day last February, knows how to develop talent. If there was one moment in his introductory press conference that gave me chills, it was when, with a dopey smile usually reserved for lovesick teenagers, he referred to meeting Miller as "the highlight of my day."
John Kampf talked to Josh Harris, Meyer's QB at BGSU, about how difficult it will be for the offense to pick up the new system:
Having played two years in Meyer's system, Harris said there will be some adjustments for Miller and the Buckeyes' offensive players to make. But Harris, when asked how hard it is to learn Meyer's offense, pointed out Bowling Green went 2-9 the year before Meyer's arrival and 8-3 in Meyer's first season.

 

"So how long do you think it takes?" Harris said with a grin.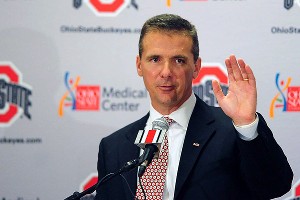 Urban drooled over Braxton some more when he announced, "to tell you I'm excited to coach him, I'm not using the correct adjectives."
To tell you I'm excited to see this, I'm not using the correct adjectives. 
 COME ON COME ON, LISTEN TO THE MONEY TALK. At $4 million/year, Urban Meyer will earn one of the nation's top coaching salaries, but according to Bloomberg's Aaron Kuriloff, Ohio State could benefit financially from the situation. Successful seasons, particularly if a national title is involved, yield profits, and someone with the stature of Meyer only helps.
Economist Andrew Zimbalist, brother of Remington Steele's Stephanie Zimbalist2, questioned the ethicalness of not just this example, but of all college sports. After all, Urban's hiring and subsequent income, larger than what Tressel made, was set into motion when college athletes sold their own property.
However, the name of the game is winning, and at a university with deep pockets like Ohio State, that includes ponying up for assistant coaches. In Meyer's effort to assemble a Super Friends caliber of a coaching staff, money definitely matters. 
LET'S GET READY TO RECRUUUUUIT! Alleging that he has not and will not use negative recruiting tactics3, Brady Hoke promised not to badmouth other programs like Ohio State and Penn State.
If he tries, he's now up against someone he credited as being "sneakier than I am" in a hypothetical fight, and as Matt Markey writes, Urban is known for being a masterful recruiter. It's an aspect of football he places a lot of emphasis on, and one needs to look no further than Twitter, where members of the '12 class like Bri'onte Dunn, Warren Ball, and Frank Epitropoulos have all mentioned talking to him.
And as reported yesterday by Bill Greene, wide receiver Shelton Gibson became Meyer's first offer for the '13 recruiting class. The man does not waste any time. 
EVERYTHING BUT THE KITCHEN LINK. The undefeated women's BB team hosts Florida State tonight in the Big Ten/ACC challenge... Low's "Just Like Christmas"... Another cult show making a movie version? Yes, please... Community opening credits a la Parks and Rec... A car air freshener that goes to jail first and then becomes president... The FBI did not care for the subversive nature of aye-yi-yi-yi... Neil deGrasse Tyson is a rock star... I will neither confirm nor deny this is me.
1 Michigan-style. 
2 I'm pretty sure that's not true.
3 Lies, lies!