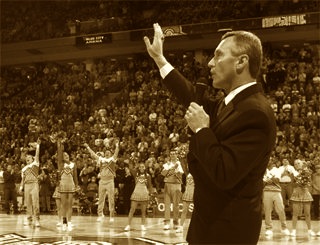 A very familiar and comforting clock stopped ticking on Saturday afternoon.
It wasn't that (admittedly obnoxious) Dispatch counter that would have marked 2925 days since Michigan last beat Ohio State were it not taken down earlier in the week, nor was the stadium clock in Ann Arbor that landed on zeros with the Buckeyes holding onto the low end of the score for the first time in eight meetings.
The era of Jim Tressel finally came to a close this weekend with his last Ohio State team falling to the Wolverines and ending a run that might never be experienced again. It would have ended on Saturday regardless of the outcome.
He wasn't on the sideline for a single game of this horrendous 6-6 season, but he was the architect of this team - its philosophy, its principles, all of its players and all but one of its coaches.
Tressel was introduced to Ohio State at a basketball game and he immediately ameliorated a fan base that had long agonized over off-the-field problems and losses to Michigan with the promise that they would like the results that occurred on his watch. That was the beginning of the beginning.
For the next 11 seasons - including the current one - that was the case most of the time. Ohio State won championships, bowls and Michigan games as its APR grew to among the very best in the country. Buckeye football under Tressel was a machine. The only thing that could stop it was Tressel himself.
When the game ended Saturday and Michigan's jubilant fans spilled out onto the field, that marked the end of the end.
While the death certificate of the Tressel era was still being notarized, the birth certificate for the next chapter of Ohio State football was being written in haste. This diversion was the product of sound prognostication, months of speculation and most of all, a coping mechanism for one of the worst all-around years in Buckeye football history.
The final dozen games of the Tressel era will be remembered about as much as Emmitt Smith in an Arizona Cardinals uniform or Joe Montana as a Kansas City Chief. The 2011 season was always about what should have been, what could have been, what used to be and what very obviously was no longer customary Ohio State football with its patriarch absent.
The notion of an Earle Bruce-like 1979 championship transition faded in week two as the Buckeyes struggled to beat Toledo, and it vaporized in week three when the Buckeyes turned in the first of several conclusively abysmal performances at Miami. Tresselball without Tressel wasn't technically dead; the plug still needed to be pulled to make it official.
That moment was always going to be this past Saturday. The only variable was if the mood would be sour or jubilant. The mourning period lasted as long as it took for the word of Tressel's successor to be announced, which as it turned out wasn't even 48 hours.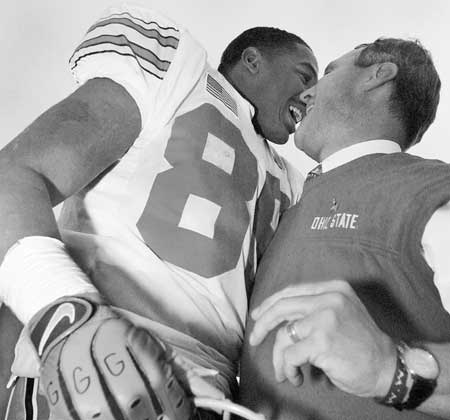 Lost in the confusing haze of euphoria and sadness is that Urban Meyer has signed up to uphold an impossible standard. Beating Michigan at nearly a 90% clip and getting invites to champagne room bowl games annually is not a birthright, but Tressel made it seem that way. It should not even be possible.
The current emotions are uncharted waters for Buckeye fans. Ohio State has never hired a "name" coach in its history. Tressel was a I-AA legend whose only games as an FBS head coach were in Columbus. John Cooper was hardly a national target.
Earle Bruce came from Iowa State, which only sounds like Ohio State. Woody Hayes came from Denison. Paul Brown came to Ohio State from Massillon High School. Francis "gold pants" Schmidt came from TCU.
Meyer will be taking his fourth FBS head coaching job, having won at Florida, Utah and Bowling Green previously. He is the first coach to arrive in Columbus with an already-established pedigree. His hiring is unprecedented for a school in a state better known for creating coaching legends than recruiting them.
In Meyer, however, Ohio State is getting both. A homegrown coaching savant whose reputation blossomed away from Ohio is now returning home for what has to be considered his dream job. That vacancy that he's filling just happened to be Tressel's dream job as well.
It's a position Meyer's predecessor would have coached until he had chosen to retire without pressure. Running Ohio State football was a dream of theirs going back to their days as Ohio State assistants together on the same Bruce staff. Tressel's dream has now ended right where Meyer's dream is beginning.
Tressel's introductory mid-court amelioration that transpired in January 2001 will have a modern counterpart shortly. Meyer will soon undoubtedly reassure Buckeye fans that the standards for Ohio State football remain unchanged, that the team will be winning again soon - on all fronts, both turf and non-turf - and that there will soon be pride again where there is currently embarrassment, humiliation and angst.
Ohio State football was always bigger than Tressel and it will always be bigger than Meyer. Whenever he walks away, the next coach will have to assume the stewardship where he left it and try to make it better. That's the standard, no matter how daunting any predecessor might have made it.
Time and change, the seasons pass, the years will roll; regardless of how triumphant or tumultuous any era might be, this is all part of the script. While one very familiar and comforting clock stopped ticking on Saturday afternoon, another new one has quickly taken its place. The expectations remain the same.
After 11 years of Tresselball, we're back at the beginning of the beginning once again. The Urban era at Ohio State is born and will someday also find its death, but as long as there is football at Ohio State the clock will never stop ticking.