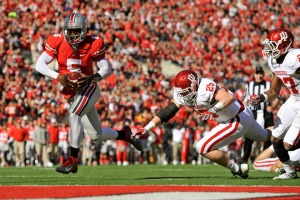 | | | | | | |
| --- | --- | --- | --- | --- | --- |
| | 7 | 6 | 14 | 7 | 34 |
| | 10 | 3 | 7 | 0 | 20 |
As sure as the sun will rise and Michigan will suck, an Ohio State-Indiana football game is easy to predict: the good guys stomp all over the Hoosiers, a nice scrimmage for a tougher slate of games ahead. So that's what happened on this picturesque November afternoon in the Horseshoe, right?
Not exactly. Perhaps Indiana, who hasn't beaten Ohio State since 1988, was fed up with the "Hoosier Daddy?" taunts that I bet never, ever get old. In a performance that one might call "so Oedipal", IU did not back down against the Buckeyes.
Struggling early on both sides of the ball, Ohio State was accused of both a Wisconsin hangover and of overlooking the 1-8 Indiana squad. With the score tied 13 all at halftime, the Buckeyes came out in the second half and ran the ball with conviction, totaling 365 yards for the game.
Freshman QB Braxton Mller made a few mistakes but was able to overcome them, displaying fancy footwork on his way to 104 yards rushing and two TDs. The first came when his team was down 10-0, and the 81-yarder was the longest QB run in school history.  
Miller's ground attack was complemented by Boom Herron and Carlos Hyde, who was the #2 running back due to Jordan Hall being out with a high ankle sprain. Both RBs hit the century mark and scored a TD, Boom with 148 yards and Hyde—Twitter wish granted—with 116. For the first time since 1989, four years before the birth of Miller, three Ohio State players rushed for more than 100 yards in a game.  
On the other sideline, Indiana's own true freshman QB, 1992-born Tre Roberson, impressed in just his third career start. He accounted for 173 yards in the air and 79 on the ground. More significantly, he led his team to 10/17 conversion rate on third downs as his team stuck around until a Travis Howard interception late in the fourth quarter led to Hyde's TD that finally slew the gnat-like Hoosiers.
Though it was more difficult than expected, and much more stressful than desired after last week, the Scarlet and Gray earned themselves bowl eligibility with their sixth win of the season, NCAA verdict pending. It also keeps them in the race for the Big Ten title.
Now it's time to delve into the ups and downs of the afternoon. In honor of Miller and Boom, shall we dance? 
A lethargic start was evident right away when Drew Basil kicked off, and like his last one against Wisconsin, it headed out of bounds. Indiana was spotted the ball at the 40-yard line, and moved down the field against Ohio State's nickel package. RB Stephen Houston got the first first down after two runs, one for five yards and the next for seven. Roberson, after completing a short pass to WR Kofi Annan Hughes, carried the ball straight up the middle for seven yards and another first down.
After two plays that only gained two yards, Indiana faced a 3rd and 8, and what would be an all too often occurrence on the day, Roberson found a receiver, this time Jammone Chester, on a quick slant for a first down. On their next third down, John Simon had had enough and tackled Houston in the backfield. That set up Mitch Ewald's 35-yard field goal. After 11 plays and 42 yards, Indiana owned a rare lead against Ohio State. 
That lead was about to be extended. Without Hall and a suspended Jaamal Berry, Devin Smith and Chris Fields were on kickoff return duty. Smith's 17-yard return gave the Buckeyes starting field position at the 33-yard line, where they came out in the I-formation. What would become another familiar-looking sight, it appeared Boom would be tackled for no gain but managed to battle his way to positive yards. A facemask by Cincinnati native Larry Black Jr. aided Ohio State for a first down. 
On second down, the tide turned and Miller dropped back to pass and DE Bobby Richardson brought the pressure and caused him to fumble the ball. Linebacker Jeff Thomas recovered it and Indiana was back in business at the Ohio State 41-yard line.
Passing
|   | Cmp/Att | Pct | Yds | TD | Int | Rat |
| --- | --- | --- | --- | --- | --- | --- |
| Miller | 5/11 | 45.5 | 55 | 0 | 1 | 69.3 |
Rushing
|   | Att | Yds | Avg | Lng | TD | Fum |
| --- | --- | --- | --- | --- | --- | --- |
| Herron | 14 | 148 | 10.6 | 48 | 1 | 0 |
| Hyde | 14 | 116 | 8.3 | 47 | 1 | 0 |
| Miller | 14 | 104 | 7.4 | 81 | 2 | 1 |
Receiving
|   | Rec | Yds | Avg | Lng | TD | Fum |
| --- | --- | --- | --- | --- | --- | --- |
| Fields | 1 | 26 | 26.0 | 26 | 0 | 0 |
| Boren | 1 | 25 | 25.0 | 25 | 0 | 0 |
| Brown | 2 | 7 | 3.5 | 9 | 0 | 0 |
| Herron | 1 | -3 | -3.0 | -3 | 0 | 0 |
A couple of Houston runs and an 11-yard pass to Hughes, who ended up with 146 receiving yards for the game, put the Hoosiers in scoring range. Roberson converted another third down, this time with a 16-yard run on a QB draw, and was brought down by Andrew Sweat for a TD-saving tackle...for about three seconds. Immediately following that, Houston lined up in the wildcat formation and took it straight ahead for the touchdown. It was now 10-0 Indiana with 7:17 left in the first quarter.
The offense still appeared to be sleep-walking on their next possession. Boom managed a couple yards, but five men in the backfield put the Buckeyes in a 2nd and 12 situation. That's when, on a QB draw of his own, Miller's feet didn't fail him. On a run more awe-inspiring than its following description, he shaked and baked his way through and past defenders for the 81-yard score. Helping him out were Boom, who laid out an excellent block on safety Alexander Webb, and Philly Brown and Smith with blocks downfield.
Indiana's next drive produced a football crime witnessed many times but called much fewer: a holding call against on opponent in Ohio Stadium. Between that 10-yard penalty and Garrett Goebel harassing Stephen Houston and Glenville native Shane Wynn, the Hoosiers punted for the first time in the game.
With the ball at the 41-yard line, Ohio State could not contain LB Chase Hoobler, a redshirt freshman from—you guessed it—Ohio, more specifically jam-happy Orrville. He sacked Miller, one of six that the Hoosiers and their 107th ranked defense in that category recorded on the afternoon. Still, the young QB recognized pressure on 3rd and 19 and hit Chris Fields for a beauty of a pass over the middle.
Appearing more comfortable, Miller could have tucked the ball on 2nd & 11, but instead, he kept his eyes downfield and threw a 25-yard strike to a wide-open Zach Boren. Another third down saw Miller trying to find Philly in the end zone. Despite the WR being pushed, prodded, tripped, felt up, and nearly impregnated, no flag was thrown and the pass fell incomplete. Basil's 36-yard field goal attempt was good, and the score was tied, 10-10. 
On the kickoff, Ryan Shazier consumed the one soul he's guaranteed per game when he laid out freshman returner Kenny Mullen. Bradley Roby, wanting to join the party, popped Wynn after an 8-yard gain on an option pitch. It wasn't enough to deter Wynn from doing the same, albeit to the right side of the field this time.
John Simon, destroyer of many men, sacked Roberson and on 3rd down, with great coverage by Ohio State for once in the game, he was forced to throw the ball out of bounds.
Boom, suddenly deciding he was in a dance-off against Braxton, hit a hole up the middle and zig-zagged his way to a 48-yard gain. Hyde gave Boom a breather and picked up a few more yards to set up a third and 3, and somehow thinking this was the perfect opportunity for the mythical swing pass, the OSU offense was stopped for a loss when Boom caught it right in front of an IU defender.
Luckily, Basil is the spice of life and nailed a 45-yarder, his 12th field goal in a row. Hail Zorp Basil!
Indiana's next drive included two third downs that Roberson was able to move the chains on due to terrific timing and a smooth catch in traffic by Jay McCants.
Then, with Christian Bryant getting beat on the coverage, Hughes hauled in a deep ball for 43 yards. Bryant's PI call was declined, and IU was set up at the OSU 11-yard line. Thanks to Simon and Goebel, who each played spectacularly, the Hoosiers settled for a field goal, and the 13-all score held until halftime.
On the first play from scrimmage in the second half, Boom boomed his way down the right sideline for a 40-yard gain. After that, a swing pass to Philly, while a welcome idea in theory, lost yards yet again. Black's sack on Miller led to a 3rd & 18, and a deep ball in double coverage to Fields was picked off at the 2 by Webb, his first career interception.
Fortunately, the armpunt was successful. The Silver Bullets forced a rare three-and-out, and the OSU offense went back to the running game. Miller tap danced his way out of bounds and to a first down, and Boom added a 19-yard run up the middle and then a 15-yard run to the left that cumulated in an end zone dive.
Indiana answered right back when Roberson targeted Hughes for a 34-yard TD midway through the third quarter.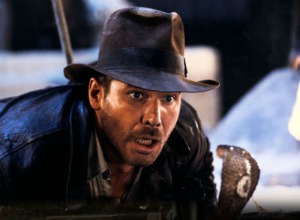 The next drive for Ohio State was a whirlwind. Philly Brown caught his second pass of the day, for positive yards, and Hyde, with a nifty spin move, managed to stay on his feet for a 22-yard gain, but Fields was called for the hold (drink!) and a spot foul. On the same play, Shugarts went down with an injury before he was able to record a false start (no drink!), and freshman Antonio Underwood replaced him. 
Boom, Miller, and Hyde combined to move the ball from the OSU 35-yard line to the IU 9-yard line, aided in part from a roughing the passer call on Black. However, Miller was sacked by LB Leon Beckum. A 3rd & 20 was nothing to the freshman phenom who foxtrotted to the end zone for his second TD.
At the end of the third quarter, the Scarlet and Gray had seized the lead, 27-20, and they would not relinquish it.
Still, Indiana was able to drive down the field thanks to Roberson making plays with his feet and arm. Simon and Big Hank decided to take matters into their own hands and dropped the QB for a loss, which set up a third down that was almost converted if not for a Ted Bolser drop. A 35-yard field goal attempt became a 40-yard one after a false start, and Ewald hooked it to the left. 
With the ball back, the Ohio State offense felt like gifting the fanbase with a few heart attacks. Boom uncharacteristically fumbled, and on the recovery, Miller managed to keep the ball for the Bucks, but was shaken up on the play. However, it was Boom who needed help off the field (he would later return) while Miller jitterbugged to a first down.
A sack and a 3rd & 16 later, Webb smacked Miller as he released the ball, an incompletion to Brown. The QB's right hip took the brunt of the damage, though it wasn't enough to keep him out of the game.
After Houston was stopped by Big Hank and Roberson threw the ball out of bounds, he found Hughes across the middle (drink!) for a first down. At long last figuring it out, Travis Howard was ready the next play and intercepted the pass and ran it back to the 42-yard line. 
El Guapo, wanting to get in on the long run action, hit the right side for a 48-yard gain. He came back in for the TD two plays later to reach the final score of 34-20. 
With just under 3 minutes left in the game, the Ohio State defense said, "Indiana...let it go", and after a Michael Bennett sack, the Hoosiers finally came to terms with the relationship they have with their father.
For the Buckeyes, they still have issues when it comes to everything that's not the running game, the kicking game, and the front four. Even so, the win will probably put them back in the top 25 before they take their show on the road to West Lafeyette, looking to avenge the demons of 2009.