I miss last week, I really do. I miss the time when Tamba Hali was the worst mental picture that came to mind when I heard the words "Penn State." I miss the time when I didn't doubt that people understood that some things are bigger than football. I miss the time in which I had faith in humanity. 
Nobody loves an opportunity for sarcasm more than I do, but clearly this isn't the time for that... and I don't have it in me, even if it was. So, instead, while I'm blessed with this opportunity that allows me your eyeballs for seven of your precious minutes today, I'd like to stand on a soapbox for 30 seconds...
I don't care to go into my many opinions on the Penn State scandal here, except for one. Child abuse, of any kind, is one of the worst crimes known to man. To not report it can bring harm onto countless children, and as a society, that should be unacceptable to us.
PLEASE do not let child abuse go unreported. The hotline # is 1-800-4-A-CHILD.
And, with that, let's get started.
END OF AN ERA. The world endured it's first full day without Joe Paterno as the head coach of Penn State yesterday, and it survived. After the Penn State Board of Trustees announced late Wednesday evening that they had fired University President Graham Spanier and Head Football Coach Joe Paterno, "in the best interest of the University," Penn State students took to the streets (and Joe Paterno's home) to express their feelings towards the announcement.
Tom Bradley, who has been named the interim Head Coach in light of Paterno's dismissal, assumed his position as Defensive Coordinator of the Nittany Lions after Jerry Sandusky's retirement after the 1999 season. Bradley becomes just the third person in 61 years to act as head coach of Penn State. Not only does this whole situation highlight the tenure of Paterno's legacy, but it's also put into perspective the careers of many who have been on his staff over the years.
To put things into perspective, Luke Fickell was just six years old during Bradley's first season with the Nittany Lions. Next week, the two new head coaches, under the dark clouds of their programs' own issues, face each other in the Horseshoe, in what could potentially play a determining role in who represents the Leaders division in the B1G Championship Game.
Fickell commented on the Penn State situation on Thursday, adding "obviously coach Bradley's been coaching for over 30-some years, so I'm sure he's well-equipped to do what he has to do. Our situations are very different. Some similarities, but I don't think he needs any help from me."
THE LEAST PUBLICIZED, BAD OHIO STATE NEWS OF ALL TIME. Outside of this major gaffe, times two, this week has probably given the Ohio State athletic department the least amount of publicity since back when ESPN was too busy calling 2005 USC the greatest team of all time, to notice that other programs even exist.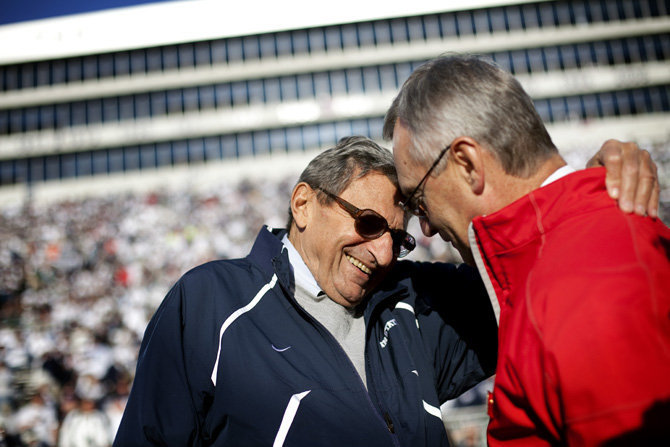 Despite the major drop off in "OMG OSU IS THE WORST PROGRAM EVER" coverage, Ohio State did receive some bad, though not unexpected, news yesterday when it was faced with "failure to monitor" charges, due to Bobby DiGeronimo's involvement with student athletes, including payments for work not performed, and payments for attending DiGeronimo's annual charity event.
Risking the possibility of getting fired by a member of his own staff, Dr. Gee bravely sent a letter to Gene Smith, basically scolding him for his own "failure to monitor." Now, let's just hope Gene doesn't let him go. You can read the full letter here. 
In case you're in need of all the links that will give you all the nitty, gritty details... you can find them here.
HEY, LOOK OVER THERE! Ohio State wasn't the only one to have some of their dirty laundry aired to a crowd that wasn't paying attention this week. Oregon found it to be the perfect time to release additional Will Lyles documents. And, from a PR perspective, it probably was, as practically nobody noticed. 
UCF, following suit, made headlines... sort of... with what is being called possibly the worst NCAA violations since SMU. Yet, somehow, it managed to not reach most people's radar. For details at a level that surpass what I could give you here, I suggest you read up here, instead.
A NEW SHERIFF IN TOWN. Upon the dismissal of Joe Paterno, Frank Beamer of Virginia Tech became the new active, winningest coach in college football. Beamer, in addition to his own little, personal victory, got to enjoy a little team victory as well. Virginia Tech beat Georgia Tech, in Atlanta, 37-26.
STORIES AND PICTURES AND VIDEOS, OH MY! An interesting read, a year later... A reminder of how breathtaking sports can be... I wonder if this comes in my size... What Eric LeGrand was up to this week... A perspective we don't normally hear, over a decade later.