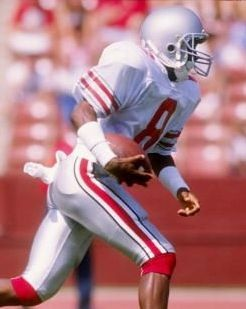 Playing one of the lesser teams in the Big Ten is sometimes a trap for a team like Ohio State, especially when the game is on the road. But sometimes things go exactly as you would have predicted, and the game gets out of hound very quickly. Such was the case when the Buckeyes traveled to West Lafayette to play the Purdue Boilermakers on a beautiful October afternoon in 1990.
OSU fans were cautiously optimistic going into the 1990 season, but it was a fragile optimism based on what had happened the previous two seasons. In coach John Cooper's first season in 1988, the Buckeyes won 2 of their first 3 games against quality opposition, but stumbled badly in conference play on their way to a 4-6-1 record, the first losing record for the program since 1966.
The team got off to a rough 2-2 start in 1989, but a renewed emphasis on the ground game invigorated the offense and the Buckeyes won their next 6 conference games. However, a tough Michigan team stopped OSU's momentum on a cold day in Ann Arbor, sending the Buckeyes to a January 1st date with Auburn in the Hall of Fame Bowl. After getting out to a 14-3 first half lead, Ohio State faded and eventually lost 31-14. 
Still, there was reason for hope entering 1990, since the team returned several of its key offensive players, most of the young defense, and they also welcomed a strong freshman class. One offensive star that would have to sit out was starting RB Carlos Snow, who would miss the season recovering from off-season hip surgery. But the crown jewel of the freshman class was ready to step in and fill Snow's shoes.
Robert Smith was one of the most highly-touted running backs that had ever come out of the state of Ohio. He had won the state's "Mr. Football" award in both his junior and senior seasons (the first player to do so) and was such a strong college prospect that Akron Buchtel star RB Ricky Powers decided to go to Michigan just to avoid having to compete with him. Smith had an excellent fall camp and was penciled in as the #2 RB as the season began (behind redshirt frosh Raymont Harris).
Smith would be joining a veteran backfield as QB Greg Frey and FB Scottie Graham both returned. Also returning were top WR's Bobby Olive and Jeff Graham. There was some concern on the offensive line, where only one starter returned. But there were able replacements on hand, and Cooper's emphasis on weight training was paying dividends as the younger linemen were stronger and more mobile than the ones they were replacing. 
On defense, the line was anchored by gangly DE Alonzo Spellman and DT Rich Frimel. The LB's were a veteran group led by Steve Tovar and Judah Herman. In the secondary, veterans Vinnie Clark, Mark Pelini, and Jimmy Peel all returned. Overall, OSU had 11 starters and 37 lettermen returning. Still, some doubts remained. Would Frey ever rise above his inconsistent performance as a junior? Would Smith and/or Harris be able to fill the void left by Snow? Could the defense improve on its performance the previous year when they surrendered 297 points in 12 games? Could Cooper get a victory against Michigan or in a bowl game?
The doubts lingered after Ohio State slipped past Texas Tech in the opener at Ohio Stadium by a score of 17-10. Smith played well and Graham took back a punt 50 yards for a TD, but the coaches were concerned by the 5 turnovers and the numerous penalties called on the Buckeyes. The team gained some confidence with a 31-10 road victory against Boston College, but the doubts crept back in after the team was pushed around at home in a 35-26 loss to USC. 
It didn't get any better the next week as OSU dropped another home game 31-20 against Illinois, despite outgaining the Illini by 80 yards. The team sunk to its lowest depths the next week as they settled for a 27-27 tie in a road game agaist Indiana. Going back to the previous season, OSU had lost 4 of its last 7 and had given up 27 points or more in 3 straight games. If ever there was a time to face a bad Purdue team, this was the time.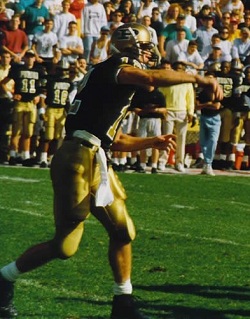 The Boilermakers were sitting at 1-3 entering the game, with their only victory coming against Division 1-AA Indiana State. Coach Fred Akers was on the hot seat, having won only 10 games in his first 3 seasons and never finishing higher than 6th in the conference. The 1-3 start had fans already speculating about replacements.
Purdue furnished the perfect tonic for the OSU offense, as Smith ran around left end untouched to the end zone, turning a simple sweep into a 69-yard touchdown. And it didn't get much better for the Boilermakers. Jeff Graham threw a 60-yard TD pass to Greg Frey on a fake reverse. Then Frey threw 2 more TD passes, both going to Jeff Graham and both covering 48 yards or more. I attended the game, and it was an OSU domination from start to finish.
Boiler QB Scott Hoffman tried his best to keep it close, completing 31/54 passes for 317 yards, but 5 interceptions hurt his cause severely. OSU also held the Boilers to only 4 net yards rushing. On the other side, the Buckeyes pretty much had their way offensively, scoring at will and finally winning by the score of 42-2. The game renewed the confidence of the young defense and they played very well for the rest of the season.
The Buckeyes won the next four games (some more dramatic than others) and found themselves right in the thick of the Big Ten race once again. But they dropped a close game against Michigan (at home again) and then sleep-walked their way through a 23-11 loss to Air Force in the Liberty Bowl. Thus, what seemed like a promising season turned sour at the end once again and OSU finished with a record of 7-4-1
Purdue would win only one more game for the rest of the season, finishing 2-9. Akers would be fired, and eventually Purdue would hire OSU offensive coordinator Jim Colletto to take his place. Colletto would coach 6 seasons in West Lafayette, but would never win more than 5 games in any season. However, he eventually found success in the NFL and was the offensive line coach on the Baltimore Ravens Super Bowl championship team.