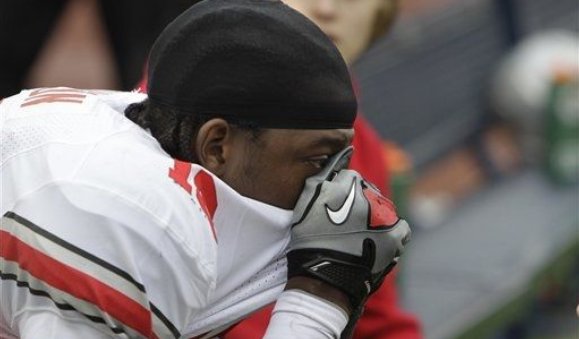 The Buckeye offense shocked everyone by showing up and playing an aggressive brand of football but it went for naught as the Silver Bullets were once again completely overwhelmed by talent at the skill positions. The result was a 40-34 defeat at the hands of Brady Hoke's boys, the first in eight tries by that team up north. 
Michigan's first win since before Facebook was born officially brought back the hate in the rivalry as too many Buckeye fans were getting spoiled, viewing victory as a foregone conclusion. With Denard Robinson shredding the defense in spectacular fashion, Hoke igniting his fanbase with "Ohio" blather and now Urban set to come aboard and bring OSU back to prominence, it's going to be one hell of a battle on November 24, 2012 in the 'Shoe. 
But before we turn the page to next year's edition of the best rivalry in sports, we must first take our medicine in the form of what could actually be the last Five Things of the year if the Buckeyes bail - or are forced to bail - on the bowl season. 
braxton's heroics come up just short
As a true freshman making his first start in The Game, Braxton Miller did virtually everything he could to overcome the defense's inability to even slow down the Wolverine offense. 
What will hopefully not overshadow what he did amazingly well in this game are the couple of deep balls he missed that could have given Ohio State an upset victory. 
The most glaring miss came when he overthrew Posey on 3rd and 6 from the OSU 24 yard line with 1:48 left in the game. He made the read but simply overshot Posey who had gained at least three yards separation on the nearest defender. The missfire should've been a 74 yard TD giving OSU a 41-40 lead but of course there's no guarantee the Bullets don't cough up that lead with at least 1:30 on the clock. The spike a few plays later on 3rd and 6 also didn't help the cause but it doesn't even come to that if he hits Posey for six. 
The overthrow to Posey was a bit of deja vu as he also missed DeVier for an easy TD on Ohio State's fifth possession of the game, a badly thrown 3rd and 7 ball toward the front left pylon. The Buckeyes were forced to settle for a FG and a 16-10 deficit. He also missed Philly but that's enough of what didn't go right for #5. What did go right is enough to know he's going to be THE major factor the next three years as the Buckeyes look to bounce back in 2012 and beyond. 
A sampling of what did go right for the kid includes:
Leading OSU on a TD drive to open the game hitting Philly in stride for a 54 yard strike and an early 7-0 lead. The read was perfect as the safety jumped over the help on DeVier and Philly broke open downfield allowing Braxton to drop the throw over the top for six. 
Calling an audible on 3rd and 6 to a QB keeper that resulted in 24 yards eventually leading to the FG cutting the lead to 16-10. After Shazier caused a fumble giving OSU the ball at the UM 31, Braxton made two ridiculous jukes on the way to a 19 yard TD run making it 17-16 good guys. 
Looking to answer a UM touchdown that made it 24-23 Wolverines, Miller audibled to an eight yard out route to Posey on 1st down and five plays later hit Posey again, this time a 43 yard TD strike to take a 24-23 lead into the locker room. 
After Michigan punter Will Hagerup failed to catch the snap, sharting himself in the process, Braxton led the offense onto the field from the UM 32 yard line. On 2nd and 6 he kept left for 20 yards on another ankle breaking run bbut then Bollman went all Bollman with the playcalling and OSU could only get a FG cutting the lead to 30-27. 
After UM answered the FG with a TD drive taking a 37-27 lead, Braxton went to work on a must-score possession from the OSU 20. On 2nd and 10 he found Stoney for a 36 yard catch and run. On the next play he hit Hall in stride on a well-timed wide screen for 16 yards. Now at the UM 28, Miller found Fragel on a crossing route for another 20 yards. Boom punched it in from there cutting the UM lead to 37-34. 
If not for these plays from Miller, among others, the game is obviously a lopsided affair. With them, in spite of the loss, the kid gained a ton of experience and will undoubtedly enter The Game next year out for blood. That should worry Michigan fans as his 335 total yards (235 pass, 100 rush) were just two short of Denard's nintendo day against a much softer defense. Miller's numbers put him about two years ahead of Smith and Pryor when it comes to Michigan game production. 
Bullets misfire once again
The Luke Apologists spent all year hanging their hat on the fact Fickell had no say in the offensive staff and therefore couldn't be blamed for the struggles to score points. Obviously, there were other factors like suspensions and such but we'll talk about that later. The point here is that Fickell is a defensive guy and the defense was again a huge reason this team couldn't win one game over the final three. 
Yesterday, the Bullets surrendered 277 yards on the ground for average of roughly six yards a pop. Combined with the 239 they allowed to Penn State, that's 516 yards rushing in TWO GAMES against an Ohio State defense. I know, I know. Injuries were definitely a factor. Apparently, so was the inability to develop linebackers and safeties. The one hire Luke did make, Mike Vrabel, didn't seem to have much of an impact on paper this year. 
Sabino continued to be a terrible tackler, Klein only seemed to get wider in the midsection and Sweat didn't appear to improve as the season wore on before finally getting hurt. The much hyped Curtis Grant was a non-factor all year. Ryan Shazier is the lone LB who actually improved under Luke/Vrabel leadership. 
Barnett led the Buckeyes with 12 stops though he was far from stellar. He allowed Hemingway a 26 yard TD catch right in the middle of the field and was one of four Buckeyes surrounding Odoms on another score. He'll come up and hit in run support near the LOS but hasn't improved his tackling in the open field, where his lack of speed and proper angles can be exploited, and can definitely be had in coverage. 
His poor angle and whiff on Toussaint helped spring the 46 yard run (after Shazier's initial missed tackle) setting up Denard's keeper for six and a 23-17 Michigan lead. 
The usual bright spot, though not as bright as some other games, was John Simon and his seven tackles including 1.5 for loss (1 sack). He didn't have much help up front though as Hank picked up three stops along with Bellamy. Too often, Denard ran around the line where the LB's and DB's could be had in space. 
Though neither were stellar, I thought OJ played one of his better games (six stops) and Roby also brought some wood to cap a fine redshirt freshman season.
The bottom line is that injuries and a failure of Vrabel/Fickell to develop consistently solid LB and safety play was too much to overcome this year. Who hired Vrabel again? Don't get me wrong, I thought he was an excellent hire but that was Fickell's guy and year one was a bust. Sabino? Worse. Sweat? Same. Klein? Wider, no better. Grant? Never good enough to even spell a one legged Shazier. CJ? Maybe next year. Bryant/OJ? Not much improvement shown despite a ton of snaps. 
Another 1st quarter lost
Despite nearly a month of slow starts to learn from, the Buckeyes were again largely outplayed through the 1st quarter. 
It looked like the Buckeyes might have finally gotten the message as Braxton hit Philly for the 54 yard TD strike to take a quick 7-0 lead. The drive was shocking on multiple fronts as the walrus dialed up passes on all three 1st down plays, capped by the toss to Philly. 
The defense even started fast as they forced a Michigan 3 and out thanks to Sabino/Bellamy stuffing a 2nd down run before Howard played a slant surprisingly well on 3rd and 5. 
The little trip to the Twilight Zone was short lived however as the offense trotted back onto the field and went 3 and out faster than Hoke chugs a cup of pancake batter. Braxton checked down for a one yard completion to Boren on 1st down, badly misfired on a screen to Posey on 2nd down before getting sacked on 3rd down setting up 4th and 19 from the OSU 12. Buchanan then launched a 35 yard stinker setting up the Wolverines near midfield. 
It took Michigan exactly two plays and 35 seconds to tie the score. Toussaint caught a pass out of the backfield for six yards before Denard abused Sabino on a cutback after Roby had turned him back inside. Shazier was also held on the play (one of many) but the root cause of the run was Sabino getting schooled in space. That's going to happen against Robinson and it wasn't pretty. Tied up 7-7 with nine minutes left in the quarter. 
Starting their 3rd possession of the day at their own 20, the Buckeyes quickly went backward. After a 1st down incompletion, Boren held on 2nd and 10 making it 2nd and 20. Mewhort then False Shugarts'd making it 2nd and 25 from the five and Braxton called his own number for -2 to make it 3rd and 27. To his credit, Bollman actually called a pass play but Adams held his man in the endzone giving Michigan a saftey and a 9-7 lead. It was Michigan's first lead in FOUR YEARS. Roughly eight minutes remained in the 1st quarter. 
Buchanan boomed the free kick but outkicked the coverage a bit as Gallon brought it back to the UM 48. Denard then led the Wolverines on a methodical march before finding Hemingway on 2nd and 7 for a 26 yard TD and a 16-7 lead. The 16 unanswered points in roughly three minutes of game time were eventually overcome by the Buckeyes as they fought back to lead 17-16 midway through the 2nd quarter but falling behind by nearly double digits on the road is never a good thing and eventually contributed to the loss. 
Maybe next year this problem will be addressed. 
Thanks, Luke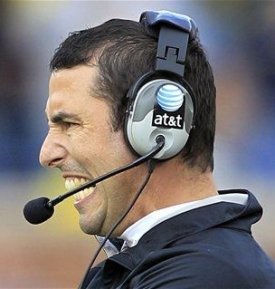 Though he was nowhere near ready for the challege of being the head coach and CEO of a major college football program, especially one with the problems he inherited this year, I tip my hat to Fickell for doing his best to lead the team through a shart storm of scandal, suspensions, huge coaching deficiencies, more suspensions and injuries that depleted the available talent on a week to week basis. 
With Bollman guiding the offense, a true freshman under center and Boom, Posey and Adams on suspension, Fickell was forced to lean a defense that simply wasn't ready for prime time. 
Nathan Williams got hurt, Howard was a fraudently built up by many (including me) as a potential shut down corner and the LB's were in trouble from the start. 
I give Luke a pass on the offensive production though he doesn't get a pass for some questionable game management choices along the way. Penalties also doomed this team from time to time and those are a reflection of the head coach and his staff. 
Defensively, injuries or not, is where I struggle to give Fickell a pass. At the least, more individual improvement should've been realized. Shazier was the only guy who really took off and he should've been on the field as a starting LB weeks ahead of it actually happening if you believe in the "best 11 will play" edict. It's a crime he wasn't out there every down earlier in the season. What was the staff waiting for? Sabino to finally get it after what feels like nearly a decade in the program? No question, Shazier had his share of mistakes but at least he brought an intensity and talent level far surpassing Sabino or Klein. 
I do give Fickell credit for not losing the locker room as by all accounts the players truly respected and played hard for the guy even if they had little confidence in numerous other coaches on staff. And trust us, they had major issues with some of the coaches. 
Bottom line, being a company guy, Fickell did what he was asked to do, and did it the best way he knew how. He just wasn't ready yet. For that, we owe him gratitude as he truly was the only guy Smith could choose. 
Now we see what happens. As much as I appreciate what he tried to do this year, I'm not adamently for retaining him. On one hand, the defense he and Heacock put out there was flat out overmatched at times against mediocre competition. On the other, he's a Buckeye through and through, would provide a bridge from the Tressel regime to the Meyer regime and just might turn into a decent head coach someday. If I had to pick, I'd probably say retain him, only if Heacock is defintely going to retire. 
That said, it seems like the best thing for Fickell's career would be to try and land a head coaching gig at a smaller school. Clearly he wants to be a head coach at a big time school one day and the fastest route to that destination seems to be taking a job at a place like Akron where he could learn the finer points of leading a program with less pressure and media coverage.  
Good luck to Luke either way. The guy definitely bleeds scarlet and gray. 
A few parting thoughts for michigan fans
1. Ohio State will be back and better than ever once Urban gets up and running so don't get too cocky with your one win in eight tries. All you've done is wake up an entitled fan base that was nearly feeling sorry for how far you'd fallen. So, congrats on having a lead for the first time in four years and for finally defending your home field for the first time in the last five tries. We look forward to your visit next November.
2. Props on the Hoke hire. Dude gets the rivalry.
3. Denard is one hell of a runner. I hate his little eating gesture but he feasted on OSU defenders all day. He definitely earned my respect.
4. "Sweet Caroline"? "Don't Stop Believin'"? Nice traditions you've got there.  I didnt think anything could make the car keys thing less embarrassing. I stand corrected.