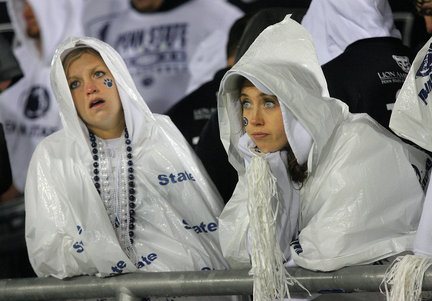 His team coming off a 26-23 overtime loss to Purdue, Ohio State head coach Luke Fickell took to the podium in the Alumni Lounge of the Fawcett Center today to answer the assembled media's questions about the loss in West Lafayette and this weekend's game against the Nittany Lions of Penn State.
Ohio State no longer controls its destiny in the Leaders division race. In order for the Buckeyes to be playing in Indianapolis on December 3rd, they will first need to beat Penn State and Michigan. Then they will need a little bit of luck: Wisconsin must lose to Illinois on Saturday and then the Badgers must beat Penn State in the regular season's final week. 
The Buckeyes will be given a boost in the form of the return of senior wideout DeVier Posey, who is one of the twenty-four seniors Ohio State will be honoring on Saturday. According to its media release, Ohio State is 15-2 in the month of November since 2005, though this season has been much different than years past. Vegas has also listed the Buckeyes as 6.5 point favorites. (I have my doubts of six total points being scored.)
TO THE PRESSER.
... Gene Smith started the presser with a cameo. He asked all of the Buckeye fans who are coming to the game this weekend to show sportsmanship and class to the visiting fans. "We ask that all of our fans continue to demonstrate the great respect that we know represents Ohio State." 
[Enter Luke Fickell]
... Will DeVier Posey start immediately after returning from suspension as Boom Herron and Mike Adams did? "We'll see how it goes and give you an answer closer to game time."
... Andrew Sweat "got hit" and Fickell doesn't know how long it will be until he's ready.
... John Hankins' situation "doesn't look real good." They're awaiting MRI results, but they're hoping it isn't a season-ending injury or a "six month injury."
... When asked about what his offense is trying to do from the perspective of a defensive coach, Fickell said "they're trying to control the ball." He admitted the situation was tough and some things compounded.
... When asked about the potential of a Purdue enduced hangover: "The young guys are more resiliant than you think." Fickell admitted they were disappointed and hurt, but they have a "passion to play." 
... Fickell says a lot of things have gone into the lack of production from the tight end slot. "It comes down to the ability to make plays when they come about." Fickell mentioned how Purdue's offense put the ball on the ground 3 times in the first half and Ohio State failed to come up with any of them.
... Fickell hopes DeVier can provide a spark to the offense.
... "I can't control that," Fickell said when asked about the fans' reception of the previously suspended seniors. "To me, they should praise them." Fickell said the fans didn't get to clearly see how well Mike Adams, Boom Herron, and DeVier Posey handled their situations.
... Ryan Shazier "did a good job" in his first chunk of real playing time.
... "Young people are very resilient," Fickell said after stammering around a request to pontificate on how hard it must be for the Penn State players to play through the turmoil. "They have a tendency to move on and focus at the task at hand." 
... On the senior class: "It's going to be about them as a whole. It's their body of work. We all know wer're remembered by how you play during your senior year... We can't worry about what our legacy is going to be until it's all said and done... To me, these guys have battled a lot. I have the utmost respect for them... I couldn't have asked for more from them."
... On the turmoil: "It's about this group of young men... it's about the coaches... it's about the Program... Life isn't fair.. You have to continue to attack opportunities and move forward."
... When asked about how different the PSU-OSU game will be without Joe Paterno or Jim Tressel, Fickell said PSU will bring about 75 people and Ohio State will have about 106, so they're going to focus on the people who will be there, not the ones who won't be.
... "We have jobs because of [the young players], I always tell them: this isn't about me, it's about you... We get evaluated on the wins and losses, but that's not what we're about."
... Fickell was 3-1 against Penn State as a player. "Don't ask about that one... [smile]... I wasn't there."
... The PSU-OSU game could be a "short game if people are going to run the ball and pound it." Fickell said while people might focus on the negative similarities between the programs, there are a lot of positive ones as well.
... "[Penn State] is going to pressure you... their front seven is going to be very sound in what they do; they're not going to confuse you; you're going to know what you're going to get"
... When asked about the 3rd down defensive woes: "We look at 3rd down, but 1st and 2nd downs have a lot to do with it too. Obviously, you have to get off the field... We're focused on that."
... On missed tackling and not wanting to beat his players up in practice: "We always say, the best eleven tacklers will be on the field... It becomes a lot more obvious in the open field... When you don't have 3-4 guys flying there, that's been the biggest problem we have." Fickell also admitted it's tough to coach since they don't do a lot of tackling in practice.
... "We have to do a better job of putting them into position to be successful."
... On the difficulty of a coach being thrown into a situation (not being able to hire their own staff, etc) and how it relates to Tom Bradley: "Not the exact time frame or exact situation, but you have to go with what you've got... Like we've said, life isn't fair... It's not about me or putting my stamp on the team. He's going to do what he feels is best fr his team."