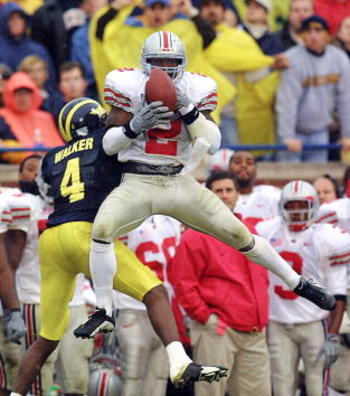 The Ohio State University Buckeyes sit on the brink of a lost season. Since off-the-field antics brought about the ire of NCAA, the Bucks have struggled to keep their heads above .500. After last week's home defeat to Penn State, Ohio State's season comes down to one game against Michigan. If Ohio State wins, then the season will be a success. If they lose, then it will be the nail in the coffin for a season which went off a cliff after upsetting Wisconsin. Such are the stakes of one of the biggest rivalry games in sports.
Ohio State, for once, is the one trying to spoil the other's BCS dreams. First-year frontman Brady Hoke has whipped the Wolverines into a 9-2 record. While their offense still revolves around the industrious Denard Robinson, defensive coordinator Greg Mattison has repaired Michigan's porous defense and turned it into the 14th best unit in the country.
Luke Fickell probably won't be back next year, and yet, that seems like a tiny story line going into this game. So, with a trip up Route 23 looming on Saturday, Fickell stepped to the microphone in the Alumni Lounge of Ohio State's Fawcett Center today to answer the assembled media's questions. 
… Fickell started with intensity, stating this is a one week season. "This season is what it is right now, but it's all about this week. We're excited about it and they're excited about it."
… "It's been about Michigan. It will be about Michigan… It's the greatest rivalry in sports. He added: this game isn't about a better record or bowl games. It's about Michigan.
… Fickell admitted he didn't have many great memories from playing Michigan as a player. But, the week started for him "on Sunday night when the band came over."
… "We know what it's about. We know when it has started… It's about playing on Saturday afternoon."
… Has Fickell put his finger on the reason behind OSU's slow start? "It comes down to a few plays… It's about momentum… We have to create opportunities… We know we have to make something happen and we have to make it happen early."
… Will Andrew Sweat play? Fickel doesn't know, saying he's "questionable." He also stressed the delicacy of a head injury.
… On Hoke only calling Ohio State "Ohio": "It is what it is. We might refer to Michigan in different ways too. It's the greatest rivalry in sports."
… About the underdog role: "It's the media's way or Vegas' way of saying what they expect. In a game like this, records go out the window… It comes down to passion for the game, the will for the game, and that will come on Saturday."
… Braxton "will continue to do what he's done. He's a competitor." He says being young helps Braxton get over mistakes.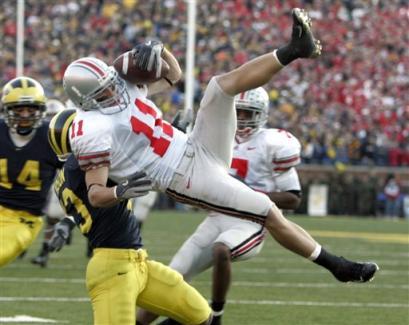 … On Michigan's resurgence: "It starts with momentum. Adversity creates toughness and some different things, and that's one thing I think they've done."
… Fickell says during recruiting, no matter what part of the country the recruit is from, the coaches always speak of the excitement surrounding the Michigan-Ohio State game.
… "We believe in ourselves… does that mean we need to be aggressive? Yes, but we try to do that every week… We don't see ourselves as a big underdog."
… "We have to do a better job at having poise and handling the ups and downs of being a football team."
… Is Fickell disappointed with his pedestrian offense? "I'm disappointed right now in how we've played the last three weeks as a team. I'm not pointing the finger at anybody."
… Denard Robinson "poses a lot of problems… anytime the quarterback has the ability to keep plays alive… it makes you struggle on defense. What's dynamic about him is his ability to handle hits." Fickell said a lot of QBs have the ability to run, but when they have the ability to withstand as well, that's what makes them special.
… Fickell said as the season drags on, it's more about mental toughness than physical toughness. This is what makes somebody like John Simon special, noted Fickell.
… Fickell has told his team not to doubt themselves, noting the fact they hung tough with the likes of Nebraska, Michigan State, and Penn State.
… Does Luke feel any extra pressure given OSUs recent success against Michigan? "There's always pressure… but pressure is what makes you great."
… At the 23rd minute of the press conference, Fickell shot down his 1,000,000 question asking him to reflect on how his team will be seen after the year. It was a solemn moment.
… On the recruiting front, Fickell says Ohio State continues to sell the program. "It's what I've sold for 10 years… That message wouldn't change regardless of the situation… I tell them, it's not about me."
… When asked if he's seen anything in Michigan's two losses which could help Ohio State, Fickell was quick to say "turnovers."
… Boom Herron "will be as valuable as he's been all year. His passion is what we need."
… Fickell's lack of success against Michigan as a player is "something [he] always remembers… It's what people remember, it's what they talk about… You know that though when you come here."
… "Questionable" was how Fickell listed both Philly Brown and Christian Bryant, though Fickell noted Brown would "probably be okay."
… Fickell noted it's the off-the-field time which is harder for younger players at Ohio State, given all the expectations and talk around town.
… Fickell says he wants more of the same Braxton. He "doesn't need him to be super-human... just to do what he does."
… When asked what individual performance Fickell remembered most from the Ohio State-Michigan game, Fickell mentioned Troy Smith's performance in 2006. "Your players have to play great in the Ohio State-Michigan game."
… When asked about how he's preparing given all the rumors surrounding OSU's coaching position, Fickell says he's going to continue his routine from previous weeks. "God willing, it will take care of itself."
… Will Fickell take any pages out of Tressel's successful preparation book? "We have a foundation here… You just gotta believe in it."