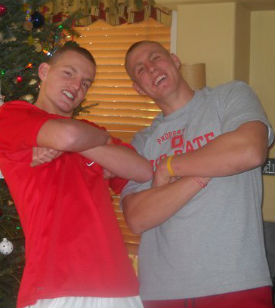 It didn't take long for Buckeye Nation to fall in love with Jeff Heuerman. Let's see how long it takes them to do the same with his younger brother.
Mike Heuerman just finished up his junior season at Barron Collier High School in Naples, Florida. The 6-4/220 tight end had a very good year going through his first five games (22 catches for 345 yards and 3 TDs) until he blew out his shoulder and was on the bench until the playoffs.
During that stretch, he showed flashed of greatness, although missing half the year definitely hurt him on the recruiting trail, where he is now trying to make up lost time in proving that he should be playing big time college football after next season.
While he doesn't have any scholarship offers just yet, don't think the younger Heuerman isn't in high demand. He keeps in constant contact with some of the major programs across the country, of course with one of them being Ohio State.
We had the chance to sit down and talk to Mike to see how recruiting was going, what it was like to watch his big brother play for the Buckeyes this year, what he thinks about Ohio State hiring Urban Meyer, and much more. Join us after the jump to catch up with Mike Heuerman.
First off, how did your junior season go? 
The season went well. It was going real strong up until the fifth game when I blew my shoulder out. I didn't return until the playoffs where we lost in the first round.
How is recruiting going? Do you have any offers? Who has shown interest?
Recruiting is going good. I don't have any official offers right now, but lots of schools are showing interest. I talk to Notre Dame two to three times per week and they are coming to the school tomorrow (Thursday). I talk to Coach Lewis at Florida. I talk to Coach Coley at Florida State. LSU sends a lot of mail. I talk to South Carolina a lot and am speaking to them later tonight (Wednesday). Of course, I talk to Ohio State often as well.
What is your plan of attack when it comes to recruiting?
I'd like to commit to a school early. I'll probably make a decision right before spring ball starts/
Do you have a favorite or a list of favorites? Are the Buckeyes at the top of your list?
I can't say that about Ohio State right now [laughs], but I am comfortable up there with Jeff and some friends like Zach [Boren] and Stoney [Jake Stoneburner]. I want to go check out some of my other options and visit some other schools that I mentioned before.
It's no secret you are fond of Ohio State. What was it like watching your brother play for the Buckeyes this year?
It was great watching Jeff this year. He's worked so hard to get where he is now and he's going to keep working harder. Just last year we were sitting on the couch together watching the OSU-Michigan game, so to see him playing in it this year was really cool.
What has Jeff told you about Coach Meyer and the changes with the staff up in Columbus?
Jeff is excited. Really excited. Urban is more high intensity than Jim Tressel was and even more so than Coach Fickell is. Jeff has played for high intensity coaches his whole life, so he's definitely ready for it. He also ran a similar spread offense in high school so that helps. He loves blocking, running, and catching, three things Urban asks from his tight ends, so I think it'll be a perfect fit.
What are your feelings about Ohio State hiring Urban Meyer as it's head coach?
I like it. All of us knew it was coming, so it's not a real shock or anything. Seeing the struggles this year makes you appreciate how big of an impact Jim Tressel had at Ohio State. Bringing in Urban Meyer will quickly bring Ohio State back to powerhouse status.
Has the staff contacted you since Urban has been hired? Are you expecting to speak to them soon?
No, I haven't spoken to them yet. I did speak to Coach [Mark] Pantoni a few nights ago before he left Florida to go to Ohio State. I have a really good relationship with him, so we said once he gets settled up there that we would talk. I'll probably call him later this week.
Urban Meyer has used tight ends very effectively in the past (see: Hernandez, Aaron). Do you feel you can play that type of role in his offense at the next level?
As I mentioned before, we play in a similar spread here at Barron Collier and I play that role right now for my high school. I most definitely think I can fit into that position up in Columbus, and I think Jeff will do it as well. If I get the chance to play for Urban, I could see it for sure and I think I'd fit in perfectly there.
What are your plans for the rest of the year? What visits do you want to take and what part of your game do you want to work on?
As for visits, I recently spoke to Purdue and I speak to Notre Dame often so I'm thinking about getting up there. I'll probably check out Tennessee, as I have a friend there, although I haven't spoken to the coaches there yet. I'll probably go check out LSU. I already visited Florida and Florida State. I'd like to get up and visit somewhere like Clemson maybe. I'll definitely be visiting Ohio State.
As for this off-season, I want to work on putting on some good weight and getting faster and stronger. I'll never be satisfied, even if I'm the best there is, so there's always things to work on.
HIGHLIGHTS: