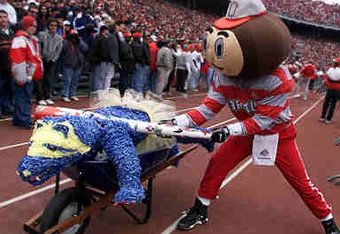 After spending yesterday being thankful, it's time to get back to hate. 
Whether it's Hoke's "Ohio" nonsense, the fact Michigan is favored by more than a touchdown or the notion their quarterback is a 21 year old human being that thinks it's cool to leave his shoes untied, there are plenty of logs on the fire to stoke the flames of the average Buckeye fan. 
For the team, they've got one last shot to salvage a season that was off the tracks long before it started. It truly is a one game season.
One shot to help erase the pain of consecutive losses to Purdue and Penn State.
One shot to extend a seven game winning streak against a program that for the first time since 2007 actually thinks it can win.
One shot to send Luke Fickell out a winner in the only game that matters. The Game. 
Now that my blood is boiling and likely yours too, let's see what the gang has the say in this week's roundtable...
It's no secret slow starts have plagued the Buckeyes in recent weeks. How confident are you the team will finally be ready to play in the 1st quarter?
Elika: I'm seriously hoping Shugarts held a clinic for the team this week on how to not start slowly. I legitimately was worried for some time during the Indiana game, and that right there... just shows how unacceptable certain aspects of this season have been. If Fickell has one thing going for him, it's his through and through Buckeyeness. He gets the rivalry, and his ass will be there... I just hope his ass explained to all their asses whatever he needed to for them to come out fighting on Saturday. 
Corey: I'm not confident. I know this game is different, but Ohio State has had slow starts in every noon game this season. The intensity should be higher, but that doesn't mean the execution or play calling will be on point. 
Jason: If it were any other game, I wouldn't be, but given that it's for The Game, I think both sides come out ready to go. Players always say that it's the hardest hitting game of the year, so if they're not ready, they will be after the first play. 
Jeremy: I am more confident this week than I have been in the past two, but I am still not confident. The guys on this team have come out pumped up and firing against two opponents this year, Wisconsin and Nebraska, so it's not too crazy to think that they will do the same this weekend. 

The seniors continue to say the locker room is not fractured and the team is not distracted by all the Urban Meyer talk. What's your take – do you think the rumors will have had any negative impact on the team as they prepare for kickoff?
Alex: I think at this point in the year, the end of Fickell as head coach can only serve as motivation for them heading into Ann Arbor. As for this year, I think distractions played a bigger role than most think. This week though, while Meyer rumors are flying rampant, I have a feeling Brewster, Herron, Adams, Posey, etc. have the boys focused in on TSUN.
Ramzy: It may produce Luke Fickell's Win One for the Gipper moment. It worked for Earle on the same field. 
Elika: Not really. If anything, I think it may have a positive impact, that whole "let's go win this one for Coach" mentality. It doesn't affect the seniors in any sort of negative way I could imagine, and as far as the younger guys, I would hope they realize that who will be coaching them next season doesn't mean anything for Saturday. 
Corey: I talked to a player yesterday and he said there wasn't any talk of Urban down at the WHAC, so I tend to believe the seniors. With that being said, it's been all over the news and hard to ignore, but I don't think it will have a negative impact. If anything, they'll be more pumped to play for a new coach and send Fickell out with a win.

Reports are starting to circulate saying Fickell is supposedly going to be retained by Meyer and would be the Assistant Head Coach. Are you in favor of such a move and more pointedly, are you in favor of such a move it if means Heacock might be supplanted as DC? Mark me down as saying Heacock should stay over Fickell if there's just one spot as it seems a little hard to fathom Fickell would only be a position coach but still be tabbed as the Asst. Head Coach.
Jeremy: I am definitely in favor of keeping Luke. He's a valuable asset for the program; he is a great recruiter, loved by the players and keeping him on board would be a PR win for Urban. If it means losing Heacock, who has put some of the nation's best defenses on the field over the last decade, then it's a part of the process. No guarantee that Heacock would be around for more than a year or so anyway, as it's been rumored that he has tried to retire before. I would imagine it's Fick as Assistant Head Coach, and co-DC.
Ramzy: Heacock has been itching to retire for years. The bonus of Fickell being retained is the bridge between eras. Heacock was once that bridge too - between Cooper and Tressel.
Jason: I've always liked Heacock as well and think he gets lumped in with Bollman sometimes by fans who just think both coordinators stink by default. As for his future, Heacoack was already co-DC with Fickell prior to this year, and he's ready to retire, so I'm not sure how much he'll be supplanted. Ultimately, I think Luke is the only member of the staff (perhaps Drayton as well) that is given the option to stick around with the new regime. In what capacity, I'm not sure, but I have a hard time seeing him go from co-DC to head coach and then back to just being a position coach. I'd have to imagine he'll hold onto a DC position, but hey, money talks.

Bringing the focus back to where it belongs which current Michigan player do you enjoy despising the most and why? Which former player do you enjoy despising the most and why?
Elika: I'm going to side with Denard's jilted lover and admit that I hate the dude as well. Denard... you look like Lil Wayne, you need to tie your shoelaces, and... I just can't stand you. Former palyer? Charles Woodson ever since he taunted my boy, David Boston. Plus, who sits around in their house watching their own Heisman year highlight video? Charles Woodson, that's who. Oh, and Tim Biakabutuka still haunts my dreams every now and then. 
Jeremy:  Michael Shaw, easy. The "bump" into Grant Schwartz, the crying after a loss, etc. The guy was a Penn State commit who jumped ship when RichRod sold him a bill of goods, and has been passed up on the depth chart by cheerleaders and vendors. 
Jason: This is going to sound weird, but I have a hard time hating many current Michigan players. It has everything to do with the fact that these games haven't been competitive recently, but if forced to choose, I'd have to go with the head coach. His little motivational trick of referring to Ohio State as "Ohio" bothers me way more than it should. If I have to go back in time, I hate, hate, hate all Michigan players that played their prep ball in Ohio with Charles Woodson at the top of that list.
On your best day, would you have had a snowball's chance in hell of out-drinking Gary Moeller?
Jason: No, but Wade Boggs could take him.
Corey: If Gary Moeller was at Drink Too Brutus, I would have been his DD and I did more shots of Patron that night than I did my entire life, so no I couldn't out drink him. 
Alex: For sure. I was downing 100 proof like it was my job during my senior year.

What's your favorite Dead Schembechlers tune? I'm conflicted between "I Peed in Ann Arbor's Water Supply" and "You Lost to Appalachian State".
Alex: "Chad Henne is a joke. A motherf*cking joke." I HATED Chad Henne.
Ramzy: Chad Henne is a Joke. Not just the best Dead Schembechers song; one of the best songs of all time (NSFW). 
Jason: I'm not big into that genre of music, but Bomb Ann Arbor Now is a classic. 

Sorry, I veered off course again. Michigan has a very strong interior defensive line and comes in giving up just 15.6 points per game. What is the key to the Buckeyes moving the ball and scoring some points against the much improved Michigan defense?
Ramzy: Locking Jim Bollman in his hotel room and allowing the players to improvise instead of trying to execute what is guaranteed to be another disastrous game plan. 
Corey: As I've been saying all year, mixing up the play book and give Miller some short timing routes. The Walrus has to do something to loosen up the 8-9 box we can expect to see. 
Jason: Um.. creativity on offense? This was a staple against the Wolverines under Jim Tressel. Let's hope the current staff, made up of Tresselites, took that page from his book. If Bollman comes out and calls plays like he did in the first half against Nebraska, the Buckeyes will have no problem moving the ball. If he runs Dave on every 1st down, it could be a long day against a defense that's playing with some confidence. 
Alex: STRENGTH OF SCHEDULE. That is a big factor in statistics and take a look at UM's this year. That is all I'll say on that. I do think OSU's offensive line is better than Michigan's defensive line and if they play up to par and JB limits himself to only one false start this week, I think Herron is going to have the best game of his career.
The Wildcat almost burned the Buckeyes last week as Hall/Boom fumbled a handoff. Think we'll see much of that this week? It appears Bollman uses it to preserve Braxton a little bit but I'm still not a fan. If OSU does employ the set, who is best suited to run it and why?
Jeremy: If we have learned anything about Jim Bollman in the last decade, it's that just because something doesn't work, doesn't mean he will change it, so yes - we'll see the wildcat (Sorry, Jeff Svoboda, don't hurt me) again. IF it's something that he feels he has to do, it should be Jordan running it, since he's a realistic threat to pass out of it. 
Ramzy: Either Herron or Hall, which is obvious to anyone with a remedial knowledge of offense, which is why Bollman put Carlos Hyde in it last week.
Jason: Why not run it with Braxton? It makes absolutely no sense, whether you want to preserve your quarterback or not. Saying that, I think we'll continue to see it this week because the staff feels exotic when they run out of it. 
Michigan hangs its offensive hat on the 2nd best rushing attack in the conference. With Hankins another week removed from injury and Sweat possibly playing – alongside Shazier – what type of success do you think the Buckeyes will have in slowing the Wolverine ground attack?
Corey: Ohio State has to keep contain on the Wolverine runners and try to avoid over pursuing. I think if Shazier plays the whole game, there is a good chance. If the coaches show loyalty to Sweat, Michigan could have a big day - unless they are smart enough to play Shazier and Sweat together. 
Alex: I think in the Rich Rod era we dominated their spread because we were so dominant against the run. This year, the linebackers are worlds behind the players who came before them, a big reason why the Bucks have been gashed by the ground game the past few weeks. On Saturday I think OSU has some trouble in stopping Denard and Touissant, but will be better than week's past, even good enough to win the game.
Jeremy: Michigan has FIVE players with over 30 carries on the year who are averaging over 5.4 yards per carry, and that is bananas. Sweat playing would be a big help, but I think at this point UM will get their yards no matter what. The key for Ohio State to slow down the running game is the Buckeye safeties, who have been underwhelming, coming up into the gaps and actually making tackles rather than doing the ole´ act they have regularly perpetrated this season. Also noteworthy is how much Michigan is allowed to hold John Simon and Hankins, which every other team in the B1G has been allowed to do without consequence.
Though Borges doesn't have Michigan airing it out this year with attempts, they are 4th in conference at 208 passing yards per game. With the struggles OSU has experienced in the back seven, how worried are you the Wolverines might exploit the back seven?
Ramzy: If Robinson feels like airing it out, good. I'm more concerned about the underneath routes to Koger, running backs and WRs running the kinds of sensible, short routes that don't exist in Bollman's playbook.
Alex: If we lose by Denard Robinson throwing the ball on us, so be it. That dude arm punts worse than TP and if Travis Howard can't find the "NFL" in him to turn his head on a ball that will be in the air for 10 seconds, we don't deserve to win.
Jason: It's really hard to get a read on the Michigan passing attack. For every nice pass that is thrown, there are two that are ugly, and of course one of those will be a jump ball that a Michigan receiver will go up and get because defenders aren't used to covering arm punts in practice. Ultimately, I think the back seven plays well. Maybe not well enough to win the game, but this game has a way of forcing players to rise to the occasion on both sides and I think we see some of that this week.