Welcome to Wednesday's Skull Session, dames and sirs. We're now in the seventh week of the college football calendar. Somehow, that makes this simultaneously the slowest season and the typically Keyser Soze-esque "like that, he's gone" season.
Before we entered, oh, week two, I thought that this Saturday's matchup could be a trap game. It still very well could be...for Illinois. Need a little optimism? I had the chance to buy tickets, and I declined. Not because I am a fake Buckeye or a fair-weather fan, but because I attended the seventh game of the past two seasons: at Purdue in '09 and at Wisconsin last year.
I can understand if you think I'm the Queen of the Road Jinx, though keep in mind I boast a perfect 3-0 record in Ann Arbor and a very respectable 4-1 record in East Lansing. Clearly, that was all about my presence and not, you know, Troy Smith or Beanie Wells or Tressel or Rich Rod or Tate Forcier. I do what I can.
WHICH REMINDS ME, WHERE'S YOUR REPORT CARD? With the season at the halfway point, it's time for midterms. Adam Rittenberg picked Carlos Hyde as the offensive MVP so far and Andrew Sweat as the defensive MVP.
As dominant as he looked against Nebraska, and as much as he should have had more carries, Hyde's selection was partly by default. No one else has been consistent, healthy, or eligible enough. How Boom's return to the team changes the RB situation will be interesting to observe.
He gave Sweat the nod for leading the team in tackles and TFLs, along with recording a pick and a forced fumble. This is less clear-cut, though. John Simon and Big Hank have played well, especially having to take on more of a load on the DL with Nathan Williams being out for the year. They also seem to not miss their assignments or tackles as much as their defensive brethren. Bradley Roby appears to be coming into his own as well. 
Special teams weren't included in his review, but much to Tressel's approval, some have already referred to Ben Buchanan as the team MVP. While I do not mean to offend Buchanan or any other punters out there1, I'm glad there's half a season left to correct that.
Still, special teams has played solidly lately. Despite one long return to Ameer Abdullah last Saturday, the coverage team kept one of the nation's top returners pretty contained. Led by bone-crushers Ryan Shazier and Nate Ebner, kick coverage has improved. Then there's Drew Basil, who missed his first two field goals this season and has now hit seven straight. 
THE STAINLESS STEEL BULLETS. As mentioned, Nathan Williams will miss the rest of the season and will need a second surgery on his injured knee, meaning a medical redshirt is his most likely course of action. His pass-rush abilities and experience have definitely been missed on the field, particularly in the second-half collapse against the Cornhuskers. That involved a series of errors ranging from missed tackles to careless penalties to not getting off blocks. 
Another concern for the defense is uncharacteristically allowing opponents to rush for more than 100 yards. Although there have only been nine players to do so since 2007, three of them have accomplished the feat this season, including the unheard of: two in one game when both Taylor Martinez and Rex Burkhead ran for over 100.
Going back to last season, of the past eight games, the defense has given up the century mark to five rushers. 
Among the players they have yet to face this year: Wisconsin's two-headed RB beast of Montee Ball and James White, their QB Russell Wilson, Penn State's Silas Redd, and 95% of Michigan's offense, Denard Robinson.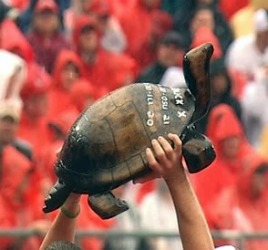 WHAT THE ILLIBUCK? For further proof that this football season is the equivalent of "human sacrifice, dogs and cats living together, mass hysteria", Illinois enters this Saturday's game undefeated while Ohio State is sitting on a .500 record. If the time between now and when Illinois last started the season at 6-0 was a person, he/she would almost be eligible for Social Security. Real wrath of God type stuff.
One of the main reasons for the Illini's success is the chemistry between QB Nathan Scheelhaase and WR A.J. Jenkins, which is akin to Joe Bauserman and the stands. Of Scheelhaase's 10 TD passes, Jenkins has caught seven of them. Jenkins also leads the nation in receiving yards (815), even though the coaches don't think he always plays to his potential. 
Depending on the context, Roby doesn't seem to be too impressed. Bulletin board material goes both ways, though, thanks to DE Whitney Mercilus. The Ohio native2,, and the nation's sack leader, is prepared for bragging rights over his friends from back home, saying, "when we do win, I'm going to try to rub it in their faces and tell them we are good."
Scheelhaase was much more complimentary, proclaiming that the Buckeyes are "probably 2 1/2 quarters from being an undefeated team". Oh, Nathan. 
FOR ALL THE FAYGO POP. At noon on Saturday, instate rivals Michigan and Michigan State will face off in Spartan Stadium. Schembechler Hall is rather confident the Ryan Van Bergen-resembling3 Paul Bunyan Trophy will return, even though Michigan State has ended their perfect season two years in a row and beaten them three straight times.
Also at stake is for a leader to emerge in the Legends division. It might come down to whether Michigan State can run the ball effectively and whether their stingy defense can finally make Denard Robinson pay for his interceptions. If not, Brady Hoke might become the first Michigan coach since 1948 to defeat the Spartans in his first try. 
LET THE BOYS BE BOYS. Last month, Slam Magazine talked to Jared Sullinger about his decision to come back to Ohio State rather than enter the NBA draft. Just a warning: if you already crazy-stupid-love Sully, reading this will only amplify that:
I play this game to win. Sitting in the locker room after last year's loss to Kentucky in the Sweet 16, I knew right then that I had to stay in school and make things right. That was a loss I couldn't live with. We had that game. I was raised to keep my word, and once I said that I was coming back, the decision was final.
He also goes on to discuss his weight loss, summer workouts, and playing more as a power forward. I have no doubt Thad Matta whispers "special" to people when Sully's around.
RIP VAN LINKLE. Dr. Saturday compares Braxton Miller to '04 Troy Smith... Earle Bruce calls out the NCAA for "destroying" Posey... You wanna freak out (c'mon)? Check out the Freakonomics blog for an economist's take on levying a sin tax on college football4 to benefit the players... OBC being OBC... The Black Keys thought it best to call Saul... PS, I Love Ohio... The woes of the ticklish... Who's behind this, Blinky or Clyde?
1 Except for Zoltan Mesko. Screw that guy. 
2 Of course. Also, he's forced four fumbles this year, so protect that ball, Braxton.  
3 Even if I didn't know he was from Michigan, the name is a dead giveaway. "Ryan Van Bergen" is the most Michiganian moniker ever. 
4 Although I didn't go into detail, because sometimes it seems like we just go around in circles on topics like this, he proposes an idea I haven't heard before. And just because the word "tax" is mentioned does not mean politics should be discussed.