Good morning Buckeye faithful and welcome to your Tuesday Skull Session.
I proudly watched the Buckeyes come back in as dramatic a fashion as could be fathomed in Ohio Stadium on Saturday evening. Finally, after Braxton Miller's unbelievable throw to Devin Smith, the crowd stopped yelling "OH MY GOD" at the top of their lungs, and then another all too familiar chant started to erupt: "Let's rush the field!"
From my experience, there is always that one obnoxious guy who yells out to rush the field, even if it's a win over a team like Indiana. My first thought after hearing the original chant on Saturday was: "Rushing the field is such a dumb idea. This is not that big of a win." 
However, I soon realized how wrong I was once the entire crowd collapsed onto the field itself. The fans, the team and the school, in general, needed that moment. A moment where you could basically hug, high five, and push thousands of random strangers out of sheer happiness. Especially after everything that has gone on this season.
I walked out of the 'Shoe that night understanding that OSU's win over Wisconsin was not the single greatest achievement this football team will accomplish, but to deny the impact that this game will have on Buckeye nation moving onward this season is impossible. 
THE LONG ROAD TO INDY. Ohio State's victory over Wisconsin has inspired hope for many that somehow the Buckeyes still have a chance to make it to Indianapolis for the Big Ten title game. Adam Rittenberg of ESPN has drawn out the only possible scenario for OSU to make it there.
Rittenberg writes that OSU must count on Penn State and Wisconsin getting into a three-way tiebreaker with them, with each team having two B1G loses. OSU also must beat Penn State at home on November 19 so that they can have this chance, as wins over both Wisconsin and the Nittany Lions would break the aforementioned tiebreaker and advance the Bucks to the title game.
As Rittenberg notes, the Bucks need to win out to prevent a three loss Big Ten season, as he can't imagine Penn State accumulating three conference losses in the final stretch of the season. Joe Paterno's squad currently sits atop the Leaders division with a perfect 5-0 record against B1G teams, but has OSU, Nebraska, and Wisconsin still left to play, three games I personally think they can easily lose.
Basically, the Buckeyes need to be near flawless in their final four contests, while the Nittany Lions and Badgers swoon from contention. It's impossible for the Buckeyes to get to the title game under any other circumstances and the team surely knows that.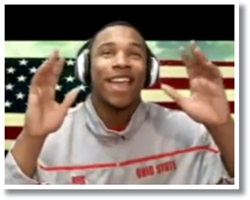 STILL MILLER TIME. Braxton Miller's sensational game-winning touchdown pass got him more than a few girls' phone numbers. On Monday, Miller was named the Big Ten Freshman of the week.
Of course Miller had the big game on the ground, with 19 carries for 99 yards, but he also showed the ability to be patient and not force bad throws, as Miller threw the ball 12 times for 89 yards. One of his completions, the 40-yard touchdown to Smith, accounted for nearly half of the passing game.
It's clear Miller is still far from ready to handle being a pass-first quarterback, but the fact that he understands his role and how he can help this offense is a huge reason he will be successful the rest of the year.....as long as he stays healthy.
Miller won this award for his heart-stopping throw, but it should be noted how much he has improved his ability to fit into this team's offense over the last two games with the return of senior Dan Herron and a newfound confidence in his play making capabilities.
HE GOT GAME. It's no shocker that Jared Sullinger was going to be voted to the All-American team, which he finally was on Monday. Sullinger was voted "a unanimous pick of the 65-member national media panel."
The 6-9 power forward, who helped lead OSU to a 24-0 record to start last year's season, is accompanied by fellow sophomores Harrison Barnes of North Carolina, Jeremy Lamb of Connecticut, Terrence Jones of Kentucky, and, lone senior, Jordan Taylor of Wisconsin.
While Sullinger certainly has picked up some of the high individual awards for the preseason, hopefully his thoughts and energy are being devoted to helping OSU and his teammates win a championship, even if Mark Titus already did jinx it.
IT JUST GETS EASIER. Damarlo Belcher, arguably Indiana's best football player on their roster, has been dismissed from the team for violating team rules.
Before the season began, Belcher, a senior wide receiver, was viewed as a potential candidate for the Biletnikoff award, which is given to college football's top receiver. Additionally, Belcher was only two receptions and 523 yards away from setting a new all-time receiving record for the Hoosiers, which is currently held by James Hardy.
Regardless of whether Belcher was playing in this game, he would not have greatly improved Indiana's chances against the Buckeyes. Belcher was having a down year with only 25 receptions, 286 yards and a touchdown. On top of his previously stated disciplinary issues, he also has missed games due to a knee injury this season.
It hasn't been released as to why Belcher was dismissed, but seeing someone as talented as him fall so hard is certainly disappointing. Hopefully Belcher can learn from this experience and turn his career around, wherever that may be.
LOS LINKS. Field storming at its finest... Braxton Miller's glorious heave to Devin Smith... Big recruiting news for Arizona Wildcats basketball... WVU's divorce from the Big East gets uglier... Tony La Russa goes out on top... OSU to play UCF not UC in 2012.