Good morning Buckeye faithful and welcome to your Tuesday Skull Session.
Come football and basketball season, I do what just about every other student at this school does and wait roughly two hours in hope that I receive student season tickets to all the games for the upcoming season. I usually am able to get whatever ticket I want, but this year I was caught off guard, as student tickets for basketball sold out in about 45 minutes.
It was estimated that only 1,400 students were awarded tickets for the season, me not being one of those fortunate souls. Obviously, I am upset about this particular season, because I want to see the number three team in the nation tear it up, but I'm more concerned about that fact that only 1,400 total students were given tickets.
Mark Titus took to twitter to voice his opinions on the situation, saying:
"Can't believe OSU students don't realize that if you want season bball tix, you have to be a rich, old guy who only comes to half the games."
But he was not done:
"OSU turns away 1,000s of students who want tickets and then wonder why they can't sell out games. What a joke. I'm embarrassed for them."
I've never met Mark Titus, but on the surface he just seems like the man. He's never afraid to voice his opinions and usually has some sort of merit to back things up. He also has a knack for getting OSU students into a massive uprising, which happened after a few of those twitter posts.
With enough student harassment of the athletic department through an online petition, the powers that be finally announced they would grant students additional tickets for the season. I am not trying to say alumni and boosters, who are obviously just as important as the current students today in what makes OSU great, don't deserve tickets. However, OSU needs to free up space for more students who are passionate about their school and its teams.
Oh yeah, and I'd like my tickets, too.
DEPTH PERCEPTION. Ohio State released its official depth chart for the Buckeyes' game against number 15 Wisconsin this Saturday, where Eat Too, Brutus will be in full swing.
Braxton Miller is listed as the starter at quarterback, but Kenny Guiton was listed as backup along with Joe Bauserman. Can anyone say quarterback controversy? It may be a small move, but with Miller's history of injuries it's not ludicrous to think that Guiton or Bauserman might be called on. Hopefully Luke Fickell will never be faced with such an awful decision, but if he is, let's hope we don't see Bauserman coming in to run the huddle.
Dan "Boom" Herron, after a spectacular game against Illinois, is back as the starting running back, with Jordan Hall and Carlos Hyde both listed as backups. After Hyde's Twitter outburst last week, it is not known how many carries he'll receive, as he was the odd man out against the fighting Illini. Something tells me Hyde will still receive the fewest amount of carries this week. The offense will mostly be run through Herron and Fickell has always favored Hall this year. Either way, this back field looks impressive.
SOLUTION FOR THE PASSING GAME: RUN MORE. Doug Lesmerises of the Cleveland Plain Dealer wrote an article on OSU's offensive approach for the last five games of the season. Lesmerises looks back to 2008, Terrelle Pryor's freshman season, when the Buckeyes offense averaged only about seven completions per game and heavily relied on its running game.
The Buckeyes went 4-1 over their final five games that season, with their only loss coming against Penn State. During that 13-6 loss to PSU was the only time the Buckeyes attempted more than 15 passes throughout the course of those final five games.
Braxton Miller is not Terrelle Pryor. They are not as similar as some people speculate, but I believe Lesmerises may have a point that OSU should continue to rely heavily on its run game and defense. Of course I want to see Miller put up huge numbers and make completion after completion, but he's not developed enough for that yet. He still needs to be patient and learn this offense.
In the meantime, it wouldn't be crazy to think that OSU sticks to a similar game plan like the one seen against Illinois, but maybe a smidge more than four pass attempts going forward.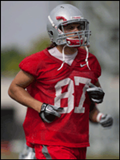 I LIKE THIS ROARK FELLOW. Tom Archdeacon of the Dayton Daily News wrote an article about one of the more unknown faces of OSU football. That would be the face of Chris Roark, a current walk-on player for OSU's football team.
Archdeacon chronicles a truly remarkable story surrounding Roark's journey to becoming a walk-on player for the Buckeyes. Unlike scholarship players, Roark pays his way through school, working winter and summer jobs to cover his tuition. He's also made OSU's dean's list six times and regularly volunteers at local hospitals and schools, where he reads to children.
Roark gave up a lot of opportunities to play football for the Buckeyes, including offers from schools outside Division 1 and an academic scholarship from Butler. He stood out as a wide receiver in his walk-on tryout against 80 other people to make the team a few years back.
It's truly refreshing to see someone so committed to living out his dreams, helping others, and representing OSU in such a positive way. I'm always rooting for walk-on players because of how dedicated they are to their love of the game, as well as how invested they are to life off the field.
SHOW ME THE MONEY. The Associated Press is reporting that "more than 300 major college football and men's basketball players" have signed a petition in order to get the NCAA to set aside money for them earned from T.V. revenue.
The petition cites that an estimated $775 million dollars was recently earned in T.V. revenue by the NCAA. The players announced they would like some money to be set aside that can be used in both college and once they graduate. 
I've thought a lot about paying college athletes recently, especially because a Buckeye is suspended just about every week for financial-related issues. I personally am in favor of these players signing the petition in this case. There will have to be compromises made between the NCAA and its student athletes, but I truly believe this is really the beginning of a movement for college athletes. The athletes that colleges continue to bank coin from are finally speaking their minds and acting on their belief that the NCAA isn't being completely fair to them.
I don't expect the NCAA to give in so easily to this request, though. It will be a while before we see a world where student athletes are finally compensated in a fair manner.
LOS LINKS. Catching up with OSU basketball assistant coach Chris Jent... A very nice gesture for Stefanie Spielman... More money, hopefully less problems... I bet all of you make more money than Big East consultant Jeff Hathaway... Relive the magic that was Kirk Cousins's throw.