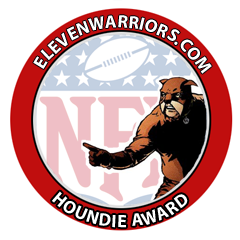 At one point in time, this award was known as the Buckeye NFLer of the Week. Thanks to a typo and the ensuing LOLsession from the commentariat, it was renamed as the Houndie. Same intent, but now with a better name.
I don't think I've ever been as excited to write the Houndie than I have this week. Simply put, the last time I sat down at my computer was Saturday night after that game and I struggled til the wee hours of the morning, trying to get my brain to move past what I just witnessed and get my fingers to type a not so harsh recap.
Week Five of the NFL season is the start of bye weeks and they have decided to reduce the amount of bye weeks in the season and have 6 teams off most weeks.
This week, the Ravens, Browns, Rams, Cowboys, Dolphins and Redskins all took the week off, which means it wasn't that spectacular of a week for the rest of the Buckeyes on the field.
We start down in Jacksonville, where the Bengals took their #1 rated defense and got the road win, 30-20. Mike Nugent missed his first kick of the year, an extra point, but nailed a 47 yarder and hit on 3 XP's, as the Bengals moved to 3-2. On defense, Nate Clements was 4th on the team with 4 solo stops.
For Oakland, Chimdi Chekwa was not active, as the Raiders won one for Al, 25-20, moving them to 3-2 on the year.
Many people have hopped on the Cam Newton trade to the point where they were predicting an upset over New Orleans this past weekend. The Panthers came close, but eventually fell 30-27, as Drew Brees lead a TD drive with under a minute left.
For the Saints, Malcolm Jenkins lead the team with 6 tackles, all solo stops, while Will Smith had 2 tackles, including one for a loss. On the other side, Chris Gamble returned from his concussion and had 3 solo stops, while also getting credit for a PD.
In Pittsburgh, Cam Heyward saw extended time due to some injuries across the defensive front and a blowout 38-17 win for the Steelers. Little Ironhead recorded his first professional sack and ended the day with another 2 tackles.
In Minnesota, the Vikings finally got in the win column with a 34-10 win over the Cardinals. Michael Jenkins had 4 catches for 32 yards, as the Vikings finally got smart and rode Adrian Peterson to victory. Also for the Vikes, Antoine Winfield was out with a neck injury. For the Cardinals, Beanie struggled on the day, gaining 60 yards on 20 carries, but did score his league leading 6th rushing TD.
The Chiefs went on the road and snatched a win away from the Colts, 28-24, after falling behind 17-0 to start the game. After seeing a ton of time the last couple of weeks, Donald Washington was active, but didn't record any stats. For the Colts, Gonzo was held without a catch for the 3rd straight week but was targeted just once.
The most surprising team thus far has been the Buffalo Bills, who took care of the Eagles, 31-24. Brain Rolle was in the hunt for the Houndie this week, after he set a career high with 9 total tackles, including 5 solo stops and one TFL. After being shutout of the boxscore last week, Kurt Coleman reappeared with 2 solo stops. The Eagles have now lost 4 straight and are searching for the answers to make them better. Here's a hint: you put too much faith into Micahel Vick.
Another surprising team is the San Fransisco 49ers, who moved their record to 4-1, with a waxing of Tampa, 48-3. I've never liked Jim Harbaugh for obvious reasons, but if he can keep his defense playing like he has, their defense will be the best waiver wire move I make all season in fantasy. They carried me to my second straight win in their first start of the season.
Ted Ginn didn't catch any passes for the fourth time this year, but had a reverse that went for 24 yards and 3 punt returns that totaled 51 yards. On defense, Donte Whitner made 4 solo stops, while Larry Grant had a special teams tackle.
Out in Denver, the Tim Tebow-era is about to start, as Neck Beard couldn't get it done against the Chargers, falling 29-24. Na'il Diggs was active for the Chargers, but didn't record any stats.
The Green Bay Packers remained undefeated, taking down the Falcons on Sunday night, 25-14. A.J. Hawk had 4 total tackles, while Ryan Pickett registered a solo stop. It makes me sick to watch the Packers be this good, but man, Aaron Rodgers is the real deal. How would you like to be a 49ers fan? Alex Smith or Aaron Rodgers? Um, we'll take the kid from Utah.
First of all, you know who we have to talk about...The Great Dane. The Bears are struggling right now, sitting at 2-3 after their 24-13 loss to Detroit last night. However, Dane lead the Bears with 6 catches for 64 yards and was targeted a team high 10 times! The Bears receivers are a joke, but it makes me giddy to see Dane out there doing his thing.
For the Lions, Bobby Carpenter got another start and recorded 4 solo stops, including 2 for a loss. The Lions have won 9 straight dating back to last year and this division looks to be one of the tougher ones in football.
For the Jets, they fell to New England 30-21, putting them at 2-3 and that much further away from Rex's "guarantee" of a Super Bowl appearance. Santonio led the team with 4 catches for 60 yards and a 21-yard TD in the 4th to pull the Jets within 6. With the arrival of Burress, Holmes has only 17 catches through 5 games and he is going to struggle to make it to 1,000 yards receiving this year. Nick Mangold also returned for the Jets.
But this week's award goes to another surprise of the NFL season, Jake Ballard. Many people questioned the Giants when they let Kevin Boss walk this past offseason, but Ballard has started to emerge as a good TE for them. Even though the Giants fell at home to Seattle, 36-25.
Ballard caught 3 balls for 72 yards and a 12-yard TD in the first quarter. Ballard now has 10 catches on the year, but 6 of those have come over the last 2 weeks, including both his TD's. Ballard sits third on the team with 192 yards and is quickly making people forget about the Boss. This is Ballard's first ever Houndie and I know at least one writer here at 11W headquarters is ecstatic to see him emerge this season.