Today is October 17th, 2011. DeVier Posey is still imprisoned and--miraculously--Gene Smith still has a job. Though, those omens aside, it would appear we are once again in the good blessings of the notoriously fickle football gods. This weekend, Ohio State got to pull the guillotine lever on the Fighting Ron Zooks, and Michigan got "beat up" by their kid brother once again. Did anybody else suddenly get a lot more excited for the bi-annual pillaging of Ann Arbor this year? I can't wait to put my Chuck Taylors on their cursed soil and breathe their fecal-spore infested air particles through my SARS mask. May have to live-blog it.
Am I getting jacked-up over a road win against an overrated #17 ranked coached by Ron Zook? Yes, yes I am.
THE TALE OF A RENEGADE BOOSTER. Bill Lubinger of the Plain Dealer brings the lumber in a piece on the suddenly out-of-favor Ohio State booster Bobby DiGeronimo. It sheds some light on the world of college boosters, whom collegiate athletics need to stay churn profits, and how they must be kept at arms-length from the players. (Again, DeVier Posey is getting absolutely hosed by The Ohio State University on this one).
LOL--REMEMBER THE BCS? YEAH, THEY'RE STILL AROUND. With all the "scandals" erupting around college football days shedding light on the fact that the NCAA is a complete farce, I had completely forgotten about another complete farce: the BCS. They released their first rankings of the 2011 season last night. (1) LSU (2) Alabama (3) Oklahoma (4) Oklahoma State. Obviously, the winner of LSU/Alabama will get the right to beat the winner of the Oklahoma/Oklahoma State clash by 24 points on a nationally televised night game while Brett Bielma shakes his rattle in anger at being left-out of wherever it is they're playing the national title game this year.
Once the players start getting some of their rightful TV money and playoffs wash-over D-1 football, my moral conscience will be cleansed of this sport. (And yes, college football playoffs are awesome).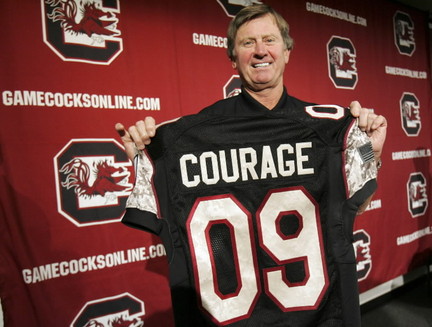 TERRELLE PRYOR IS ONE HEARTBEAT AWAY FROM THE PRESIDENCY. Not really, but via Jason Campbell breaking his collarbone against the Cleveland Browns, Terrelle Pryor finds himself backing-up the immortal Kyle Boller. It's timely, since Terrelle Pryor is fresh off his ridiculous 5-game NFL suspension; though the Raiders are rumored to be pushing for a Carson Palmer trade. (Since we're at a juxtapose with Ohio State and my Cleveland Browns--consider me off the Urban-Meyer-to-OSU swag-wagon. No, I am now firmly convinced we need to go pluck another analyst from ESPN: Eric Mangini. And yes, I'm 110% dead serious with this. Long live Eric Mangini).
MARCUS LATTIMORE'S ACL TAKES ITS LIGAMENTS AND GOES HOME. Marcus Lattimore has torn his ACL and is out for the year. I know people always talk about "boat-loads of money these guys will eventually make it pro", but Marcus Lattimore provides a sad example of just how rocky that road is. What if Marcus is never the same after this? And he can't at least market himself now?
THE HONEY BADGER RAGES ON. Tyrann Mathieu fever continues to sweep the nation. I've been afflicted for about about a month now and I can't wait for the Browns to draft him with the #3rd pick in the 2013 draft. But you know, after reading this... I doubt Tyrann Mathieu has ever had a meal comped when he goes out to eat around Baton Rouge:
"Honey Badger for Heisman," is on the marquee at a local restaurant. "Don't mess with the Honey Badger," another billboard in Baton Rouge reads.
INTERNET STUFF. Charlie Chaplin's final speech in The Great Dictator... The greatest performance by a goalie in USMNT history... NYPD planted drug evidence on innocent people to meet arrest quotas... FROM THE OBVII FILES: Materialism destroys marriages... Lil Duval's "Snitches"... REMINDER: a Russian spam-bot is the funniest person alive... Just how I like my Korean babies: dancing...