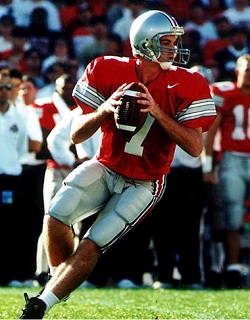 Many fans look back on the John Cooper years and remember only the fateful numbers 2-10-1. It might surprise some to know that there was a brief time when Coop was the toast of the town and his team finished in the top 6 in 3 out of 4 seasons. In 1996, fans might have expected a bit of a down season, but the team was about to take off like a rocket and become the dominant team in the Big Ten.
The team welcomed back 8 starters on defense, but safety Damon Moore and DT Winfield Garnett were experienced back-ups and it was almost like having 10 starters back. The wildcard in the equation was freshman Andy Katzenmoyer, a blue-chip recruit from nearby Westerville OH who stepped right into the starting MLB slot. Former assistant Fred Pagac replaced the departed Bill Young as defensive coordinator, and the defensive scheme became much more aggressive with lots of new blitzes mixed in.
OSU's pass rush was already fearsome, with DE's Mike Vrabel and Matt Finkes leading the charge. Add in the extra pressure from blitzes and the experienced secondary that could lock up receivers in man-to-man coverage and the pass defense would be almost air-tight. As fans would find out, Katzenmoyer was more than capable at MLB, and so the run defense was just as tough.
The concern that most fans had about this team was on offense. The team would have to replace superstars at several positions, including Heisman Trophy winning RB Eddie George. All-American and Biletnikoff Award winning WR Terry Glenn also departed, but most concerning was the loss of 3-year starter Bobby Hoying at QB. In 1995, Hoying had practically re-written the OSU record book by completing 211 passes for 3269 yards and 29 touchdowns, all school records for one season.
Stanley Jackson had backed up Hoying for two years, and he had shown strong leadership when he had opportunities to play. But many fans had concerns about his ability to throw the football, and the lack of experienced WR's added to the concern. However, a little-known transfer from Scottsdale Community College in Arizona would end up being the answer to much of that concern, and would achieve much more than anyone imagined at the time.
Another factor that would help the passing game was a strong freshman class that would bring in a couple of very talented receivers. David Boston and Michael Wiley did not start right away, but they made contributions immediately in back-up roles. In the first game against Rice, Ohio State scored on 10 of their first 11 possessions on their way to a 70-7 blowout win. Wiley scored on a 51-yard pass from Germaine, and Boston took a punt 66 yards for a score. Junior Pepe Pearson stepped up to fill the RB slot and debuted with 119 yards and 3 TD's against the Owls. A 72-0 demolition of Pittsburgh in game 2 followed in similar fashion, and all of a sudden Ohio State was ranked #4 heading into South Bend IN to take on #5 Notre Dame.
The hype surrounding OSU at this point was such that ND coach Lou Holtz asked rhetorically "Is this a game or a coronation?" The fearsome defense gave the Irish fits as Ohio State dominated in a 29-16 road triumph. At this point, Cooper had settled for a sort of QB platoon, with Jackson starting the game but Germaine coming in on the 3rd or 4th possession and playing significant minutes. Many critics questioned the lack of a clear starter, but Cooper insisted that the results spoke for themselves.
The results continued to impress the nation as now 3rd ranked OSU returned home and spanked new #4 Penn State 38-7. The Buckeyes led 24-0 at halftime and the Lions did not cross midfield until the 3rd quarter. It was the most lopsided loss for PSU since 1984. Meanwhile, Michigan lost at Northwestern 17-16 and it appeared that OSU was going to walk through the Big Ten with very little competition. However, a determined Wisconsin squad was due to visit the Horseshoe in week 5, and Barry Alvarez had deflated OSU hopes in the past.
The Badgers had won their first 3 games against weak competition, but then suffered a 23-20 home loss to Penn State in week 4. Still, they had a bye week prior to playing at Ohio State, and they used the extra time to study OSU's dominant defense. Since OSU's pressure made it difficult to throw the football, one possible approach would be to use a power running game. Wisconsin brought exactly that, with 250-pound freshman RB Ron Dayne leading the way.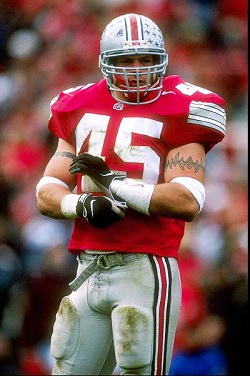 Ohio State was now ranked #2, and the 3-1 Badgers seemed like easy pickings compared to the back-to-back top 5 teams the Buckeyes had just dominated. But Alvarez employed an 8-man front to stop OSU's running game, and the Buckeyes tallied only 78 rushing yards on the day. Stan Jackson completed 18 of 25 passes for 265 yards, but two fumbles, an interception, and a blocked field goal stymied OSU scoring attempts. 
Meanwhile, Wisconsin's massive offensive line paved the way for Dayne to pick up yards and control the clock. The Badgers led 7-3 at the half, and then, trailing 10-7 in the 4th quarter, they made a defensive play that looked like it might seal OSU's doom. As Jackson completed a pass to WR Buster Tillman at the Buckeye 36, Wisconsin stripped the ball from Tillman and Badger safety Kevin Hartley ran the fumble in for a TD to give Wisconsin a 14-10 lead with 13:09 remaining in the game. 
Germaine had not gotten into the game yet, due to the lack of offensive success and the limited number of possessions. But now Cooper inserted the JUCO transfer in a pressure situation with an undefeated season and a #2 ranking hanging in the balance. Beginning at the OSU 42-yard line, Germaine handed off twice to Pearson, and he gained exactly 10 yards to get a first down at the Badger 48. On first down from there, Germaine saw Boston breaking open deep along the sideline, but could not connect. However, on 2nd down Germaine completed a short pass to WR Dimitrious Stanley and "D" took it to the house for a 48-yard touchdown. 
With Ohio State now leading 17-14, Wisconsin was forced to throw the ball, and it played right into the teeth of the Buckeye defense. CB Antoine Winfield and S Damon Moore came up with interceptions on the Badgers' last two possessions and OSU ran out the clock to seal the win. Moore ended up with 19 tackles on the day while fellow safety Rob Kelly had 14. Stanley was the star of the game, as he caught 10 passes for 199 yards. Germaine completed only one pass on the day, but it was the game-winner, and it vindicated Cooper's confidence in playing the youngster in that situation.
Ohio State would roll through the rest of the Big Ten schedule until tripping up against an out-manned Michigan team in the season finale. In what has to be one of the epic chokes of all time, the Buckeye offense would score only 3 first-half field goals on their way to a 13-9 loss that ended the undefeated season and any national title hopes they might have had. But the win the previous week at Indiana had sealed at least a share of the conference championship and a berth in the Rose Bowl, and so OSU headed to Pasadena with their egos a bit deflated but determined to redeem themselves.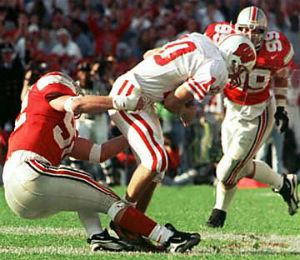 They did exactly that, taking down 2nd ranked Arizona State in a classic for the ages. Germaine came up big again in that game, especially on the last drive where he threw a 5-yard TD pass to Boston for the win. He would be named Rose Bowl MVP and would have two more outstanding seasons at Ohio State. Germaine continued to platoon with Jackson in 1997, but became the full-time starter in 1998 and broke Hoying's school records for completions and yards that year by completing 230 passes for 3330 yards and 25 TD's. 
Wisconsin would stumble again at home in a 34-30 loss to Northwestern, and then get flattened on the road at Michigan State 30-13. They recovered a bit after that, winning 5 of their last 6 to finish a respectable 8-5. Dayne would become the Badgers' horse for 4 seasons, eventually winning the Heisman Trophy in 1999 and becoming college football's all-time leading rusher (FBS only). Cooper would ride Germaine's arm and Pagac's defense for 2 more excellent seasons in 1997-1998 before things started to go downhill for him in 1999. He would coach only one more season in 2000 before being fired and replaced by Youngstown State coach Jim Tressel (enjoy the picture).