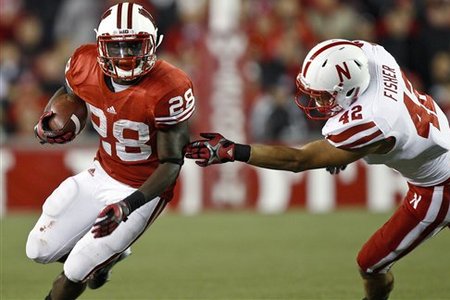 This Saturday at 8:00 PM, Ohio State will make its first visit to Lincoln, Nebraska. Both teams are coming off games where they were embarrassed, despite the different margins of loss. Nebraska was gutted by Wisconsin's Russell Wilson, who put up 280 total yards (and three touchdowns) on the Huskers. Ohio State was ground into a 10-7 loss at home to the Michigan State Spartans. It was a game which the offense saw half of its plays net zero yards or move backwards.
With fresh suspensions behind cast down and his team desperately needing to get the season back on track, Luke Fickell once again took the the podium in the Fawcett Center's Alumni Lounge this afternoon to answer the assembled media's questions.
With the  new wave of turmoil having washed over the program, I figured today's conference had a chance of being special, despite Fickell's obvious unwillingness to divulge anything of substance to the media.
I ended up being wrong. It was the typical Luke Fickell presser, but here's what Ol' Fick had to say...
… Communications Director Jerry Emig started the presser by declaring that today wasn't the time to ask Coach Fickell about "summer work programs or boosters." He said since Gene Smith answered questions yesterday, questions today should stick to Nebraska and football.
… Fickell doesn't know about Philly Brown's or Nathan Williams' status. He said they'd have to see how Philly "runs around at practice" and called Williams' status "doubtful."
… "We're going to focus on what we have, not what we don't have," is what Fickell said in regards to the newest wave of suspensions.
… DeVier Posey and Boom Herron are still on the team, and Fickell said he hasn't given thought to kicking them off the team as "it's still under investigation."
… Verlon Reed has torn his ACL and "everything [else] in his knee" so he will be out for the year.
… Fickell says the offense has to "put itself in situations to help itself." He said the difficulties are a "combination of everything,"  but he said the offense "needs to find out what it does well."
… Fickell admitted the team needs to get better with its adjustments on both sides of the ball.
… Braxton Miller is listed as the starter this week, but Fickell declined to say he would have a quicker hook this week. "Braxton is our starting quarterback." He doesn't want Braxton to think he's on a short leash.
… The offensive line struggles "are a combination of things," said Fickell, noting sometimes it's due to the defense just bringing more men than they have blockers. Mike Adams should bring some confidence to the mix up front, Fickell said.
… Fickell said, if he did get upset with the offensive staff, he wouldn't come into the presser and detail how he went about it. He did acknowledge that they know "there are areas where they can get better."  He then brought up technique and toughness  as something that he was looking for.
… Bo Pelini and Fickell "don't know each other that well," but "they are Buckeyes so they do have a connection." He doesn't expect Nebraska to change who they are or what they do in the wake of last week's debacle in Madison. Fickell also expects them to come after Braxton much like Michigan State did.
… "If you can't get ready to play for a game like this… then you're in the wrong place," Fickell said when asked about getting his players ready for a night game in Lincoln. He said his players will be ready to play.
… Fickell said they've talked with people who have played in Lincoln and did some research into it this summer, but he admitted that it can't be replicated until game time.
… "Just because they're young, doesn't mean we can make excuses for them," Fickell offered when talking about his approach with his team. The coaches won't allow excuses and it "starts at the top."
… Fickell hasn't been out to Nebraska (besides for wrestling), but he couldn't offer anything to the idea that Cornhuskers fans have turned "nasty" since the Callahan era. (I have always heard of Nebraska's legendary cordiality).
… The team is still together, Fickell said. "That's what we see and that's what we preach." The coaching staff doesn't tolerate excuses. "You stay together, you win together, you lose together."
… The lack of ability to throw on first down is a problem, Fickell acknowledged. He also stressed the need for balance, and he also said getting second-and-short and third-and-short is important as well.
… Taylor Martinez "provides a lot of challenges" for a defense. "Again, it starts up front with them. When they get guys pulling, they can string you out on the edges."  But, Fickell noted, "you can't just focus on [Martinez]."
... Fickell said the suspensions have helped the coaching staff develop guys. (He also slyly noted "we've got a couple weeks until Michigan.") He noted the lack of a fourth year quarterback or a fourth year middle linebacker "who can check us out of some things," but said the suspensions have helped the coaches get back to fundamentals and toughness.
… Fickell said he "doesn't go into hypothetical situations" when asked about the possibility of getting Boom Herron back for Nebraska.
… While Ohio State hasn't seen Nebraska, Fickell didn't seem to concerned with the prospect. "You do it every year," Fickell said.
… When asked if potentially being the first B1G team to lose to Nebraska being a potential tool for motivation, Fickell said "I don't know if the prospect of not losing is a tool you want to use."
… When asked if Solomon Thomas will work himself into playing time this week, Fickell said, "We hope so," but acknowledged Solomon has been dinged up as well.
… As for the lack of screens against Michigan State, Fickell said when you have a running quarterback, it's tougher to throw screens, due to defenders on the edge who are there simply to contain the edges. He also noted that while it may have looked like a sack, some screens were called.
… Fickell admitted there does need to be some offensive adjustments, but also noted "some plays need to be made."
… "We all don't like where we are," Fickell said when asked about what he'd say to those criticizing Jim Bollman. "If we sit and worry about all the people criticizing us, we wouldn't do what we need to do. We can't let that affect us."
… The team has bought into what they've been asked to do, according to Fickell. "There's no fragmentation." Fickell said that adversity has a way of "drawing the circle closer."
… When asked about improvements from week one, Fickell offered "our confidence level… our tackling has gotten a lot better… our young guys are getting better."
[video uploaded later today when I'm out of class]